Bella Hadid's Mac And Cheese Recipe That Went Viral For All The Wrong Reasons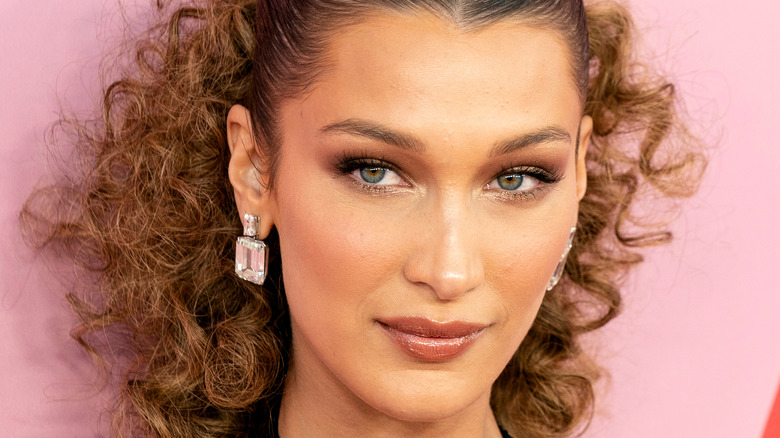 Ovidiu Hrubaru/Shutterstock
It seems that the Hadid sisters have a bit of a penchant for pasta. Many foodies may recall Gigi Hadid's viral spicy vodka pasta recipe, which took the internet by storm in 2020 and had countless people trying out the model's signature dish. As MyRecipes reported, the consensus was overwhelmingly positive, as most people who tried the quick and easy dish seemed to absolutely love it. So, when Bella Hadid decided to share her mac and cheese recipe, many may have assumed it would be just as impressive as her sister's pasta dish. Though Bella's recipe also went viral, it was for an entirely different reason than Gigi's did.
Bella Hadid decided to make mac and cheese, a typically crowd pleasing side dish, for Thanksgiving. She gave her Instagram followers a peek at her culinary skills, offering a glimpse at what her pasta dish looked like in a series of Instagram videos, as Insider reported. However, rather than being impressed by her decadent dish, countless individuals couldn't get over the final texture, suggesting that it looked more like a soup than a pasta dish. In the video showcasing the final product, the noodles she selected (rigatoni rather than the standard elbow macaroni) appeared to be swimming in the cheesy broth. One Buzzfeed writer even questioned whether it counted as mac and cheese, stating that "the jury is still out on whether we can actually call it that," given how dissimilar it is to the typical cheesy comfort food dish.
Mixed results with Bella's mac and cheese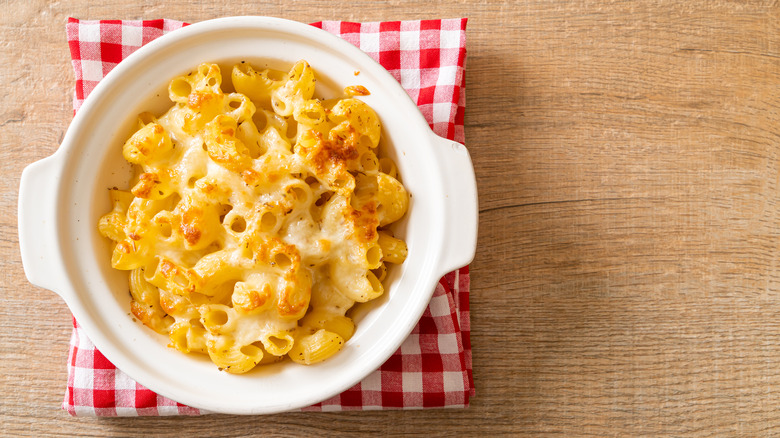 gowithstock/Shutterstock
Given the abundance of horrified reactions on social media, some opted to make Bella Hadid's dish just to see whether something got lost in translation. However, it seems that not only is the recipe far too soupy for the majority of mac and cheese lovers, it's also relatively inconsistent. Although, it's worth noting that Hadid didn't give specific measurements for her dish, so many were left simply trying to emulate the quantities she added to get something that looked like her mac and cheese.
A writer for Elite Daily tested out the dish and found that rather than getting a soupy result like Hadid did in the video, she got noodles that were crunchy after the concoction was baked in the oven. Given that one Twitter user suggested the issue may have been that Hadid needed to keep the dish in the oven for longer in order to reduce the soupy quality of the sauce, it seems people weren't quite sure how the recipe could be saved.
The comments section in a Buzzfeed story about Hadid's Thanksgiving dish was filled with opinions and tips. Many speculated that the liquid-like consistency was because she either added far too much milk or failed to make a roux to thicken things up. While there were plenty of disgusted reactions, there were also several individuals who commented that they'd still eat the dish, and some who urged others not to judge Hadid on her lack of culinary prowess.