Vera Wang Wants You To Celebrate Mother's Day With Its Prosecco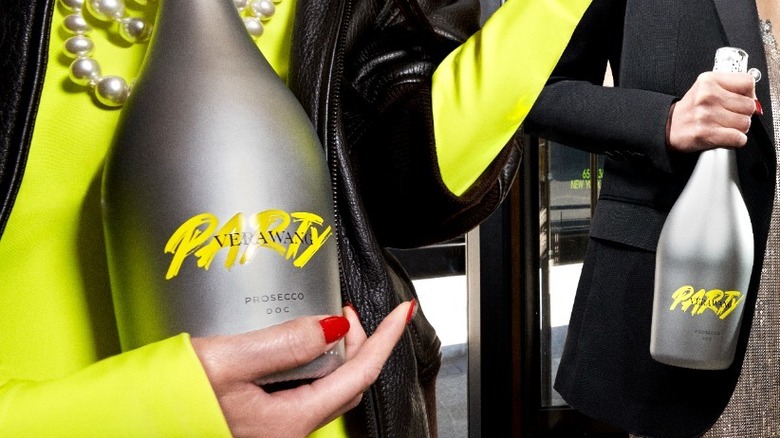 Till Janz/Vera Wang
Mother's Day is just around the corner, and if you are still scrambling to put together your best Mother's Day breakfast menu for the most important women in your life, Vera Wang and her Vera Wang Party Prosecco are here to help. According to a press release, Wang launched her prosecco in 2021. The Haute couture designer who, per People, has created dreamy bridal gowns for A-list celebrities like Mariah Carey, Hailey Bieber, and Kim Kardashian, felt this festive beverage was a natural addition to her celebratory brand. And what better way to celebrate mom on her official day off than with a cocktail made with this fizzy and fun beverage?
As luck would have it, Wang and Instagrammer @in_time_for_cocktails have teamed up to do just that, and they have the perfect drink to toast the nurturing women in your life on this special Sunday in May. The drink is called a Prosecco Bramble, and it incorporates the seasonal berries into the mix. If you are not familiar with brambles, Gardening Know How explains they are part of the rose family. These thorny bushes produce fruits like blackberries and raspberries, and per @in_time_for_cocktails, these sweet berries pair perfectly with the stone fruit and apple aromas that Wang's website uses to describe her prosecco.
The Prosecco Bramble uses vodka instead of gin
There is so much more to this drink that riffs on the classic Bramble Spritz. The creator of this cocktail, which uses Vera Wang's prosecco as its base, replaces the traditional gin with vodka. The mixologist notes on the Instagram post, "Brambles are a nice compliment to the sunshine and this Prosecco bramble is even better!" The caption further describes the blend noting, "Citrus vodka, muddles berries, fresh lemon juice. This one's got it all." We think mom will agree, but why vodka instead of gin? 
As Cadee Distillery explains, vodka is flavorless while gin imparts tastes of juniper in drinks that use it as part of their recipe. Our guess is the vodka in this cocktail allows the prosecco to be the star flavor alongside all of the other fruity elements. Not to mention, this Prosecco Bramble will give your Mother's Day table just the pop of color it needs with all of its beautiful shades of red.
This celebratory day is important to Wang who told Luxe Beat, "For me, I treasure having had the opportunity to raise my two beloved daughters as well as mentor so many generations of individuals I have encountered along the way. But most of all, it is the lessons I have learned and hopefully share and celebrate every year on this special day, especially in remembrance of my own treasured mother, Florence Wu Wang." Cheers to that.