Jamie Oliver's Potato Salad Uses An Unexpected Ingredient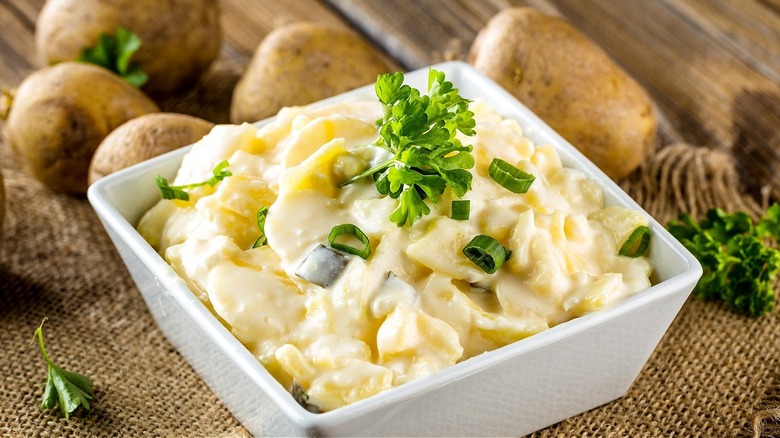 KarepaStock/Shutterstock
We may receive a commission on purchases made from links.
British celebrity chef and advocate for healthy school lunches Jamie Oliver began working in his parents' pub as a child, which influenced his career path early on in life (per Biography). Oliver soon became known to legions of fans after he started hosting a hit cooking show called "The Naked Chef" in 1999. With more than two dozen cookbooks to date, including his newest "One," which features more than 100 one-pot recipes, Oliver has tackled family meals, Italian food, five-ingredient recipes, vegetarian cuisine, and holiday specialties, just to name a few.
Oliver's laid-back approach to cooking has made him popular among home cooks, empowering them to prepare fresh, delicious food from scratch. According to Penguin Random House, the celebrity chef also has restaurants in 21 countries, as well as a line of food and kitchen products. Perhaps his most impactful endeavor is his promise to halve the childhood obesity rate in the U.K. by 2030 via his B-Corp organization, the Jamie Oliver Group. Although he lives in Essex, England, Oliver's reach is international. The chef influences governments and industry to strive for positive change in public health and food education, changing how people feed themselves and their families.
It's easy to get distracted by all of Oliver's accolades, but let's not forget that Oliver is a chef, and it was his recipes that first made him a celebrity. On April 25, Oliver took to Instagram to create a modern potato salad with an interesting topping for his 9 million followers.
Oliver's roasted new potatoes are topped with 'pickle salad'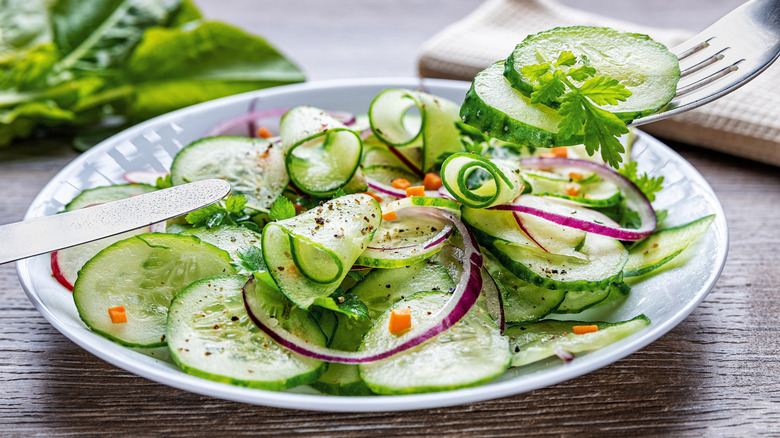 Lebid Volodymyr/Shutterstock
American picnics often include some version of potato salad, which usually means boiled potatoes laden with mayonnaise and served cold, sometimes with the addition of celery for crunch. Italians have a lighter version of potato salad, adding fresh chopped parsley and a zingy vinaigrette, as in Rachael Ray's recipe. And of course, there's the classic German potato salad recipe, which is traditionally served warm and loaded with tasty bits of bacon and a spicy kick of fresh horseradish. 
Meanwhile, chef Jamie Oliver's roast new potato and pickle salad recipe, which is featured in his 2019 cookbook, "Veg: Easy & Delicious Meals for Everyone," combines traits from all three and adds a modern pickle salad on top for a fresh take on the familiar classic. "This is a salad but not as you know it," Oliver wrote in the caption of his April 25 Instagram video.
Oliver's video shows him brightening new potatoes with lemon zest and fresh rosemary. Instead of boiling the potatoes, Oliver crisps them in the oven, using flour and a potato masher to crush them slightly and increase their surface area for maximum browning. Though the spuds alone look delicious, the chef also adds a quick pickle blend on top, featuring dill, mint, cucumber, radish, and red onion with lemon and vinegar, serving the dish with a final sprinkling of feta cheese. No wonder Instagram users said they were "salivating" at the sight of Oliver's inventive dish.
Everything you need for the menu at your next backyard party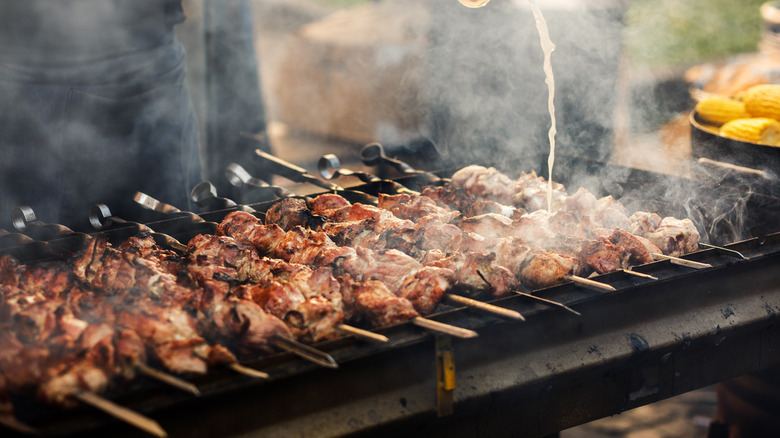 Bogdan Sonjachnyj/Shutterstock
Although Jamie Oliver's potato salad would make an excellent lunch or a vegetarian main course by itself, you'll probably want some additional dishes to serve alongside it at your next cookout. For vegetarian guests, you can't go wrong with a plant-based BBQ recipe. And if your guests are carnivores, Oliver's potato salad would pair well with hot dogs or hamburgers from the grill. Or, how about a chicken kabob recipe to switch things up? Of course, you can play around with the protein using beef, shrimp, or swordfish, but the idea is to provide an entire meal in bite-size pieces that guests can hold in one hand while sipping margaritas from the other.
Cold foods such crudités and dips are good choices because they can be prepared ahead of time. We also love this chef salad on a stick recipe from The Pioneer Woman — it's fun to eat and gives you the perfect bite every time.
Once you have your main courses ready to go, the only thing left is dessert. An easy strawberry shortcake recipe is a natural choice when strawberries are in season. However, if your evenings are hot, serving a frozen treat such as homemade ice cream sandwiches would be an impressive finale to an outdoor event. Whatever you choose to put on the menu, try to keep the last-minute cooking to a minimum so that you can enjoy the time with friends and family.