Why Giada De Laurentiis' Daughter Doesn't Want To Be A Chef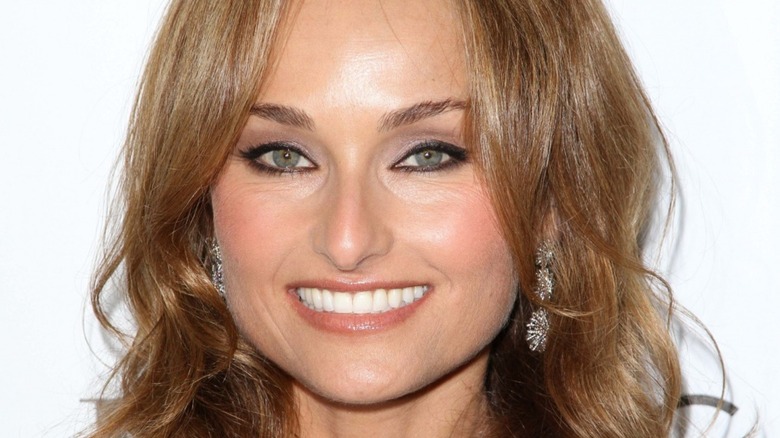 s_bukley/Shutterstock
Many children of celebrity chefs follow their parents into the "family business." For example, Wolfgang Puck's son, Byron Puck, was recently named general manager of two restaurants, Merois and Ospero, in the Puck empire in Los Angeles (via Los Angeles Magazine), and Puck's youngest son, Oliver, has shown he can scramble an egg like a master — and even handle a Tomahawk steak (via Instagram). 
Furthermore, Emeril Lagasse's son EJ followed in his father's footsteps and graduated from the acclaimed culinary school Johnson & Wales University (via Instagram). Then there's Matilda Ramsay, who's hosted a cooking show for the CBBC and co-authored a cookbook for kids (via Parade). And although not a chef, Sophie Flay followed dad Bobby Flay into the TV business as a reporter in Los Angeles and co-host of the food-centric podcast, "Always Hungry."
Although a child might feel some pressure to live up to a famous parent's career, Giada De Laurentiis is not putting those expectations on her daughter, Jade Thompson, whom she shares with her former husband, fashion designer Todd Thompson.
Giada understands better than many what it's like to have relatives who are famous for their talents and successful careers. Her grandfather is famed filmmaker Dino De Laurentiis, and her grandmother and parents also had acting careers (via Biography). Giada tried her hand at acting and took various jobs in the film business but ultimately decided it didn't suit her. Instead, she went to college and then enrolled in culinary school to pursue her passion for cooking (via Milk Street).
Jade Thompson is her own person
When Giada De Laurentiis was pregnant in 2007, she joked with Redbook that her child would probably be born with zero interest in cooking (via People).
That's not entirely true. Jade enjoys being with mom in the kitchen, especially when they're baking (via Giadzy). But as for a career as a chef? Giada doesn't see that happening. And that's absolutely fine. As the "Everyday Italian" host told People, "There's not one single part of her that's like, 'I'm going to be a cook like my mom." 
Instead, Jade has plenty of her own interests and dreams for her future, says Giada. "One day she wants to be a professional horseback rider, the next day she wants to be a gymnast in the Olympics and the next day she wants to sing. It changes every day," the celebrity cook has explained. However, Giada notes that cooking never makes Jade's list of possible careers. And coming from a family of famous people, Giada can relate. "She can have her own identity," De Laurentiis said, adding, "This is a big identity to deal with so I can understand that."
One thing is for certain: De Laurentiis beams with maternal pride and regularly features her only child on Instagram. Giada recently congratulated (and celebrated with a Nutella crepe!) Jade for being chosen as speaker at her 8th-grade graduation, and on International Women's Day last March, De Laurentiis posted a mother-daughter photo writing, "So proud of the woman you are becoming."