Panera Just Brought Back Two Fan-Favorite Summer Menu Items
One of America's most popular fast casual restaurant chains is bringing lobster to the masses this summer with two returning shellfish-centric menu items. In a press release sent to Mashed, Panera Bread — the Missouri-based restaurant chain known for its soups, salads, sandwiches, and, as the name suggests, breads — announced that a duo of seasonal fan favorites will be returning to select locations beginning on May 25. Just in time for Memorial Day weekend, Panera customers will have the chance to order the company's lobster roll and lobster mac and cheese for the first time in three years. The restaurant chain first debuted the pair of lobster-based dishes in 2019, but the summer-themed menu items have yet to return...until now.
Panera isn't the first fast food chain to experiment with adding premium lobster items to menus. Sporadically since the early 1990s, select McDonald's locations across New England have offered an affordably priced lobster roll — dubbed the McLobster, naturally — during the summer months (when the lobster supply is at its most abundant, according to Weathervane Seafood Restaurants. Wendy's has also dipped a toe into the lobster roll business, once offering a luxurious lobster and caviar burger at locations across Japan, per Eater.
Panera's lobster-filled items will only be available in the Northeast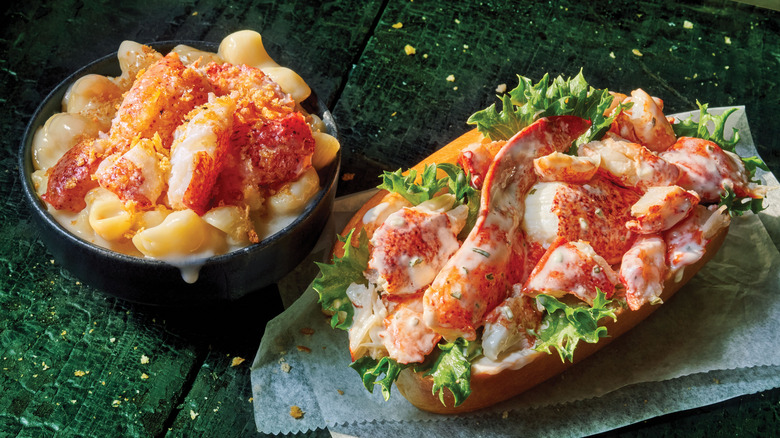 Panera Bread
The first of the chain's lobster items is a summery twist on Panera's mac and cheese, a popular side dish featuring shell pasta tossed in a creamy aged white cheddar cheese sauce. This fancy version, however, is topped with buttered lobster claw and knuckle meat and has a breadcrumb topping, per the chain's press release. Panera's lobster roll, meanwhile, will feature lobster inside a buttery New England roll. Fans of Maine-style lobster rolls will be pleased to know that the claw and knuckle meat is dressed with lemon and tarragon mayo, rather than butter.
Despite Panera's fast casual atmosphere, lobster fans should still be prepared to pay a premium for the limited-time menu items. Depending on the location, lobster mac and cheese will set customers back up to $10.99 for a small serving or $19.99 for a large, while the roll will go for up to $25.99. Diners can also try the items as part of a You Pick Two promotion (for an elevated price).
Unfortunately for much of America, these limited-time lobster items will only be available at the nearly 200 Panera restaurants located in the Northeastern United States — meaning that land-locked lobster lovers should prepare to craft their own lobster rolls and mac and cheese this summer.