Trader Joe's Shoppers Can't Get Enough Of This Returning Fruity Candle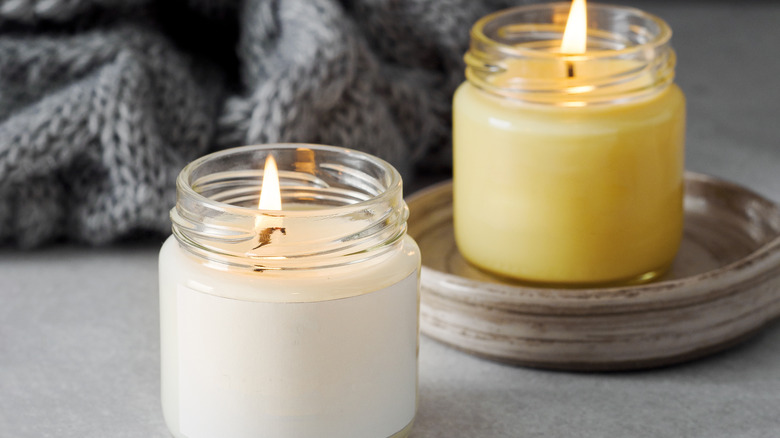 LNataly/Shutterstock
Trader Joe's is beloved by shoppers for its unique selection of amazing snacks, affordable wine, and a plethora of frozen foods, but did you know the chain is also home to a line of award-winning candles? Throughout the year, the grocery chain sells a rotating lineup of "natural soy wax blend and all-cotton wick" scented candles with aromas that match perfectly to whatever season it is. During spring, you'll find floral fragrances, around December, there's pine, pumpkin (duh) in the fall, and fruity scents abound at the top of the hottest season of the year. 
On that note, if you've been looking for something that will really make your home feel like summer has arrived, we have great news for you. 
According to an Instagram post shared by @traderjoeslist, the fan-favorite Mango Tangerine Scented Candle is back in stock with 5.7-ounce tins going for $3.99 a pop. And some shoppers couldn't be more thrilled.
On Tuesday, the fan account alerted its million followers to the restock by sharing a photo featuring several stacks of the tropical-scented home good in stores. Featuring a blend of bright, fruity aromas, the candle seems designed to transport you to a sunny beach even if you live nowhere near the ocean. Even better, the Instagrammer added in the caption that many buyers claim the candle is a budget-friendly copycat of the pricier Capri Blue Volcano Candle sold by Anthropologie, which retails for nearly $30 dollars. 
Fans say Mango-Tangerine Candle is a perfect dupe for a popular high-end candle
Judging by the volume of positive reactions (6,100 likes in two days) on the post announcing the item's return, fans are clearly juiced about the summery candle's comeback. "It's go time!" declared one eager shopper in the comments. "This is my favorite of the candles! It smells amazing!" exclaimed another.
Many fans who already had a chance to burn the seasonal scent confirmed that the budget-friendly buy was a solid alternative for the higher-end candle. "10000% a dupe for the Anthropologie candle" exclaimed one user. "Definitely!! Smells just the same and what a deal" another agreed. And though one user offered some more honest feedback, noting the scent is not as powerful as the more expensive candle, they ultimately concluded it was "awesome for $4 bucks."
With the candle already being as popular as it is, it's likely to fly off shelves before the end of summer. Some fans shared that they wasted no time getting their hands on the Trader Joe's candle, including one user who admitted, "I actually just got home right now and bought 3! It's my favorite one and I get it every year! I actually still have some from last year!" Several other shoppers chimed in to share they bought as many as five, or even 10 candles at once. With that in mind, those who want to get their hands on this seasonal scent will want to act soon before it sells out.