Easy Swedish Meatballs Recipe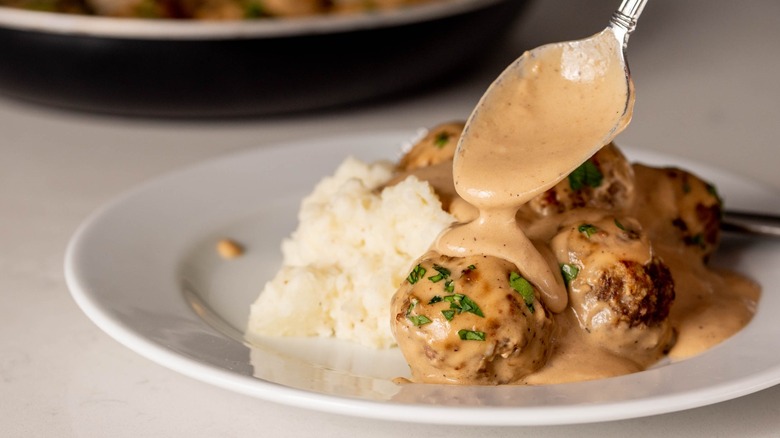 Michelle McGlinn/Mashed
Most people who go to IKEA do so because they need to buy furniture. Maybe one of those cube shelf organizers, or an entertainment center that will require the brainpower of several people to assemble. But the sprawling store is home to much more than that. There's a whole bounty of comforting, hearty food available, and one of the more popular options is Swedish meatballs. Maybe the first time you ever ate Swedish meatballs was at the IKEA food court. But you shouldn't have to make that trek just to get your fill of savory spheres. And thanks to Michelle McGlinn's easy Swedish meatballs recipe, you don't have to.
What makes these Swedish meatballs superior? "I added a little bit of nutmeg! It's just enough to have your guests wondering, 'What is that flavor in there?'" McGlinn says. "It adds a little bit of sweet nuttiness without altering the dish. I also like using a mix of pork and beef because it gives the meatballs a special flavor and plenty of juiciness from the mix of fats." We're sure your mouth is watering already, so we'll waste no time showing you how to make them.
Gather the ingredients for easy Swedish meatballs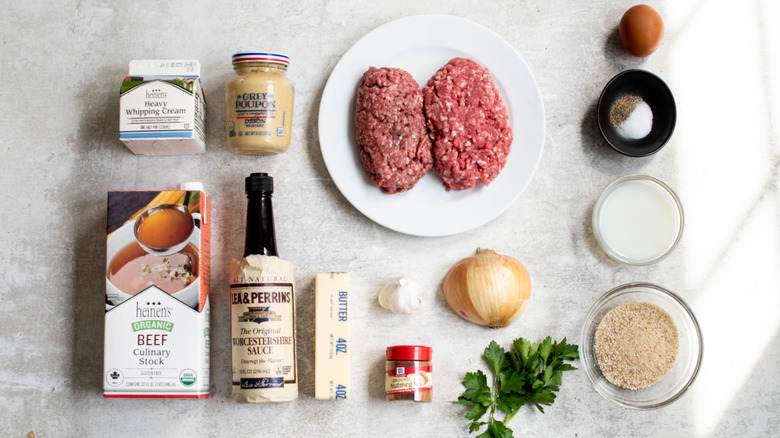 Michelle McGlinn/Mashed
Start by preheating your oven to 350 F and assembling everything you need. This recipe calls for ground beef and pork, butter, flour, breadcrumbs, milk, an egg, chopped onion, minced garlic, beef broth, Worcestershire sauce, heavy cream, nutmeg, Dijon mustard, salt and pepper, and parsley for garnishing. 
"I used regular 2% milk for this, but you can substitute milk alternatives," McGlinn explains. "Oat milk has been the closest alternative to regular that I've used. Almond and coconut are thinner, so add half the amount and assess how 'wet' the mixture is before adding more." However, you probably don't want to substitute regular mustard for the dijon. Dijon "is what adds the almost-spicy depth to a sauce. It's not a hot spicy, but rather, a deep flavor that rounds out thick cream sauces like this one."
Form the meatballs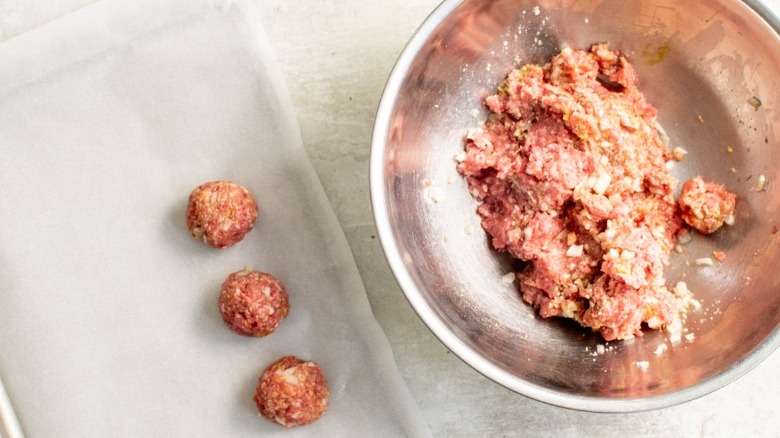 Michelle McGlinn/Mashed
Let's get down to business: Get out a big bowl and put the meat, garlic, onions, breadcrumbs, milk, and egg in there along with some salt and pepper. Mix it around using (clean) hands, until the ingredients are combined. Form the meaty mixture into one-inch spheres, and place the meatballs on a parchment paper-lined baking sheet.
Sear and cook the meatballs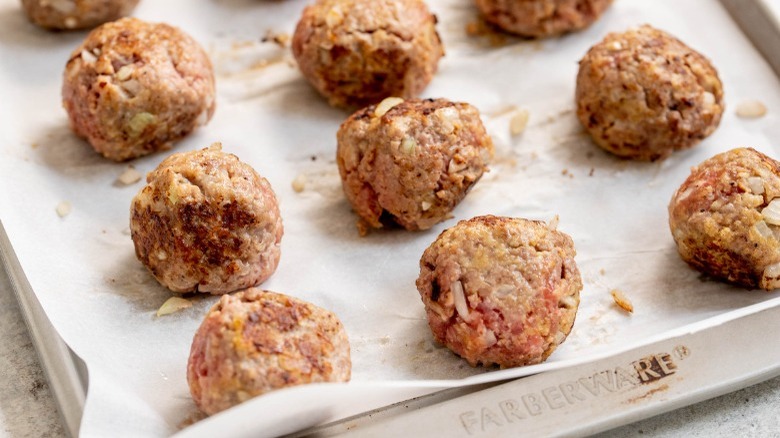 Michelle McGlinn/Mashed
It's cooking time. Heat an oiled skillet over medium-high heat and roll your meatballs around until they're nice and browned. Then, put them back on that parchment-lined baking sheet and pop them in the oven to cook the rest of the way.
Whip up the sauce and combine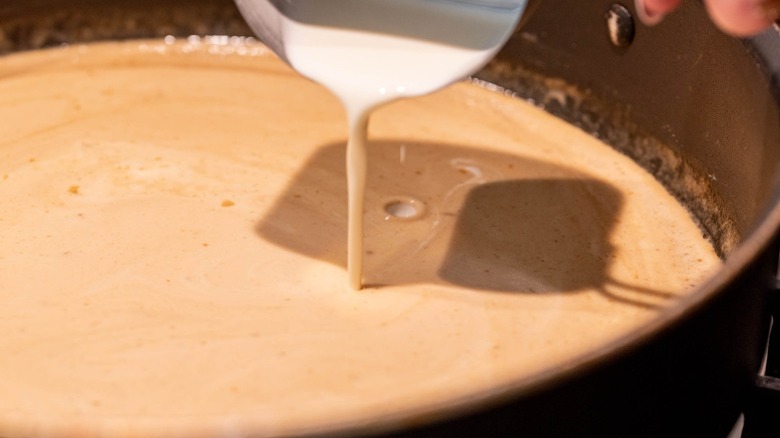 Michelle McGlinn/Mashed
While the meatballs are in the oven, take the skillet you just used and melt the butter in it. Whisk in the flour until the mixture looks golden, then add half the broth and stir even more. When that mixture is well-combined, add the rest of the broth, then the nutmeg, Worcestershire, and mustard. Once that's simmering, pour in the cream and keep things simmering while you stir for about another 10 minutes. Once your gravy is the right thickness and you've seasoned with salt and pepper to taste, add the cooked meatballs to the gravy.
Enjoy your homemade meatballs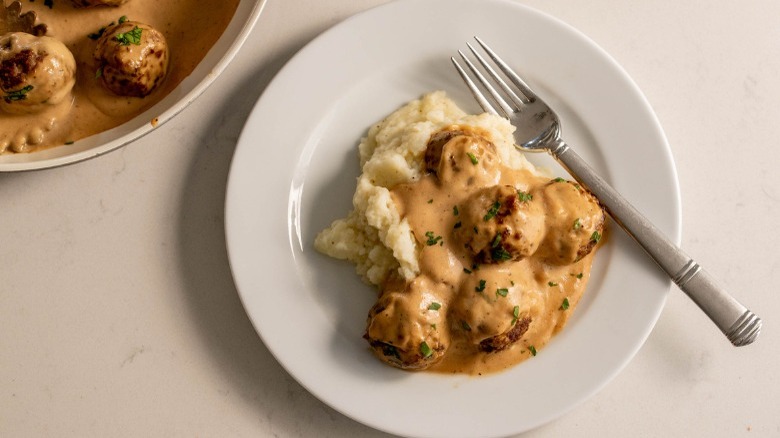 Michelle McGlinn/Mashed
You've officially made Swedish meatballs! You can eat these on their own garnished with parsley, of course, but side dishes are always nice. McGlinn suggests serving this with "mashed potatoes of course! And, in the spirit of IKEA ... lingonberries! You can actually buy a jar of lingonberries at IKEA, or some groceries stores carry them. It's a nice treat with how rich this dish is. I also think the mashed potatoes should be the creamy kind; best for scooping up with the dense meatballs and thick sauce! Moving away from that, a fresh green salad and egg noodles would be great sides, too."
If you end up with leftovers, store them together in the fridge (or in separate containers, which McGlinn says makes for a more even reheating experience) for 3-5 days. The meatballs can be microwaved, but the gravy is best done stovetop. "The sauce is best reheated gently: I find the microwave makes the sauce a little gummy," she says. For even more long-term planners, McGlinn says you can freeze the uncooked meatballs until you're ready to cook the whole dish. That means Swedish meatballs any time you want.
Easy Swedish Meatballs Recipe
You don't have to wait for your next trip to IKEA to enjoy Swedish meatballs. This easy recipe is every bit as good and is sure to hit the spot.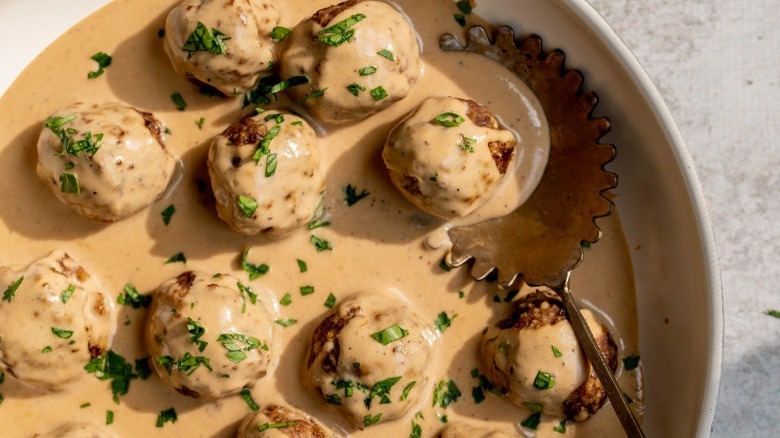 Ingredients
½ pound ground pork
½ pound ground beef
½ yellow onion, finely chopped
1 clove garlic, minced
¼ cup breadcrumbs
1 egg
2 tablespoons milk
½ teaspoon salt, divided
½ teaspoon pepper, divided
3 tablespoons butter
3 tablespoons all-purpose flour
2 cups beef broth
1 teaspoon Worcestershire sauce
½ teaspoon Dijon mustard
½ teaspoon nutmeg
1 cup heavy cream
Optional Ingredients
chopped parsley, for topping
Directions
Preheat oven to 350 F. Line a baking sheet with parchment paper and set aside.
Combine the pork, beef, onion, garlic, breadcrumbs, egg, milk, and ¼ teaspoon each of salt and pepper in a bowl. Combine using your hands, working the mixture gently so as not to overwork the meat.
Roll the meatball mixture into 1-inch balls and place them on the parchment paper-lined baking sheet. Heat a lightly oiled skillet to medium-high and add the meatballs, rolling them in the pan until browned on each side. Return them to the parchment and place the pan in the oven. Bake for 15 minutes, or until nearly cooked through.
While the meatballs are in the oven, prepare the sauce. In the same skillet, melt butter over medium-low heat. Whisk in the flour, incorporating it into the butter until it has formed a golden paste. Do not allow it to burn.
Pour in 1 cup of beef broth and whisk vigorously to incorporate. Once it has thickened slightly, add the remaining 1 cup of broth and stir to combine.
Add the Worcestershire, mustard, and nutmeg, and stir to combine. Bring the sauce to a simmer, then add the heavy cream and stir to combine. Simmer, stirring frequently until thickened so the cream does not burn, about 10 minutes. Season with salt and pepper, to taste.
Once thickened, add the baked meatballs to the gravy and stir to coat.
To serve, top with parsley.
Nutrition
| | |
| --- | --- |
| Calories per Serving | 670 |
| Total Fat | 55.9 g |
| Saturated Fat | 28.6 g |
| Trans Fat | 1.0 g |
| Cholesterol | 226.2 mg |
| | |
| --- | --- |
| Total Carbohydrates | 15.3 g |
| Dietary Fiber | 0.9 g |
| Total Sugars | 4.0 g |
| Sodium | 711.1 mg |
| Protein | 26.4 g |