Trader Joe's Shoppers Are Debating Its Returning Strawberry Cookies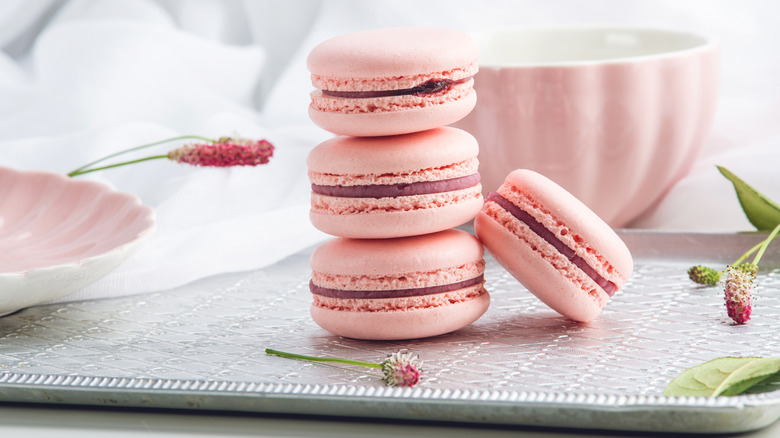 Artem Oleshko/Shutterstock
The onset of summer means that many delicious fruits are in season once again! From cantaloupe and honeydew to watermelons and cherries, it can be hard to resist adding every perfectly ripe summer fruit to your shopping cart. While plain fruit makes a great snack, it's also a key ingredient in many seasonal dishes and drinks including pies, salads, smoothies, and cocktails. Whether you have a sweet tooth or prefer a more savory salad, strawberries are one of those versatile foods that can be easily incorporated into various dishes.
Sweet, juicy, and perfectly plump, enjoying fresh strawberries in the summer is undeniably one of life's greatest pleasures. An added bonus? These ruby-colored fruits add a beautiful red hue to any Fourth of July or Memorial Day weekend dessert. From Driscoll's new tropical bliss strawberries to the summer fruit that's rumored to be hitting Wendy's menu, there are many tasty treats for strawberry fans to look forward to. And Trader Joe's strawberry cookies are once again back on shelves, but customers are pretty divided on the quality of this snack. 
According to customers, TJ's strawberry cookies taste too sweet and artificial
Trader Joe's Strawberry Shortcake Sandwich Cookies are back on shelves, much to shoppers' delight and chagrin. The popular Instagram account, @traderjoeslist announced the return of these strawberry flavored cookies writing "They're back! My recollection of these are that people either loved or hated them, really nothing down the middle."
The post isn't wrong. Trader Joe's shoppers were divided on its strawberry shortcake cookies last year and these fruity treats remain just as controversial today. Many customers took to the comment section to share their unpleasant experiences. "Did not like these at all. Artificial flavor," one user wrote, while another commented, "Way too sweet to eat more than one." Despite the fact that these cookies are described as "flavored with other natural flavors," a slew of comments echoed the sentiment that the cookies tasted artificial, fake, and far too sweet.
Meanwhile, a handful of customers only had good things to say about these strawberry snacks. One user raved, "these are my favorite cookies. I LOVE THEM SO MUCH," while another wrote, "I'm going to TJ tomorrow!! I liked these a lot last year." While the cookies have received mixed reviews, the negative reports currently outweigh the positive ones.