Costco Shoppers Are Having Mixed Reactions To This Mango Salsa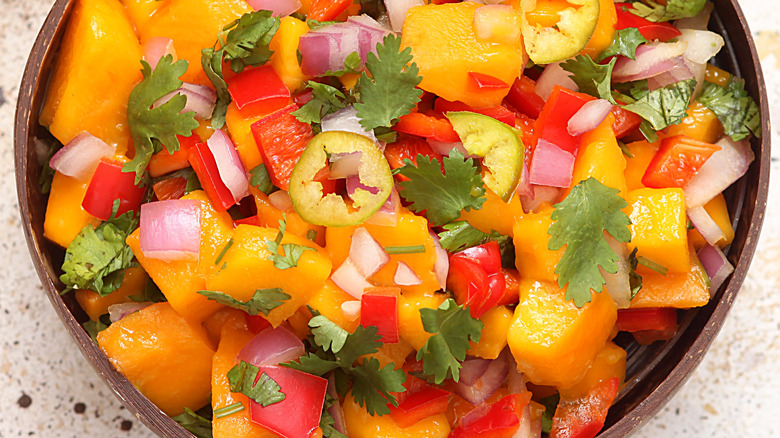 Viktoria Hodos/Shutterstock
Shopping at Costco can feel like an adventure all its own. The American membership-based big box retailer is known for selling just about every type of product imaginable, oftentimes in bulk-sized amounts. Unsurprisingly, there's no shortage of indulgences and healthy eats — from yogurt-covered pretzels to frozen fruit pops to Caprese salad kits. But there's also no shortage of opinions about the many options on offer.
As we all know by now, customers frequently turn to social media to openly share their critiques on the products they buy and the services they receive. For example, back in April 2022, Costo shoppers voiced conflicting sentiments about Mateo's Medium Gourmet Salsa on Reddit. Slightly positive feedback included, "It's not my favorite salsa of all time, but especially on sale it's my favorite Costco salsa" and "I love this stuff but I always have to add some heat to it." Contrarily, some Redditors complained about the high sodium content, claiming it's "way too salty." One user said, "It has no kick to me at all. I'm always hoping for bigger flavor." Another wrote, "I am not a fan. Not for everyone."
Salsa is supposed to be a mouth's idea of fun, the chunky ambrosia of party hosts and savory snackers. But it seems that some brands found at Costco are hit or miss. Here's what folks are saying about one of Costco's latest colorful dressings.
Customers either love or hate Costco's organic mango salsa
Costco Buys, an Instagram account dedicated to showcasing new and popular items, recently shared a post to promote the store's organic mango salsa, recommending it as a dip or an ingredient to add to chicken or fish. Nevertheless, the fruity medley is being met with mixed reviews. Some fans have commented with raving testimonials. One wrote, "My Costco hasn't had mango salsa in weeks and I'm having withdrawals." Another chimed in, "This stuff is amazing." However, others are revealing their negative experiences with the $7 sauce. "Used to be my fav but now they added soap, I mean cilantro... Nope," someone noted. Somebody else, perhaps divulging TMI, admitted, "I got the wildest food poisoning of my life from eating this." A few fans are disappointed in the size of the 32-oz container or prefer a peach mango salsa brand that is no longer available.
This isn't the first mango salsa Costco has had on its shelves. In 2019, the blogger behind Costcuisine shared her thoughts on the Big Taste brand mango salsa. As far as the "very unusual" salsa's taste, she "found this combination of spicy and sweet to be a bit confusing." She also pointed out its short shelf life: "only about a week from the purchase date." Of course, there's no accounting for taste, and if you want to taste a condiment you made at home, the recipe for fresh mango salsa is super simple.