Aldi Just Launched Two New Flavor-Packed Chips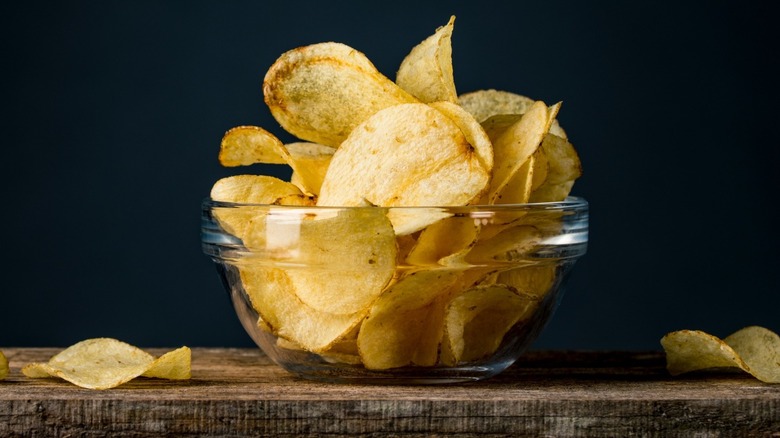 Artiom Photo/Shutterstock
We may receive a commission on purchases made from links.
Crunchy, salty, and compulsively edible, potato chips are the ultimate treat for savory snackers. There's a reason that you can't eat just one (unless your Jennifer Aniston, who eats one single potato chip when she's stressed). The best thing about this popular snack? When it comes to the options and flavors available to you, sky's the limit. Whether you prefer more classic flavors like barbecue or salt and vinegar, or more out-of-the box creations like Lay's Baked Scallop with Butter & Garlic Potato Chips (yes, these exist), there's a potato chip out there for every palate.
Now that summer is in full swing, people are stocking up on all the seasonal snacks they can find. While Wendy's has given fans a spoonful of its highly anticipated summer frosty, a returning snack has Trader Joe's Shoppers cheering. Meanwhile, Aldi has released its own take on summer snacks, in the form of two flavor-packed chips (via Instagram).
Clancy's chips have gotten a bad rep over the years
User @aldi.mademedoit took to Instagram to share their latest find. The Aldi shopper found two new Clancy's chip flavors at the discount grocery store: Krinkle Cut Grilled Ribeye Steak Kettle Chips and Krinkle Cut Kentucky Smoked Bourbon Kettle Chips. "I always love to see what the heck kind of chip @aldiusa is going to bring out next," they captioned their post.
While these unique flavors seem perfectly geared toward adventurous snackers, you may want to think twice about buying Clancy's chips at Aldi. Over the years, Clancy's is one of several Aldi products that have received horrible reviews.
On the platform Pissed Consumer, customers have reported various complaints about the brand, from the amount of chips included in each packet to finding blue plastic inside chip bags. One customer who bought a bag of Clancy's salt and vinegar chips reported that the chips inside their bag were the wrong flavor entirely — the customer's salt and vinegar chip bag was filled with regular kettle flavored chips, instead.