Are Pride Month Offerings Lacking Inclusivity In Color And Flavor?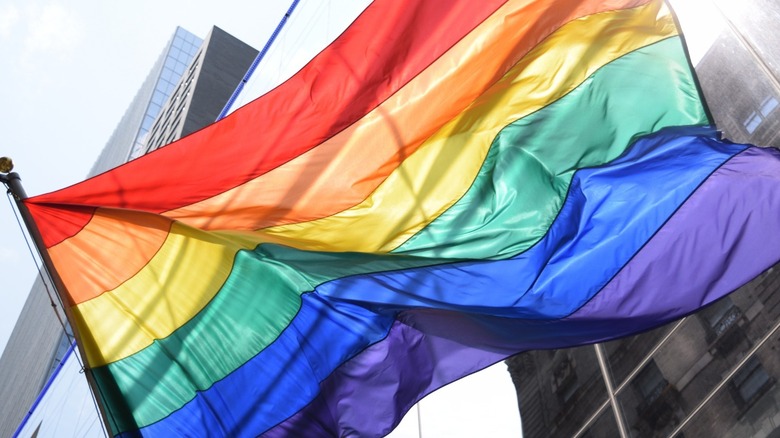 Jay Fog/Shutterstock
Update 6/13/22: This story has been updated to include more information about House Wine's pride collection.
When June 1 rolls around, we all see the influx of rainbow merchandise and companies changing their logos to be multicolored in honor of Pride Month. For older generations, this simple recognition of Pride was a sign of progress, but now, consumers want to see companies support the LGBTQ+ community year-round, not participating in "rainbow capitalism" for one month. According to Refinery29, "rainbow capitalism exploits marginalized communities by turning them into markets, selling them back to them as a product, and commodifying pretty much everything about every part of their lives."
Younger generations want these companies that claim to support inclusivity to take action and value monetary donations to LGBTQ+ organizations over performative activism (per Fast Company). Walmart, McDonald's, and Amazon have all been called out for waving the rainbow flag, despite donating huge sums of money to politicians who voted against the Equality Act (per Insider). 
Rainbow capitalism is also known as "pink capitalism" or "pinkwashing." And as Refinery29 points out, a few food brands are guilty of distilling Pride into rose-colored, sweet products.
Pink, sweet products dominate store shelves during Pride Month
Just like the clothing brands that flood stores with rainbow products, food and alcohol brands tend to offer pink, sweet products during Pride Month. The Takeout slammed House Wine and Barefoot for simply adding a rainbow label to sparkling rosé bottles — because obviously, pink equals pride. (A rep for House Wine later clarified to Mashed that its rainbow-striped rosé cans are now available year-round and that a portion of proceeds from the cans go to the Human Rights Campaign.)
Kellogg's continues the pinkwashing with its Limited Edition NEON Pink Block Party Lemonade Pop-Tarts, but the brand gets at least some credit for including illustrations by Thaddeus Coates. Even colorless liquids like Absolut Vodka are turned into pink cocktails for Pride, which has many in the LGBTQ+ community begging for some variety.
CNET highlighted 25 food and beverage brands supporting Pride — and pink, sweet products dominate that list as well. But savory and spicy products of all colors have a place in Pride Month too, and luckily Today has curated a list of LGBTQ-owned food brands that range from cheese to spices.