The Secret Ingredient In Seth Meyers' Homemade Chex Mix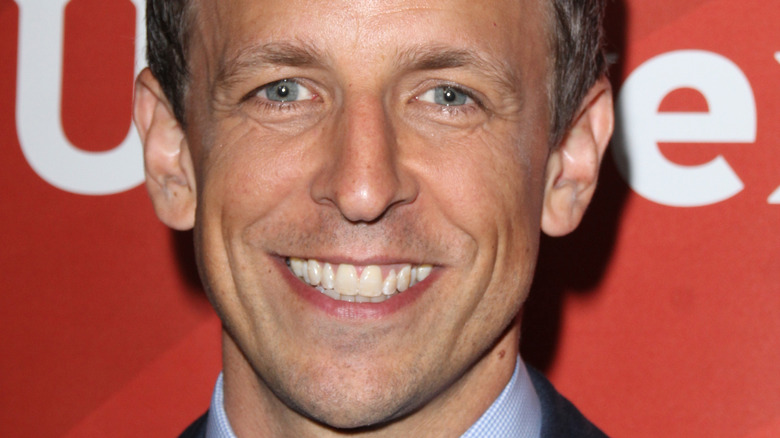 Kathy Hutchins/Shutterstock
No one cooks like mom. Australian chef Curtis Stone loves his mom's bacon and corn muffins, per his website, and Guy Fieri says his mom's granola is better than your mom's. In fact, the celebrity chef revealed, "To this day, [my mom's] the one I try and impress. Since my parents live next door, whenever we cook, I'll ask if they want to take home leftovers. If she says no, I know the recipe might need reworking!" (via Thrillist). 
Alex Guarnaschelli shares that her mom's cheese souffle is on a "short list" of favorite recipes and for Anne Burrell, it was her mom's stuffed cabbage (per Forbes). And if you ask us, "What makes Hugh Jackman's cookbook so sweet?" We will tell you it's because his mom gifted him the little book and handwrote each recipe. 
Mom just makes everything better. But celebrity chefs aren't the only people who know this maternal secret. The host of "Late Night with Seth Meyers" has also made the confession that he loves his mom's homemade Chex Mix so much, he would want it as part of his last meal. Why Chex Mix? Apparently, Meyers' mom uses a secret, or perhaps a not-so-secret, ingredient to make her cereal mix a stand-out.
Seth Meyer's mom adds butter to her Chex Mix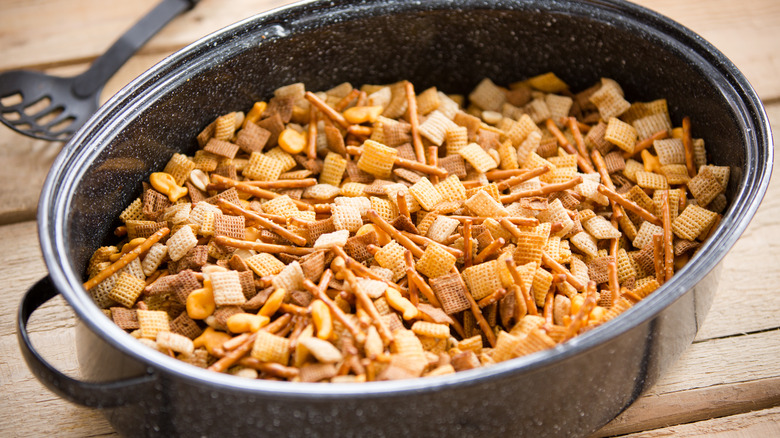 RONORMANJR/Shutterstock
Seth Meyers told Bon Appétit his mom's Chex Mix is so good, it would be his death row meal. Meyers quipped, "No one makes it like her, although I recently learned that the key to her success is just butter." We get it. Chex Mix is kind of the ultimate finger food for just about any occasion and while no one may make Chex Mix like Seth's mom, she isn't alone in her use of butter. 
Chex Mix can be salty or sweet, or even both depending on what your taste buds are craving, but a classic Chex Mix recipe has some key ingredients. It's traditionally made with a variety of Chex Mix cereals, along with some pretzels, nuts, bagel chips, Worcestershire sauce, and seasonings. However, melted butter is also an important component of this recipe. Butter maker Land O Lakes agrees, proudly showcasing its recipe for this snack on its website, and it, naturally, calls for Land O Lakes butter.