The Best Things To Put On Corn On The Cob That Aren't Butter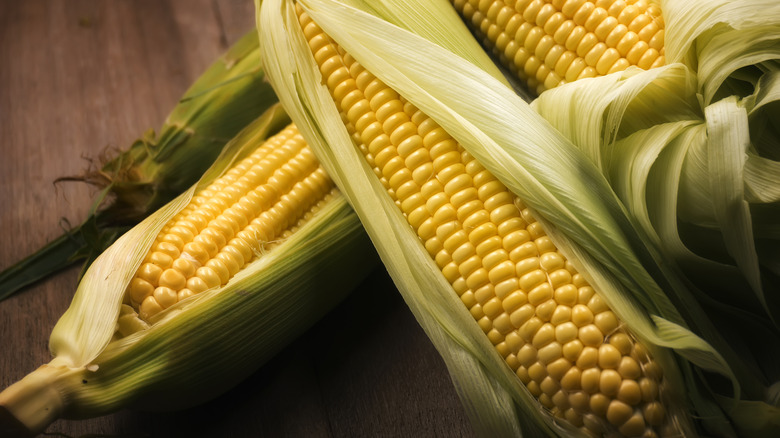 Abamjiwa Al-hadi/Shutterstock
One of the best things about summer are the backyard BBQs. Not just because everyone loves enjoying some ice cold drinks while cooking outside under the sun, but also because there's so much fresh food on offer. Whether you stop by your local farmer's market, buy from a nearby roadside stand, or grow your own, who doesn't love summer veg right from the garden?
Corn is definitely one of those crops that take up a ton of space. While it might not be practical to grow at home, there's a good chance that once a certain time of the year hits, it'll be all over. And that's brilliant, because who doesn't love corn on the cob? Sure, it might be messy and impossible to eat while keeping your dignity intact, but... is it just us, or is there something about messy food that just makes it so much better?
Now, there's nothing wrong with corn on the cob slathered in butter, especially if you make a creative compound, flavored butter ahead of time. That's fine! But if you're going to be eating a lot of corn on the cob — and we know we are! — why not get creative? There are plenty of options that are so good, they'll have you ditching that boring old butter and wowing the family with something completely different. Let's talk about some non-buttery ways to spice up your average corn on the cob.
Mayo and cojita cheese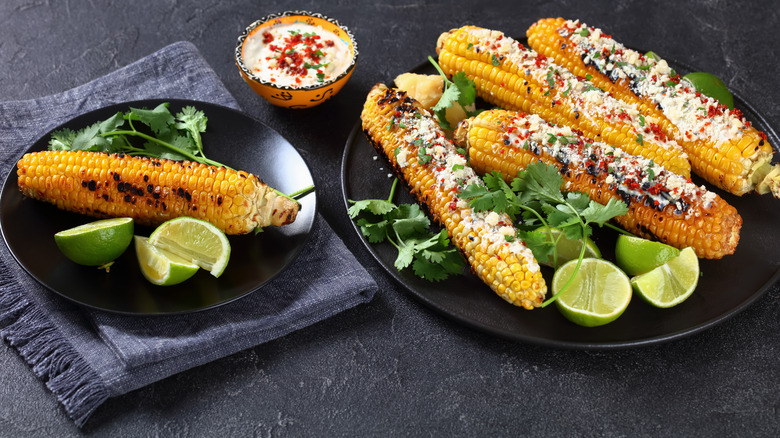 From my point of view/Shutterstock
Mayo? What? Wait! Hear us out, because we're going to talk about why you should save some of that mayo you already have for your burgers, and slather it on your corn as well.
Maren Epstein came up with a brilliant recipe for us here at Mashed, and it's for a 5-ingredient Mexican street corn. There are some pretty endless variations, but at the heart of it is slathering your corn with a mixture of mayo, cojita cheese, and taco seasoning. We know, right?
She suggests that yes, you can absolutely make substitutions and additions here. Vegan mayo works just as well as the regular stuff, and if you don't have (or can't find) cojita cheese, reach for the parmesan instead. You can also kick up the heat here, too: Add some chili powder for some extra spice, a dash of lime juice for tartness, or paprika to enhance the smokiness. It really is that easy — and the only mistake you can possibly make is not having enough napkins at the ready.
Crushed chips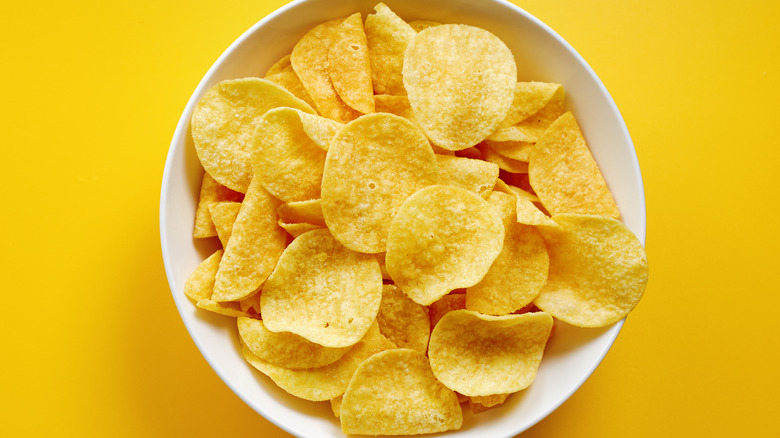 Melica/Shutterstock
This is going to sound super weird, but trust us here: When it comes to potato chips, we know what we're talking about!
You might be saying: Chips on corn? Just how many of those ice cold drinks have y'all had? Don't knock it until you've tried it, and you absolutely should — especially if you love chips and dip.
The basics are pretty similar: Start with a mix of about 3:1 mayo and sour cream, and add in some seasonings. That's salt, pepper, onion powder, cilantro (if you like it, dill if you don't), and cayenne pepper if you want a little extra heat. Slather that all over your corn, then roll them through some crushed chips. And — this is important — we're talking about any kind of chips. Sure, you're not going to go wrong with plain, but try BBQ for something truly amazing, or reach for the tortilla chips instead (especially if you happen to have some of the lime-flavored ones). Doesn't sound so strange now, does it? Just make sure you add the chips immediately before serving. You don't want them to lose any of their crunch, as it's the crunch that makes this one truly amazing. 
Soy and rice vinegar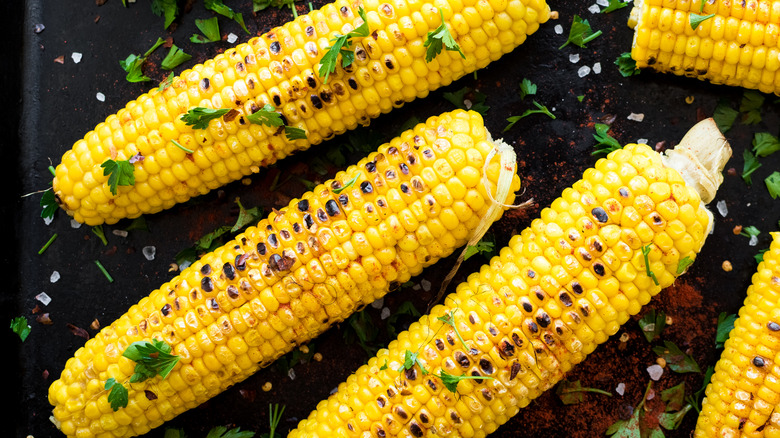 Nelli Syrotynska/Shutterstock
Sometimes, you're just in the mood for something that's going to add a bit of flavor, without overshadowing the corn itself. Fresh summer corn is, after all, delicious alone — and brushing on a light coating of a flavorful drizzle is sometimes better than covering the corn in ooey, gooey, goodness.
For an Asian-inspired twist to your summer menu, whisk together equal parts rice vinegar and soy sauce. Here's the thing: You're just going to be brushing this onto the corn after it comes off the grill, so a little bit is going to go a long way. Want to add a little more flavor? Use a dash of cayenne for some heat, mix in some crushed garlic, or add some red pepper flakes.
Then, just brush it on! This is perfect when you're looking for something that's not too heavy, and there's a bonus here, too: If you made too much sauce, drizzle it on your burgers or over your fries as a delicious way to make sure you're not wasting a drop.
Sriracha aioli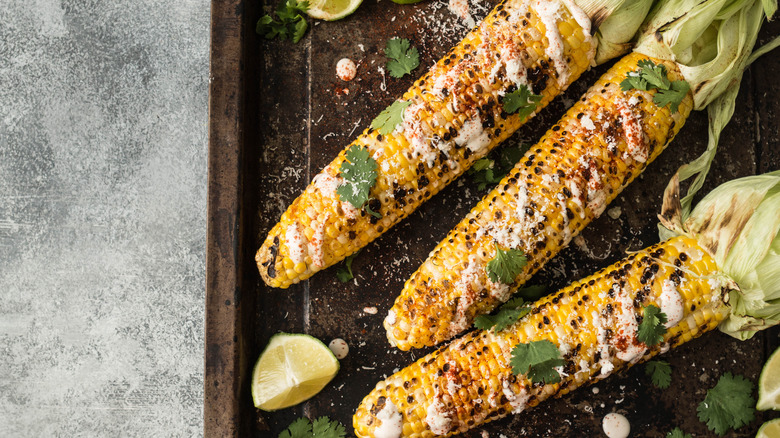 Sentelia/Shutterstock
We love it when we can make one thing and have it serve multiple purposes — and we extra-love it when we can whip up a multi-use condiment and have extra to keep in the fridge for next time. Which is why we're going to talk about sriracha aioli.
Aioli is one of those things that seems more complicated than it is, and there's absolutely no reason to give this a miss. If you don't already have a favorite recipe, we here at Mashed have you covered with our super-easy roasted garlic aioli, courtesy of Miriam Hahn.
It's full of flavor as it is — and it's definitely an option for drizzling on your corn on the cob when made just the way she demonstrates. Honestly? It's the freshly roasted garlic that makes all the difference, because we're here for that. She adds a spicy kick with some dijon, cayenne, Worcestershire sauce, and lemon juice, but for corn on the cob, sriracha will add some serious heat.
And that multi-purpose thing we were talking about? This isn't just great drizzled over corn on the cob, but it's brilliant on burgers and for dipping fries, too. It'll also last in the fridge for a few days, so make enough to dress up another meal!
Bacon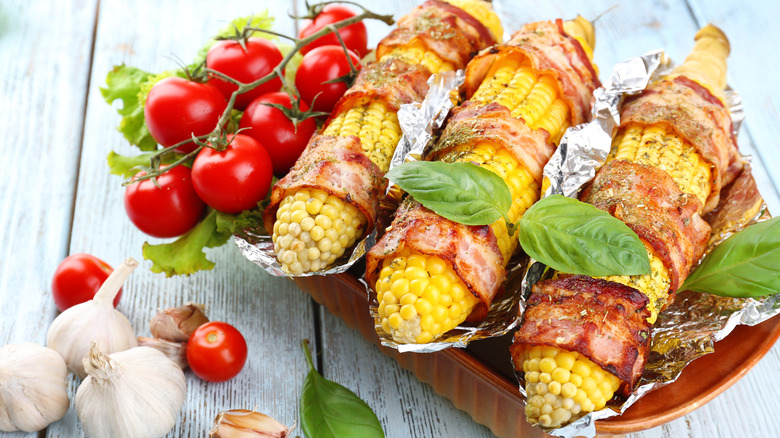 Africa Studio/Shutterstock
No convincing needed to try this one, right?
We really don't have to say that everything is better with bacon, but we feel this so strongly that we're going to say it anyway: Everything is better with bacon. That goes for corn on the cob, too, and bonus? This is super easy, and while you're not going to want to opt for this one if you're skipping the butter with the idea it's going to be healthier, there's nothing wrong with treating yourself. It might not be healthier, but it is better.
Shuck your corn, and wrap each ear with a strip of bacon. Or two strips, if you like — you're an adult, and adulting is hard, so have some fun where you can. (Here's where you can add a little more if you like: Sprinkle with paprika, cayenne, or pepper.) Wrap your bacon-wrapped corn in tin foil, and throw it on the grill until the bacon has cooked completely, and the corn has cooked in all that lovely bacon flavor. That's it! You might never even think about buttering corn on the cob again.
Jerk mayo and coconut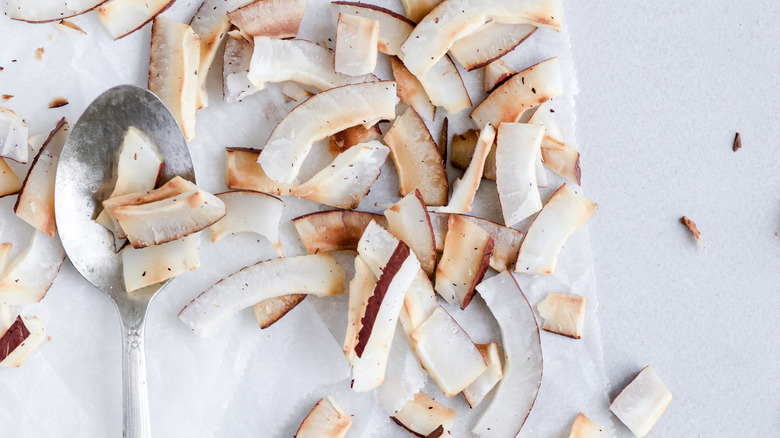 Tejal Pandya/Shutterstock
Food should be fun, and Miss Lily's? Miss Lily's is super fun. The New York City restaurant is a celebration of Caribbean cuisine, and they have something pretty cool on their appetizer menu. That's jerk corn, and the good news is that while it's undoubtedly not going to be the same, you can make this one at home.
It starts with slathering your corn on the cob with jerk mayo, which is exactly what it sounds like: a mix of mayo and jerk seasoning, with a dash of either lemon or lime juice. Make it as strong or as mild as you'd like, but keep in mind that that's not all: This one then gets coated in toasted coconut.
We know, right? It definitely sounds delicious. And don't worry, making the toasted coconut is easier than it sounds. You can do it in the oven; just spread the coconut on a tray, and bake at 350 degrees until browned. You can get the same effect on a frying pan on the stove, in a toaster oven, or even in the microwave. Cover your corn on the cob with the mayo then the coconut just before serving, and you'll have a sweet treat that'll have everyone reaching for another.
Pesto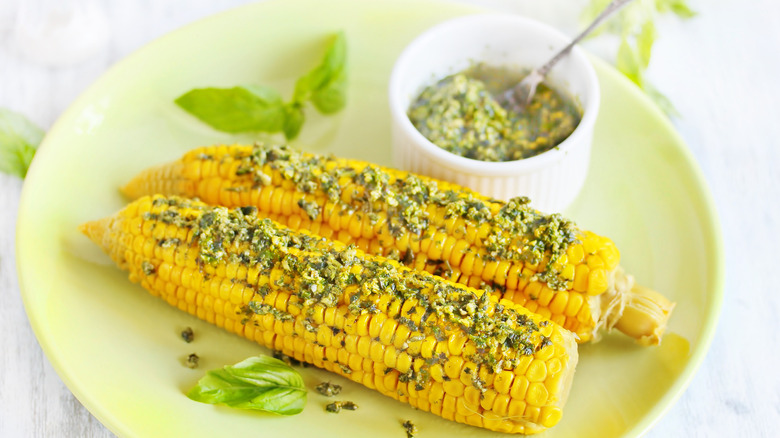 Lyudmila Mikhailovskaya/Shutterstock
If winter is a time for a bowl full of the sort of comfort food you have to carry with both hands, summer is the time for light and refreshing. What's more refreshing than basil pesto?
Pesto actually makes a great replacement for butter when it comes time to serve corn on the cob. The good news is, virtually any kind of pesto will work! Try a standard basil pesto, or a lemon basil pesto for that mild, lemony flavor. But there's absolutely no reason to stop there. How about trying a sun-dried tomato pesto? (Especially if you're also serving burgers with massive slices of tomatoes — how amazing does that sound?) You could also double down with a corn pesto, or how about a roasted red pepper pesto?
Pro tip: Use a brush to paint on just a thin layer of pesto. It'll get in all the cracks and crevices between the kernels, and it'll give you consistency. Remember that a little bit goes a long way, and you don't need a ton of pesto to give your corn on the cob a kick!
A maple and mustard drizzle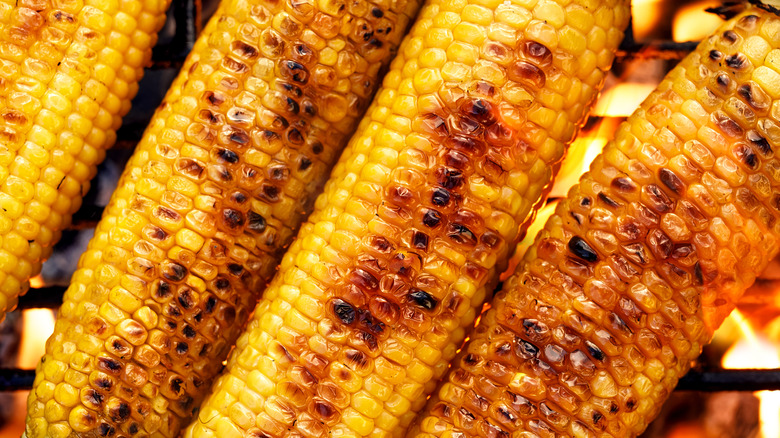 Zi3000/Shutterstock
There's a good chance that corn is the first vegetable that many of us learned to like, and there's a good reason for that. It has a natural sweetness that's unmatched by other vegetables, and for a topping that's only going to bring out more sweetness, how about a maple syrup and mustard glaze?
Not only will this be a hit with anyone in the family who likes sweet corn, it's almost shockingly easy: Just mix together some maple syrup and a dash of the mustard of your choice. (Our favorite is Dijon, purely for the depth of flavor it brings.)
The only thing that's tricky about this one is going to be handling the hot corn. This works best when added to corn that's still a few minutes from being ready to come off the grill. Brush it on with the help of some tongs, and pull it off after just a few minutes. The maple syrup will act more like a glaze than a dripping, buttery topping. Just be careful, though: It'll be hot!
Parmesan and parsley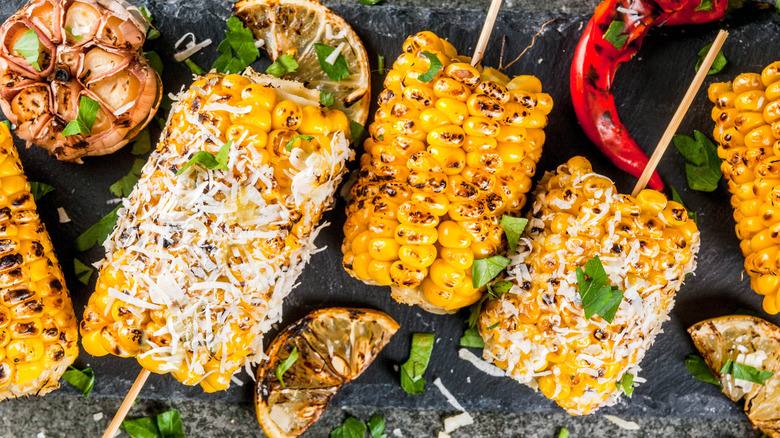 Rimma Bondarenko/Shutterstock
Sometimes, the best things in life are the things that just aren't complicated — and that's where this corn on the cob recipe from Giada De Laurentiis comes in. Is it surprising that she's a huge fan of traditional Italian ingredients, even when it comes to vegetables? Nope!
She says (via Giadzy) that one of the best ways to dress up an ear of corn is also the easiest: Just mix together equal parts olive oil and grated Parmesan, add some chopped and sautéed garlic, chopped parsley, and a dash of salt, then brush it onto the corn on the cob. Add a sprinkle of more Parmesan cheese — because as we all know, it's impossible to have too much Parmesan — and serve. It'll end up coated in just the right amount of melty goodness, but at the same time, it won't be too heavy in a fill-you-up, didn't-save-room-for-the-burgers kind of way.
Cajun seasoning
Michelle Lee Photography/Shutterstock
Corn on the cob might seem like it's pretty straightforward to make, but as we've found, there are some common mistakes that can make your final product less-than-stellar. And seriously, how disappointing is getting a not-so-great ear of corn? Fortunately, this butter replacement suggestion works perfectly with what we've found to be the very best way of grilling corn, so that makes it a win-win.
Before throwing your corn on the grill, partially shuck it, but leave the husks attached at the end. Remove all the silk, and before you re-wrap the corn, add your seasoning. Mix your favorite store-bought or homemade Cajun rub with vegetable oil — using just around three tablespoons for a half-cup of oil — and brush it on. (You can definitely adjust the flavor profile here, too, with some salt or extra spice.) Wrap, grill, and enjoy, with no butter needed when it comes off the grill and onto the plate.
Chipotle crema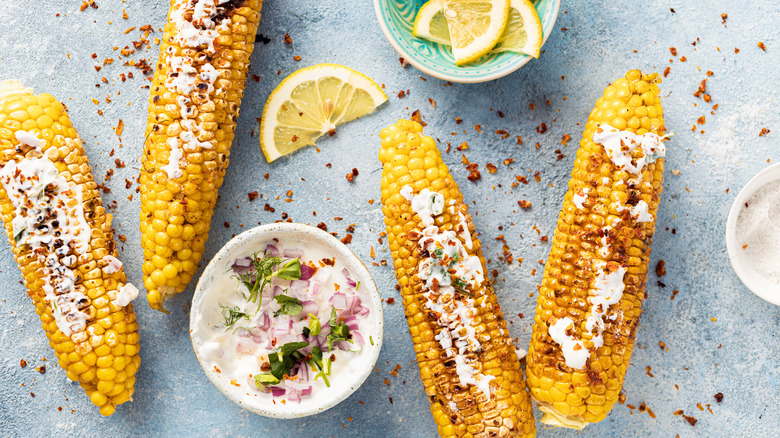 KucherAV/Shutterstock
There's something delicious about chipotle peppers: They add an incredible, smoky heat to anything you add them to, and that's why we absolutely love this suggestion from Tasting Table.
They have a delicious recipe for a chipotle crema that's nothing short of divine when drizzled over corn that's just come off the grill. It calls for equal parts sour cream and heavy cream, chipotle chiles in adobo, and salt. Mix the creams and the salt, and after letting them sit for a few hours, run it through a food processor with the chipotle peppers. There you have it: Chipotle crema!
Drizzle this over your corn on the cob once, and there's a good chance it'll be your go-to for good. There's a bonus here, too: That same chipotle crema is delicious drizzled over fries, replacing plain old mayo on a burger, or drizzled over other veggies. It's so good, in fact, that once you try it on sweet corn, it just might become one of your go-to condiments. (Try it on tacos!)
Sweet chili sauce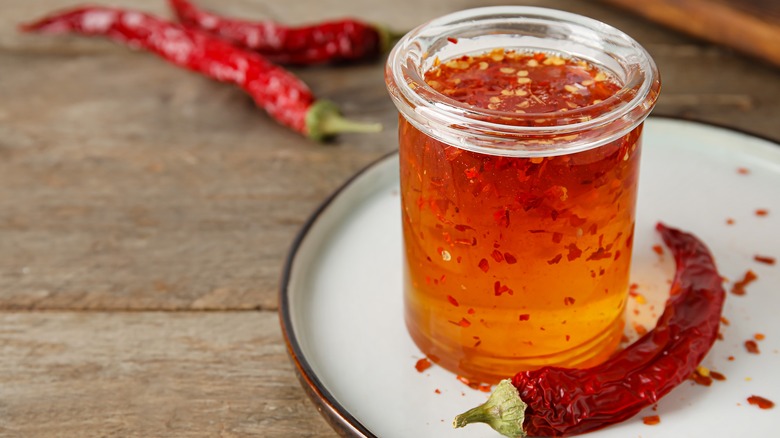 Pixel-Shot/Shutterstock
Here's another great idea for when you don't want to overpower the taste of your corn with heavy flavors, but do want to bring out that natural sweetness. Sweet chili sauce is a vastly underappreciated condiment that's actually pretty perfect for basting onto corn on the cob as it's being grilled.
The other brilliant thing about using sweet chili sauce is that it's easy to dress up just a bit. Instead of using it straight, mix up a sauce using sweet chili as the base, but add other Asian flavors like soy or plum sauce. Want something that's a little more on the hot-and-spicy side, along with the sweet? Add some red pepper flakes. You could also opt for grilling in the husk as usual, and mixing up a sweet chili, sour cream, and sriracha drizzle to add when the cobs come off the grill. Season with salt and pepper, add some finely chopped green onions, and enjoy!
Yogurt-based Mediterranean goodness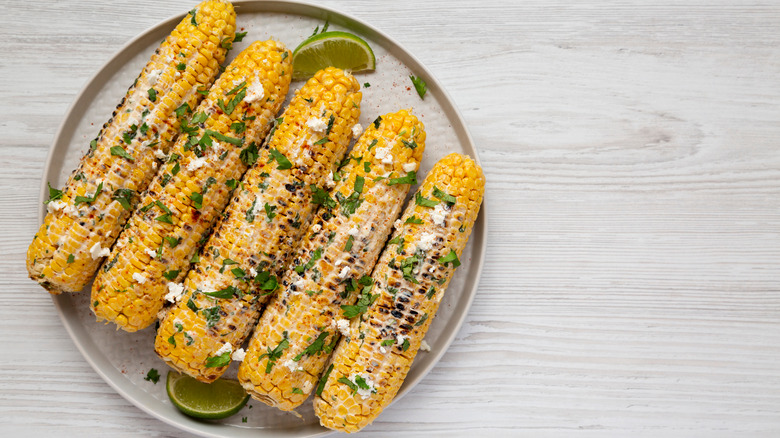 Liudmyla Chuhunova/Shutterstock
It's no secret that if you're trying to be healthier, making small changes can add up to have big benefits. Trying to cut out fat-heavy things like butter and even mayonnaise? Yogurt can be an excellent substitution to make, and that brings us to an idea partially inspired by another item on our list, Mexican street corn.
If the mayo just doesn't seem to vibe, swap out the mayo for Greek yogurt. Mix in your cheese, and use that as your spread.
While you can certainly opt to turn that into a Mexican-inspired side, let's talk about Greece for a minute. Since you're using Greek yogurt, how about going with a Mediterranean feel? After spreading your cheese-and-yogurt mix onto your corn, simply sprinkle on a mix of oregano, basil, and parsley. Add a dusting of paprika if you like, and on the off chance you have some oft-overlooked spices (like sumac) sitting in your kitchen cabinet taking up space, grab those, too!
It'll be an absolutely delicious way to prove that just because something is healthy, doesn't mean it has to be lacking in flavor.