How Alton Brown Feels About Cohosting The Iron Chef Reboot - Exclusive
Netflix
Alton Brown was used to running a one-man show as the longtime host of "Iron Chef America." His job was to traverse the Kitchen Stadium, checking in with the competing chefs, keeping tabs on all the action, and helping all of us at home understand what was happening during each high-stakes, fast-paced challenge.
Now, with the Netflix reboot, "Iron Chef: Quest for an Iron Legend," Brown is still pretty much doing that same job — but with one major difference. This time around, Brown is sharing his hosting duties with "Top Chef" winner Kristen Kish. During each episode, the two work together to translate what's happening in the kitchen during what's being called the toughest culinary challenge a chef will ever face.
In an exclusive interview with Mashed, Brown opened up about his experience working with Kish on "Iron Chef," and explained how having a co-host changed the dynamic of the show for the better.
Alton Brown says he and Kristen Kish make for an Iron Chef dream team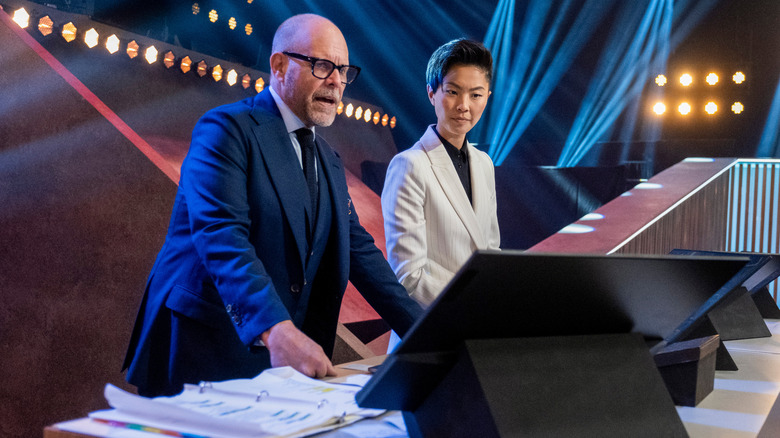 Netflix
This new edition of "Iron Chef: Quest for an Iron Legend" brings with it higher stakes, tougher challenges, and more pressure than ever before. It makes sense that two hosts are better than one to handle a competition of this caliber. Alton Brown would agree, and he told Mashed that he couldn't have asked for a better co-host than Kristen Kish. "Kristen and I are fortunate to have really great chemistry. We worked really well together right off of the bat," he says to us.
Brown also pointed out that having a co-host like Kish is almost necessary because of the show's new elevated format. "The fact that we're doing this on Netflix now ... means that there are no commercial breaks. You've got an entire hour to really drill down on the intricacies of the story, what's going on with the food, and more importantly, or as importantly, what's happening in the minds of the people that are making the food," says Brown. Rather than rambling on by himself for an hour, Brown welcomes the chance to converse with a talented and knowledgeable chef like Kish. As he puts it, "We were made to do this together."
Kristen Kish offers competitor experience as an Iron Chef host, says Alton Brown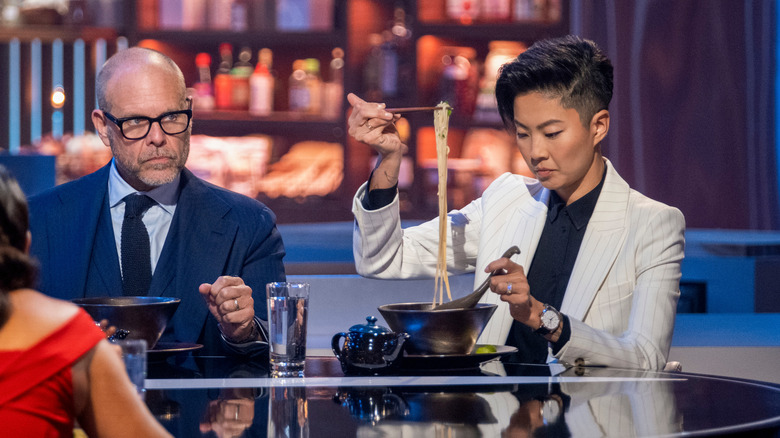 Netflix
While Alton Brown has always brought his impeccable culinary knowledge and unmatched wit to the "Iron Chef" kitchen, there's one thing that Brown can't really bring to the table: the experience of actually competing. He says that's where Kristen Kish comes in big time on "Iron Chef: Quest for an Iron Legend." He tells Mashed, "because Kristen has competed in shows at a very, very high level, and won [Top Chef], she's got the ability to have real empathy with those people." 
Brown added that Kish is "able to have conversations down on the floor to get real intel on what's going on with the chefs," and not just on their plates, but in their minds as well. "Then, she comes back and we get to actually talk about it," says Brown. Because of the commercial-free format on Netflix, Brown says, "Now we have time to ... actually have conversations ... and [it] brings a whole new dimension to the show that it's never had before."
Iron Chef: Quest for an Iron Legend is now available to stream on Netflix.