Jet-Puffed Wants To Light Up Summer Nights With Its Camp S'mores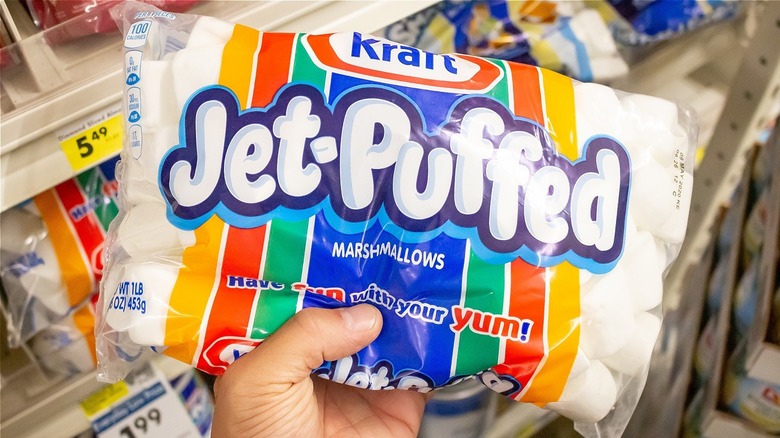 The Image Party/Shutterstock
When it comes to classic treats that signal summertime, there's nothing like roasting marshmallows and making s'mores during a backyard barbecue. If you don't have a fire pit, Target's Favorite Day just released a pack of s'mores that you can put on the grill, but if you prefer taking the time to get your marshmallow perfectly toasted, then Jet-Puffed has classic marshmallows with a fun packaging twist.
According to a press release from the company, Jet-Puffed's latest marshmallows are sold in a glow-in-the-dark bag, which are called Camp S'mores. Samantha Mills, the associate director of brand communications at Kraft Heinz said, "The new glow-in-the-dark packaging makes it easy to find your bag of marshmallows when the sun sets around the glowing campfire, giving your tastebuds a delicious treat with every bite."
If you're stargazing in a dark park, then these marshmallows will be easy to find even late at night. Plus, the glow-in-the-dark bag includes a QR code customers can scan to find a constellation that's been registered by Jet-Puffed. While the marshmallows don't have any special flavor, these extras on the bag put a fresh spin on the regular version of the sweet treat.
Jet-Puffed's sweepstakes prize includes more than just marshmallows
Jet-Puffed's new Camp S'mores also comes with a giveaway from the company. On the company's Instagram page, a post explains that no purchase is necessary to enter the sweepstakes, and all participants need to do is take a photo of themselves eating s'mores and stargazing with specific hashtags. The sweepstakes end at the end of August, so there's no rush to go out and snap your photo, unless you want an excuse to eat s'mores as soon as possible!
If you win the sweepstakes, you'll receive a glow-in-the-dark bag of Camp S'mores along with ingredients to make s'mores, a telescope, stickers, glow-in-the-dark skewers, and other goodies.
Looking for more ways to experiment with s'mores? Even without flavored marshmallows, there's a lot you can do to take a s'more to the next level. The one ingredient that's been missing from your s'mores might be peanut butter cups, or whip up a batch of gourmet s'mores bars to enjoy all week long.