The Trader Joe's Caramel Center Lava Cake That's 'Laughably Easy' To Make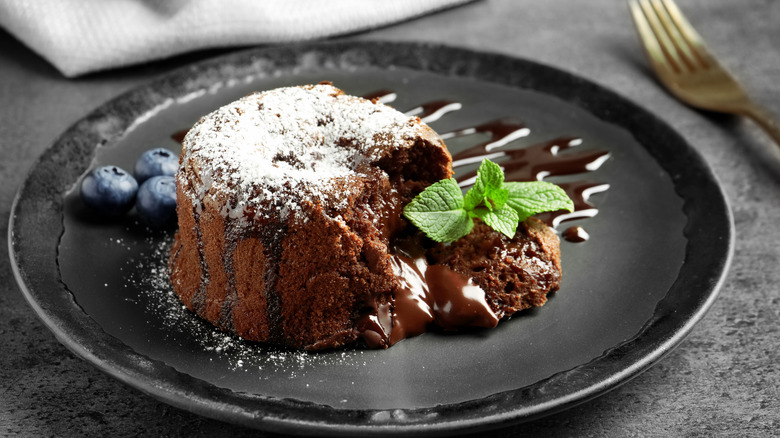 New Africa/Shutterstock
We may receive a commission on purchases made from links.
If you were old enough in the 1990s, you would remember seeing chocolate lava cakes on the menu in all high-end restaurants. If not, perhaps you remember it from Jon Favreau's movie "Chef" when his character, Carl Casper, defends the complexities of the dessert to a food critic calling it irrelevant. He exclaims, "Chocolate lava cake is not just undercooked chocolate cake. That's not what makes the center molten. You take a frozen cylinder of ganache and set it in the ramekin so that as the outside cooks fully, the inside becomes molten!"
The recipe's history is disputed, too, as French chef Jean-Georges Vongerichten claims that he invented the recipe in his New York restaurant "Lafayette" in 1987 when he accidentally removed a chocolate sponge cake from the oven too early, revealing a molten center that, to his surprise, was delicious. Not too fast, claims fellow French chef Jacques Torres, who argues that these little cakes had existed in France long before Vongerichten began putting them on his menu (via Chocolate Noise).
Whether you call the cupcake-sized dessert a lava cake, molten chocolate cake, or chocolate moelleux, the personal-sized dessert that has been marketed for romantic meals has fallen far from its Michelin-star roots to appear on the menu at Domino's Pizza, and yes we have a copycat recipe for that. Bougie or not, lava cakes have survived the last few decades because they are delicious. Lucky for us, we no longer need to wait until Valentine's Day to enjoy them.
Caramel-center lava cakes for the win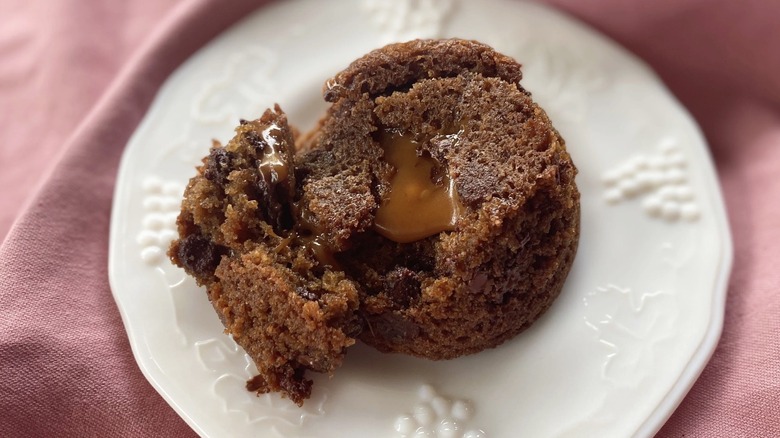 Claire Lower
Couples dining out can still find the classic dessert on many menus. Even the happiest place on earth, Disney, has it. There are a plethora of online recipes for lava cakes, ranging from intricately complicated to easy microwaved mug cakes. Home cooks at every level can find one that meets their culinary skills.
In a recent post from lifehacker, two Trader Joe's products were combined to make the simplest version of the dessert. Beginning with the "Blondie Bar Baking Mix," the batter is placed in six ramekins like their fancy siblings before receiving a single "Dark Chocolate Covered Caramel" set in the middle of the cake to form the lava. Although a blondie is different than a brownie, (more vanilla than chocolate) the combination works, and frankly, we can't see why you couldn't substitute a brownie mix if you needed a more chocolate fix. Using a boxed mix as the base allows you to play around with different flavor combinations, replacing different chocolates for the center. 
Home cooks that still think that's too much work, fear not because you can also buy a lava cake kit or purchase one pre-made and frozen at Trader Joe's. Despite the critics out there, there's a reason why we are still talking about a dessert that went viral long before social media as it hits all the right notes — hot, cold, gooey, cakey, and chocolatey.