Easy Ribeye Roast Recipe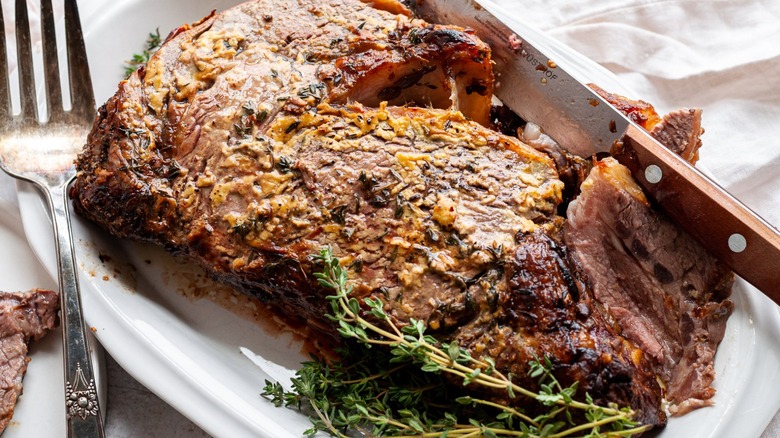 Christina Musgrave/Mashed
If you decide to invest in a nice roast, you want to make sure you do it right. Roast beef isn't too tricky to cook, particularly when it's got a nice layer of fat that helps to keep it tender and juicy. There are a number of different ways to roast a hunk of beef, with some favoring low temps and others favoring high. Recipe developer Christina Musgrave is in the latter camp, as she roasts her beef at 450 F so a fairly large one cooks in only an hour.
Musgrave says this recipe "is just a few steps and produces a delicious and flavorful roast." Even better, all of that flavor comes from, in addition to the beef, just five ingredients — and three of those are salt, pepper, and oil! There is one particular ingredient she likes to use that she feels gives the beef something extra: She rubs it with Dijon mustard before roasting. As she explains, this tangy condiment "gives the ribeye roast a delicious crust."
Gather the ingredients for this easy ribeye roast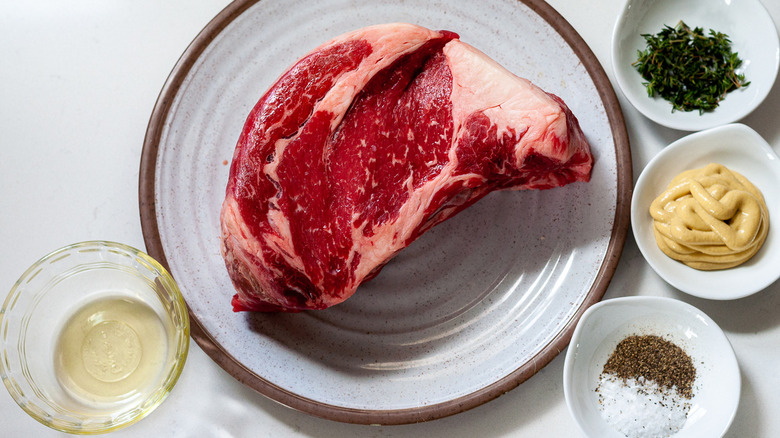 Christina Musgrave/Mashed
Musgrave uses a 3-pound boneless ribeye roast here, although you could use one of a different size and simply adjust the cooking time accordingly (more on that below). She also favors using Dijon mustard as a rub, but really, any kind of mustard you like will work to create a tasty crust on the meat. She also seasons her beef with salt, pepper, and thyme. If you find that you're out of thyme (so to speak), Musgrave says you could also use rosemary or sage. There's just one more thing you'll need, which is a bit of olive oil to grease the baking pan.
Prepare the cooking equipment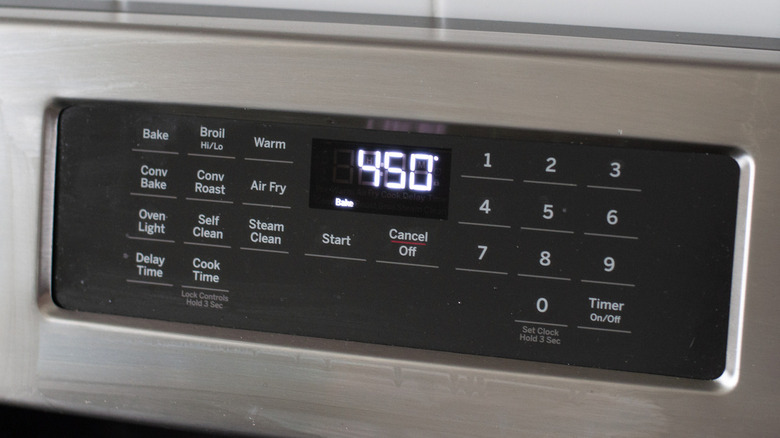 Christina Musgrave/Mashed
First, preheat the oven to 450 F; with such a high temperature, it's going to take some time to reach the proper level. Next, find a pan large enough to fit your beef roast, then pour some oil into the pan and rub it all over to grease it.
Season the roast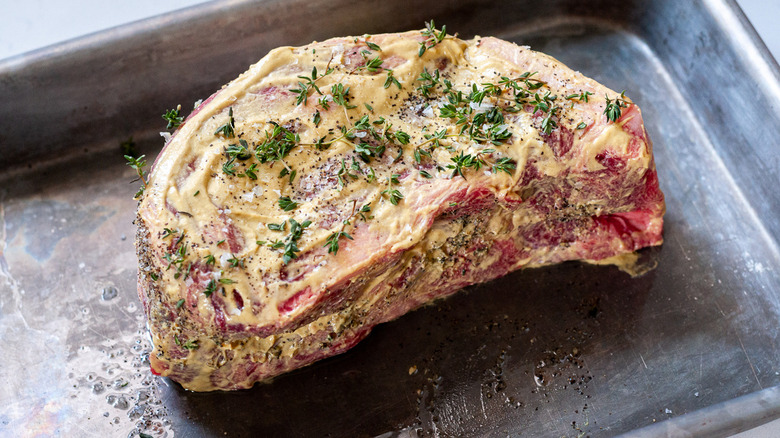 Christina Musgrave/Mashed
Spread the mustard all over the hunk of beef. Now mix up the dry ingredients and rub them into the roast. Use your hands to ensure that spicy, herby mustard coating gets into every nook and cranny.
Cook and rest the roast
Christina Musgrave/Mashed
Once the oven hits 450 F, put the pan (and the beef) in and roast it for an hour if it weighs exactly 3 pounds. If it comes in at another weight, it will cook for 20 minutes per pound. As Musgrave explains, "If it's a 2-pound roast, you only need to cook it for 40 minutes." So if it's 2 ½ pounds, then you cook for 50 minutes, 3 ½ pounds cooks for an hour and 10 minutes ... you get it. Math is fun when food is involved!
Once the beef is done, take it out of the oven and let it sit for 15 minutes before slicing. Musgrave says that this crucial step "allows all of the juices to reabsorb into the meat." If you have leftovers, you can always reheat that roast beef low and slow and it'll be delicious the next day, too.
Easy Ribeye Roast Recipe
There are many ways to roast a hunk of beef. This recipe opts for a "high and fast" method, which, along with some Dijon, ensures a flavorful crust.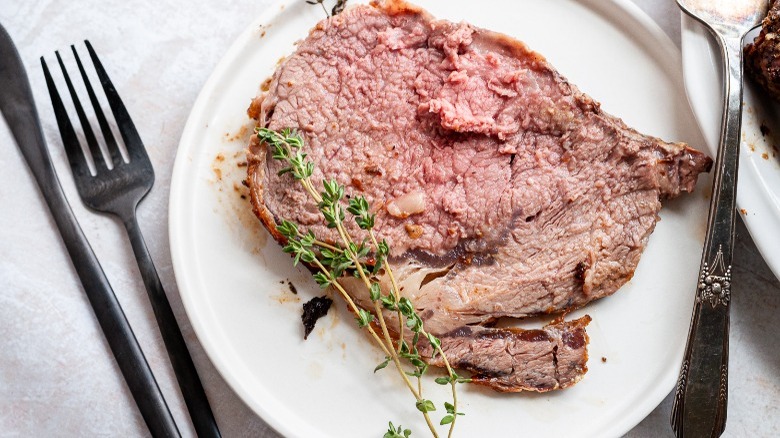 Total time: 1 hour, 15 minutes
Ingredients
1 3-pound boneless ribeye roast
1 teaspoon olive oil
2 tablespoons dijon mustard
1 teaspoon salt
1 teaspoon black pepper
1 teaspoon chopped thyme
Directions
Preheat the oven to 450 F.
Use oil to grease a baking pan.
Coat the roast with the mustard.
Mix the salt, pepper, and thyme together and sprinkle them onto the roast.
Use your hands to rub the seasonings and mustard all over the roast.
Cook the meat for 1 hour (or 20 minutes per pound).
Let the roast rest for 15 minutes before slicing.
Nutrition
| | |
| --- | --- |
| Calories per Serving | 585 |
| Total Fat | 46.2 g |
| Saturated Fat | 19.9 g |
| Trans Fat | 2.8 g |
| Cholesterol | 154.2 mg |
| | |
| --- | --- |
| Total Carbohydrates | 0.6 g |
| Dietary Fiber | 0.3 g |
| Total Sugars | 0.1 g |
| Sodium | 542.7 mg |
| Protein | 42.0 g |