The Costco Ice Cream Twitter Can't Believe Exists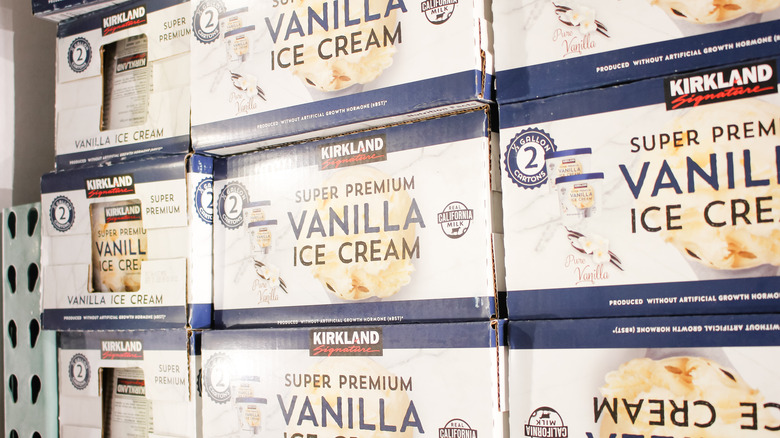 The Image Party/Shutterstock
When it comes to desserts, Costco has quite the selection. If you are a fan of the warehouse retailer's Boba Ice Cream Bars, a stop at the membership wholesaler won't leave you disappointed. And if you like ice cream sandwiches, Costco can help you meet that craving with packages of trendy La Vie Gourmand Macaron Ice Cream Sandwiches (via She Knows). But if frozen treats are not on the menu, the return of the beloved Costco key lime pie had Instagram blowing up with glee, and it is not just because it weighs in at over 4 pounds. And, of course, who can resist Costco's sheet cake that tastes delish, feeds a crowd, and will only set you back $18.99, per Today?
Costco definitely has classic sweet treats that can satisfy the sweetest of sweet tooths. But lately, there is another dessert that shoppers have been discovering on the shelves of the frozen food section at the store that sells in bulk. In fact, it has Twitter appreciating an Asian candy that has some people feeling nostalgic for the sweets of their youth. And, naturally, others are excited to find this frozen treat at their own local Costco and discover what they've been missing out on.
Follow the white rabbit
One Tweeter took to the social media platform to share that she had found White Rabbit Ice Cream Bars at Costco. The individual posted a photo of the vanilla flavor ice cream bars with this caption, "Went to costco and these are so freaking good ... pls get." This Tweet has received over 5.4k likes and lots of conversation. One follower asked, "Amazing; does it replicate the rice paper somehow too?" Sadly, the answer was no. The original poster wrote, "No but it does have a slight chewy texture just like the candy!" Still, another was astounded, typing, "WHAT?!? THEY MADE MY CHILDHOOD CANDY INTO ICE CREAM?!"
According to the San Francisco Chronicle, packaged in red, white, and blue wrappers with the iconic bunny, White Rabbit candy is similar to a Tootsie Roll with a vanilla flavor. Created in Shanghai, White Rabbit candy was given to President Richard Nixon as a present in 1972, but boy has it become a thing. Some areas have seen this candy popping up in all types of foods. A White Rabbit ice cream was sold at the Milkbomb and a local bar incorporated White Rabbit candy into a cocktail. Perhaps this social media maven said it best with her tweet, quipping, "What the heck i must have it." Same.