You Can Order These Dishes From MasterChef Fave Michael Silverstein On Grubhub - Exclusive
The next time you're in the mood for a gourmet meal but don't feel like going out to get it, Grubhub has you covered with MasterChef Table. The delivery-only virtual restaurant, available in select cities around the country, features competition-worthy dishes created by past winners and favorites from "MasterChef." It's basically a Gordon Ramsay-approved dinner that you can get sent right to your door.
One of the featured chefs is Season 10's Michael Silverstein (who's now back for redemption on Season 12). The chef is known for his keto recipes with major flavor kicks, and now you can get a taste of his signature style. Silverstein said this fun project with Grubhub was "actually pretty easy because I made the food that I love." The Austin-based chef told Mashed that he "created a menu that's really a taste of home for me," which means bringing "a lot of the big, bold Texas flavors to everyone's table."
In an exclusive interview, Silverstein described, in delicious detail, the dishes he designed for the MasterChef Table menu. All in all, he calls it "a kickass menu with big flavors." Take it from us — you may as well get your Grubhub app open and ready now so you can order these craveable creations right away.
Chef Silverstein is serving up a taste of Texas on Grubhub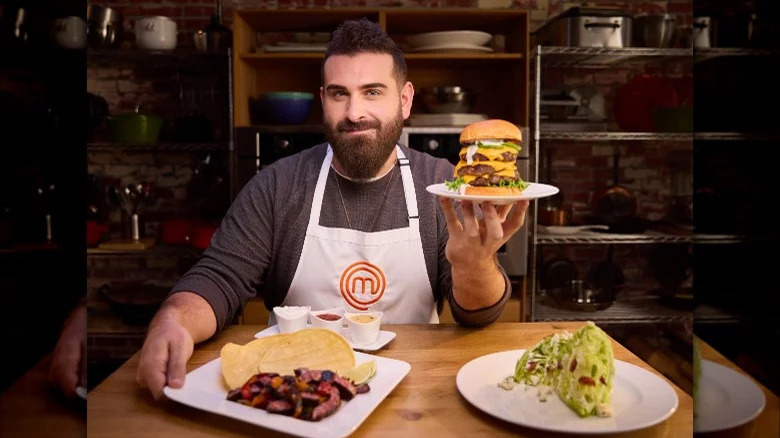 Grubhub
If you like big, bold flavors and a hearty meal that's going to fill you up, then Michael Silverstein's MasterChef Table menu is sure to hit the spot. The chef created three different offerings, all available on Grubhub and all sure to leave you feeling satisfied and then some.
To start things off, Silverstein said he put together "really beautiful Texas-style fajitas." What exactly does Texas-style mean in this case? They are "covered in queso," of course, said the chef. Whether you want to wrap it all up in a tortilla or go straight in with a fork and knife, this tasty twist on a Mexican restaurant favorite is spicy, cheesy, and "next level delicious."
If you want to "lighten it up," Silverstein also created a "crispy, delicious blue cheese wedge salad." He describes it as "unapologetically big and bold and overloaded with bacon and scallions and all this goodness." Say less, Chef — we're already hooked.
The Chef Michael Burger has triple the meat and triple the flavor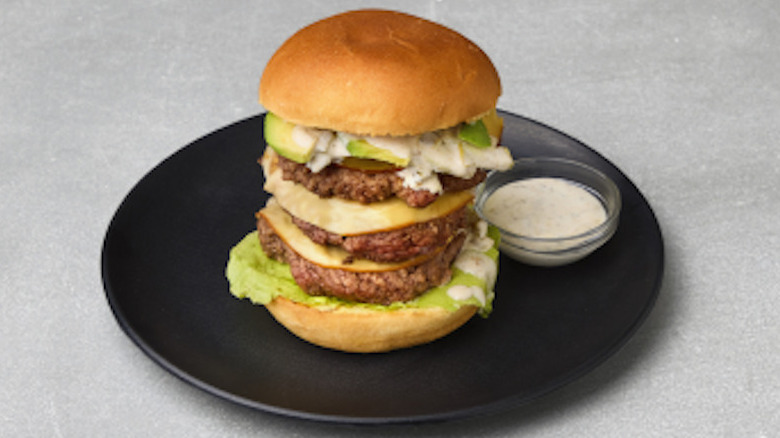 For the main event — if your appetite is up for it — Michael Silverstein cooked up a "triple-stack smash burger" that he is calling the Chef Michael Burger. It's got three juicy burger patties plus cheese, all "stacked up and layered with a zesty jalapeño ranch that's got a little bit of a kick."
This burger is also loaded with avocado, adding "a little bit of nutrition," as the chef put it, along with a next-level creaminess that will have you finishing every last bite and probably licking your fingers clean afterward. "I also love the opportunity for people to try things their way," Silverstein insisted, and he suggested swapping out the bun for a lettuce wrap if you're keto, gluten-free, or just looking for a healthy hack to justify this indulgent, flavorful Grubhub feast.
Click here to see if MasterChef Table is available to order near you on Grubhub, and catch new episodes of "MasterChef" Season 12 every Wednesday on Fox.