Aldi's Flower-Shaped Ice Cream Cones Could Become A Summer Favorite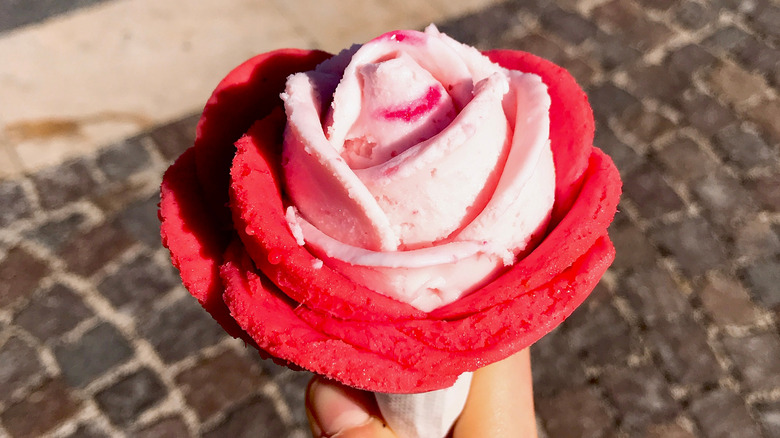 Silver River/Shutterstock
During the hottest months of the year, there is only one place in town that's more popular than the pool: the ice cream shop. Creamy, sweet, and refreshing, this scrumptious snack doubles as the perfect way to help beat the heat during the scorching summer months. And with ever-more creative flavors to sample, from macaroni and cheese to jalapeño-avocado, this classic frozen treat never goes out of style.
While grabbing some ice cream on a warm summer night is a time-honored tradition for many families, it's also nice to snack from the comfort of your own home. And nowadays, grocery store chains are selling more than just your basic pint of ice cream. From popular alcoholic popsicles to Trader Joe's horchata-inspired ice cream, shoppers can find anything and everything in the freezer section. Now Aldi, the major grocery chain that's massively popular with budget-savvy shoppers, has released a new summer treat that's also pretty enough to photograph. Aldi's new flower-shaped ice cream cones could be the next hit ice cream innovation (via Aisle of Shame). From decadent French apple cakes to perfectly crafted Palmier cookies, some desserts are almost too pretty to eat. One dessert that's getting points in the aesthetic department? Aldi's Rose Cones.
Aldi is adding to its unique ice cream cone collection with its new line of Rose Cones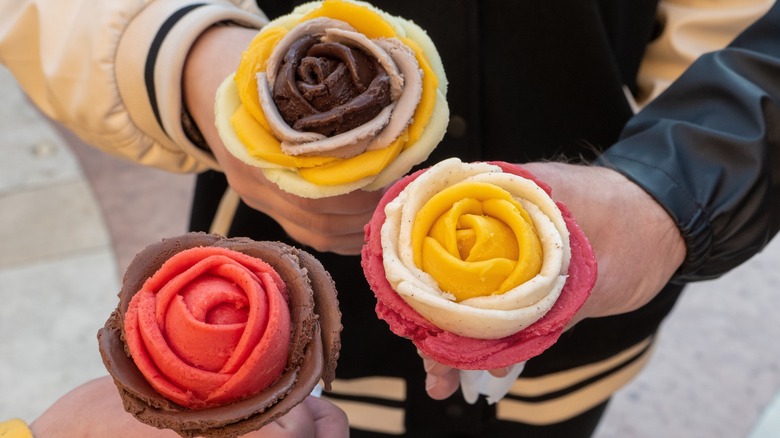 Geshas/Shutterstock
In a recent article, Aisle of Shame notified consumers of the new items coming to Aldi, including Aldi's Rose Cones. The Rose Cones come in two different flavors: chocolate hazelnut & vanilla and strawberries & cream. As the name suggests, each cone is topped with a scoop of ice cream, perfectly sculpted in the shape of a rose. The chocolate hazelnut & vanilla ice cream rose sits on a regular wafer cone, and the strawberry & cream ice cream rose rests on a mocha-flavored waffle cone. The Budget Reviews notes that the strawberry flavor is a "whippy confection of what tastes like strawberry whipped cream." Created by Aldi's in-house store brand, Sundae Shop, each $3.99 box comes with four cones. The Aldi Reviewer notes that these snacks are limited-time only, so get shopping if want to try them.
This is not the first time that Aldi has debuted innovative ice cream this summer. Several fun-packed Aldi ice cream cones arrived in stores just in time for July 4th. Particularly geared towards kids, some of Aldi's other ready-made ice cream cones included Galactic Cones, Mermaid Cones, and Unicorn Cones.