Here's A Taste Of Quiznos' Plans For The Future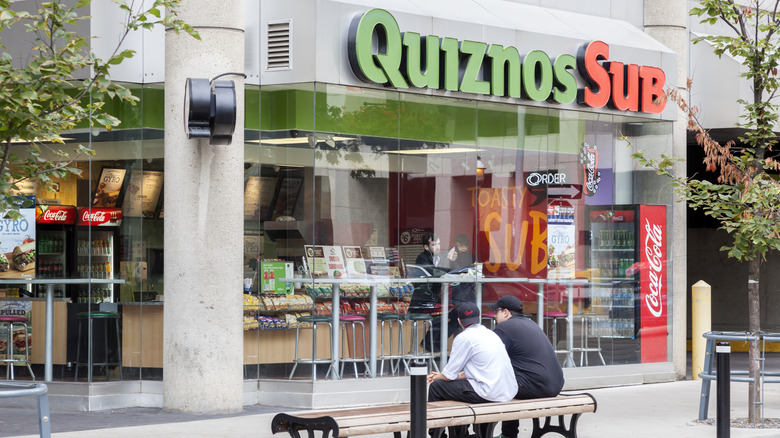 Philip Lange/Shutterstock
If you feel like you've been seeing fewer and fewer Quiznos locations over recent years, your eyes are not deceiving you. Quiznos has been pulling a disappearing act for some time now. Back in 2018, Restaurant Business reported the chain's footprint shrank from 4,700 locations in the United States to fewer than 400 between 2007 and 2017, but the closures didn't stop there. As of June 23 of this year, ScrapeHero puts the number of remaining locations at just 170.
To account for the decline, Restaurant Business points to a variety of factors including Quiznos' shaky business model, competition from Subway, and a recession. if there's one beneficial thing Quiznos can do with the past, however, it's to learn from it. This year the sandwich chain has already upgraded some areas of its business, including revamping its loyalty program and introducing some new versions of a classic sandwich. But, Quiznos is far from done making changes. Residents of Hobbs, New Mexico will get to experience some of those enhancements before the rest of us. QSR Magazine reports the city's store, a model for the rest of its locations, now has a new drive-thru along with an al fresco dining option with a new patio area, but that's not all.
Quiznos is refreshing its menu and brand strategy
The kitchen in Quiznos' model store has also been upgraded to include new flat top grills and deep fryers. But, what exactly, is this Quiznos kitchen cooking up? Eat This, Not That reports the new "globally inspired menu" includes upgrades for Quiznos' Chicken, Italian, and Chicken Carbonara subs, as well as its veggie guacamole sandwich. There are also new sandwich options like an Asian Steak Dipper with grilled steak, pickled veggies, and a pho dipping sauce, as well as a Steakhouse Philly and a Carne Supreme sandwich. For breakfast sandwich fans, there is also now a Steak and Eggs sandwich that will be available all day.
In addition, Eat This, Not That explains the chain's first plant-based vegan protein option, a Beyond Italian Sausage sandwich, along with two new salads have expanded their menu even more. The Cobb and the Steak and Frites salad, which Meat + Poultry explains includes grilled steak, fries (that would explain the deep fryers), bacon, tomatoes, red onions, and ranch dressing are part of Quiznos' attempts at drawing in more customers. 
And those customers can expect to see the changes take place at their Quiznos across the country in the upcoming months. More importantly, for us, as long as Quiznos keeps our favorite sandwich on the menu, we'll be more than happy to take a bite along with some of the chain's latest additions out on the new patio digs.