Buddy Valastro Talks About Competing Against Duff Goldman On Buddy Vs. Duff - Exclusive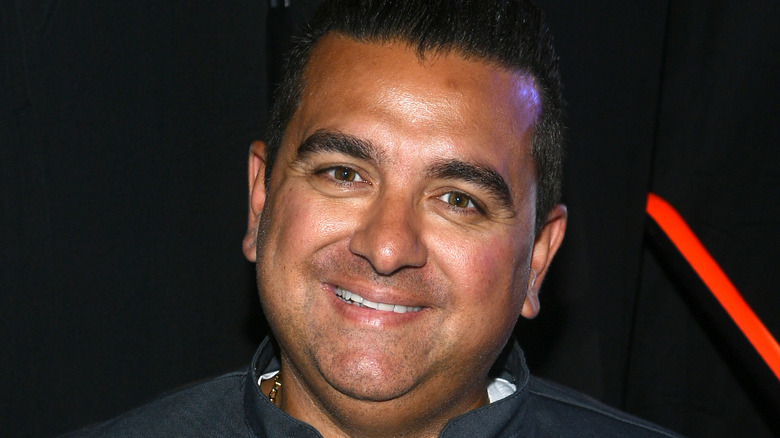 Dave Kotinsky/Getty Images
Buddy Valastro has been baking impressive cakes on TV for well over a decade at this point. He has truly earned the name Cake Boss — recently, he got to demonstrate his masterful command of sugar and flour by making a massive cake for Klondike Ice Cream's 100th anniversary. The cake is a show-stopper, with realistic recreations of Klondike treats and a chill polar bear. It's everything you would expect from watching Valastro work his magic on his various TV shows.
The Cake Boss isn't the only celebrity baker on television. Duff Goldman rose to fame with his show "Ace of Cakes," which actually debuted 3 years prior to "Cake Boss." The concepts of the two shows are almost identical: Viewers follow the head baker and the cast of characters who work for them at their business as they create showstopping pastry centerpieces for various events. The differences lie in the shows' respective settings, with "Ace of Cakes" taking place in Baltimore and "Cake Boss" filming in New Jersey.
As two highly skilled bakers with similar (some might even say competing) television shows, Goldman and Valastro were natural rivals, so it made sense that they would eventually appear on TV battling head to head. "Buddy vs. Duff" pitted the two bakers against each other in a variety of challenges. In an exclusive interview with Mashed, Valastro talked about what it was like to compete against his cake-baking counterpart.
The Cake Boss has nothing but love for Duff Goldman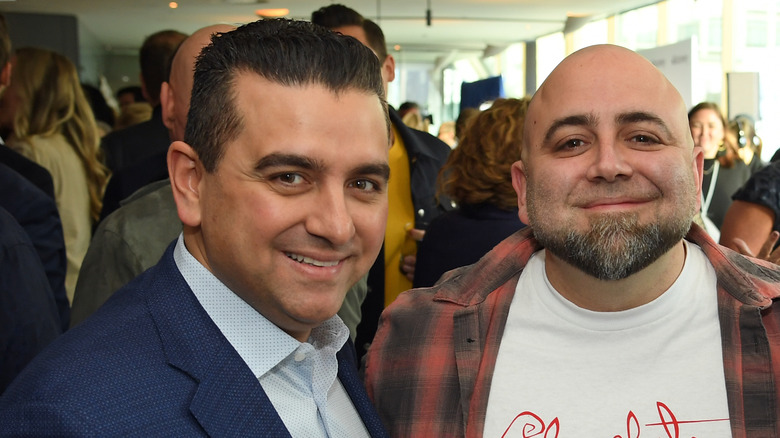 Mike Coppola/Getty Images
Although casting the two bakers as enemies made for good TV, Buddy Valastro said that in reality, he and Duff Goldman forged a very chummy relationship while filming the show. As Valastro put it, "We've become friends over the years and we have mutual respect and admiration for each other and each other's work."
Although you might think the two would have known each other before they started filming, apparently they didn't cross paths until the show brought them together. "In the beginning, if you go back to Season 1, we didn't really know each other that well. I knew of him, and he knew of me, but we didn't really spend time together and we didn't know what we were all about," Valastro said. However, the two grew close over multiple seasons of filming, and Valastro told us that "Duff was one of the first people to reach out to me and check up on me" after Valastro suffered his scary hand injury.
All the good vibes between the two bakers don't prevent them from being competitive with each other, albeit in a lighthearted way. As Buddy described it, "We are more like a friend on the basketball court, poking fun at each other ... there's no animosity or jealousy or any of that."
Now through July 16, 2022, fans can enter to win their own Klondike 100th birthday cake by posting a photo or video on Instagram of themselves completing a decades-themed "What Would You Do for a Klondike" challenge with #4aKlondike100Sweepstakes and tagging @klondikebar in the caption. More information can be found here.
You can try out Buddy Valastro's baking at Carlo's Bakery, which also ships nationally.