The Best Tea Kettles Of 2022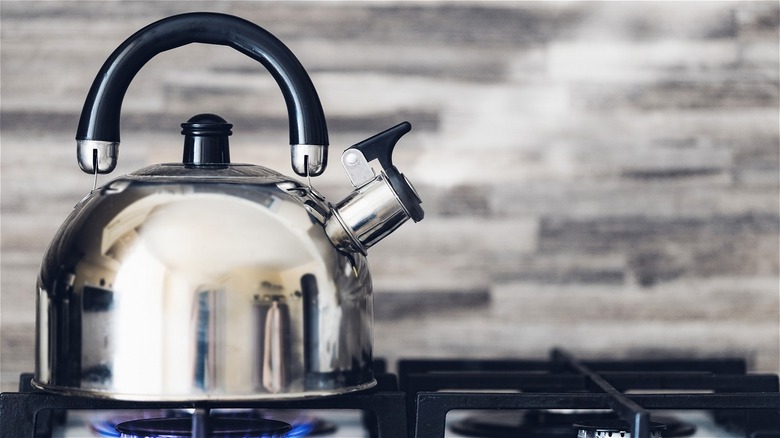 Kulinenko.G/Shutterstock
We may receive a commission on purchases made from links.
With just a pot of boiling water, a tea bag, and a mug, we can make a cup of tea pretty quickly. To improve the ritual of making tea, we need to choose a kettle that suits us best. On the surface, there doesn't seem to be much variety among different tea kettles, but the truth is that there are different features you should consider when buying one.
A tea kettle can be an electric or stovetop version. It might have a gooseneck — a long, thin spout that resembles the animal it's named for — or not (via JavaPresse). Additionally, a kettle can be made of different materials, including stainless steel, cast iron, glass, and copper, per Red Rose Tea. Some kettles make that classic whistling noise when water is boiling. For those in search of easy cleaning, certain kettles can even be put in the dishwasher, though doing so to others would spell disaster (via KitchenAid). Yet more allow you to program your kettle to a certain temperature.
These characteristics may seem superficial, but they all can have an impact on how your kettle functions, not to mention the outcome of your favorite tea. Luckily for you, we've looked at tons of different tea-making contraptions to determine which kettles pull off these features best.
How we selected products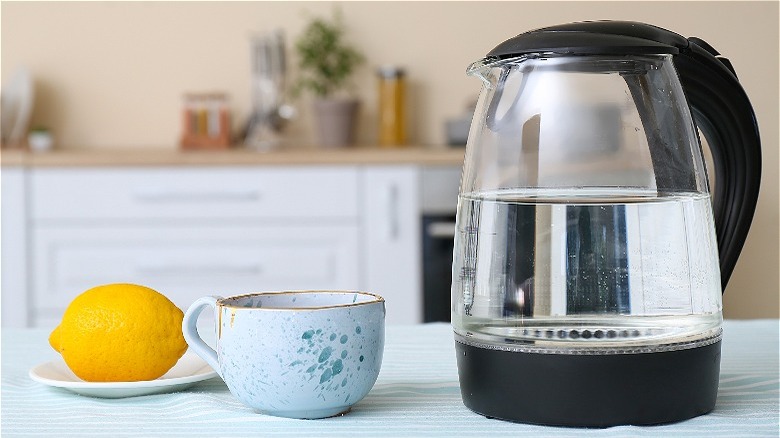 Pixel-Shot/Shutterstock
There are thousands of kettles out there. To help find the best available today, we examined how tea kettles were rated through customer and press reviews. We also dug deep to examine how well a kettle achieved certain functions, from the practical to the aesthetic. We even looked at the overall popularity of each kettle. You may not always want to follow the crowd but, when thousands of people have bought something and are satisfied with their purchase, we believe that product is at least worth considering.
Perhaps most important of all, we examined the motivations that might be behind buying a particular kettle. Are you ready to splurge on a new tea kettle? Are you shopping on a budget? Do you need a kettle that whistles? Do you need one that plugs in? Are you looking for a kettle to bring camping? Rest assured that you'll find a tea kettle for all of these situations below.
Best overall tea kettle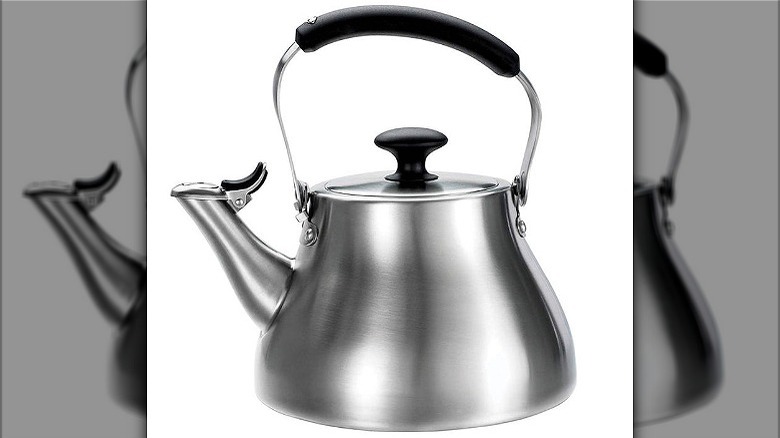 Amazon
Per the New York Times, OXO is known for making products incorporating ergonomic handles. One such handle adorns the OXO Brew Classic. The kettle not only has the company's distinct handle, but also heat-resistant silicone on the spout cap to protect your fingers. The steel stovetop kettle holds up to 1.7 quarts of water (via Amazon). 
The Brew Classic is also dishwasher safe and contains a whistle. It may seem simple, but the successful execution of these predictable features make it popular with users and the press. On top of all that, this affordable kettle costs only $49.99.
The blog Simmering Tea noted that the Brew Classic was quick to heat and durable. Additionally, the rotating handle makes it easy to store in compact spaces. Meanwhile, on Amazon, it boasts over 3,700 reviews, for an average rating of 4.5 out of 5. Proponents of this kettle say it's easy to clean, well made, great-looking, long-lasting, and good at heating water quickly. On Bed Bath & Beyond, there are over 400 reviews, with the majority being five-star ratings.
You can buy the OXO Brew Classic tea kettle on Amazon for $50.
Best budget tea kettle
Amazon
Simply put, the Mr. Coffee Flintshire is one of the best bang-for-your-buck kettles out there. Reviews, including some from celebrities, will help convince you that buying this kettle is a safe, affordable bet.
Actress and comedian Jenny Slate owns the Mr. Coffee Flintshire, according to E! News. She said the product is "a good kettle with a nice whistle," noting that the traditional nature of these qualities makes using the kettle all the more satisfying. Livestrong also noted that it's easy to clean.
Those who bought the Mr. Coffee Flintshire like what they get. On Amazon, it has over 13,000 reviews, with an average rating of 4.5 out of 5. There are nearly 10,000 five-star ratings for it — if you can believe it. Reviewers at both Home Depot and Walmart compliment its aesthetics as well as its functionality. It's definitely simple kettle, but it does what's expected of it, and does so well. If you're looking to save money on your new kettle, this one will do the trick.
You can buy the Mr. Coffee Flintshire on Amazon for $15.
Best tea kettle to splurge on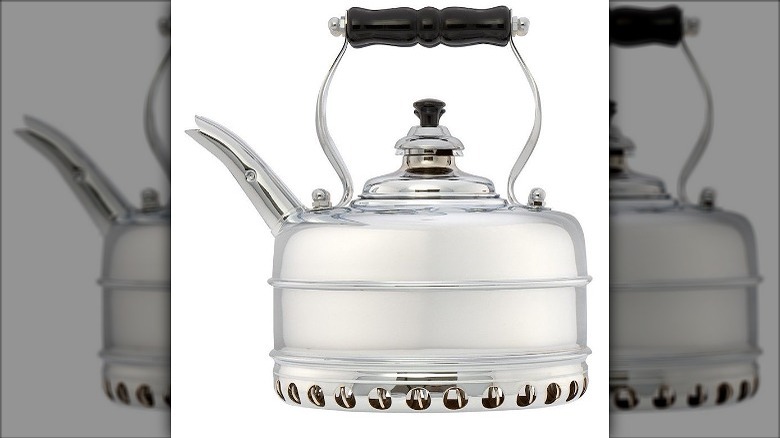 Amazon
The Simplex Buckingham No. 3 is the way to splurge on a new kettle. Its manufacturer, Newey & Bloomer, has been making tea kettles since 1903. It makes only two kettles — the Kensington and the Buckingham — and both are stovetop models. Of the two, the Buckingham has a more detailed design, with a ring of circular indentations around the base.
The Simplex Buckingham No. 3 comes with a solid copper body, a chrome exterior, a tin-lined interior, and a beechwood handle, all handcrafted by artisans. Rarely will you find such fine materials working together in this kind of harmony. It's clear that this kettle is for those wanting to buy a work of art.
For the Swifties out there, you should definitely known that singer and songwriter Taylor Swift herself owns the Simplex Buckingham No. 1. At least, she appeared to have it while appearing in a Vogue 73 Questions video released in 2016. Swift went for the copper exterior, though we prefer the chrome one. Whatever the finish, this kettle has plenty of rave reviews from other customers on the Newey & Bloomer site while, on Williams Sonoma, users also love it, saying it's lasted them decades.
You can buy the Simplex Buckingham No. 3 on Amazon for $525.
Best electric tea kettle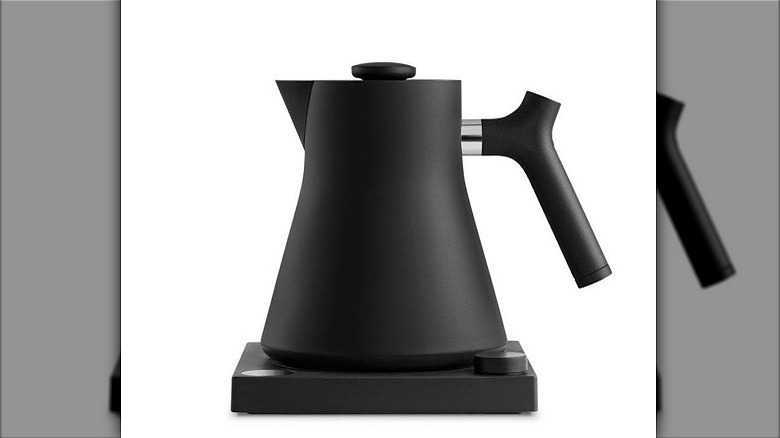 Amazon
With electric kettles, you can brew smaller amounts of water at a faster pace (via Good Life Tea). They can be safer, especially with automatic shut-off features that turn off a kettle once water is boiling. When looking for an electric tea kettle, go with the Fellow Corvo EKG.
This kettle appeared on at least one celebrity's wedding registry, per CNN. The Fellow Corvo EKG has even inspired lengthy odes to the efficacy of this product, with reviewers praising it ease of use and beautifully sleek design.
We will note that gooseneck kettles like Fellow's Stagg EKG electric kettle are often preferred for making pour-over coffee, as it's easier to control the precise flow of water. But for tea, the Fellow Corvo has all the right features, including a temperature-control dial, ability to switch between Fahrenheit and Celsius, a quick heating time, and that eye-catching matte black design. What's more, it comes in a nicely compact silhouette.
You can buy the Fellow Corvo EKG electric kettle on Amazon for $165.
Best stovetop tea kettle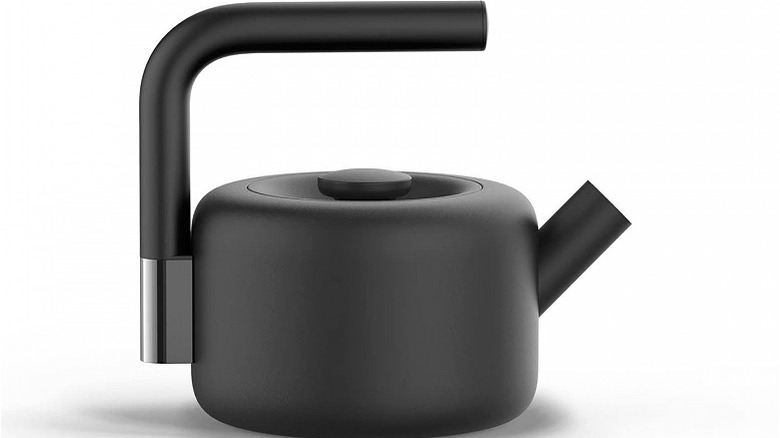 Fellow
Stovetop kettles are considered to be more compact than electric kettles, given that they lack a cord and don't take up counter space. Some think using a stovetop kettle is more cost-efficient, as gas is generally cheaper than electricity (via Pykal).
The Fellow Clyde is made by Fellow, an award-winning company popular with many users for its well-made products. For those interested in following trendy celebs, know that this particular stovetop tea kettle was included in actress Jennifer Lawrence's wedding registry (via Elle) and is even owned by a few celebrated architects, per Dwell.
Some of the well-designed eatures of the product include a two-tone harmonic whistle, a spout that automatically opens when you start pouring, a large capacity of 1.7 liters, and that iconic matte black base made of stainless steel. On Fellow's website, users gave the product rave reviews, where it has an average rating of 4.5 out of 5 stars.
The Fellow Clyde Stovetop Tea Kettle is available from Fellow for $105.
Best whistling tea kettle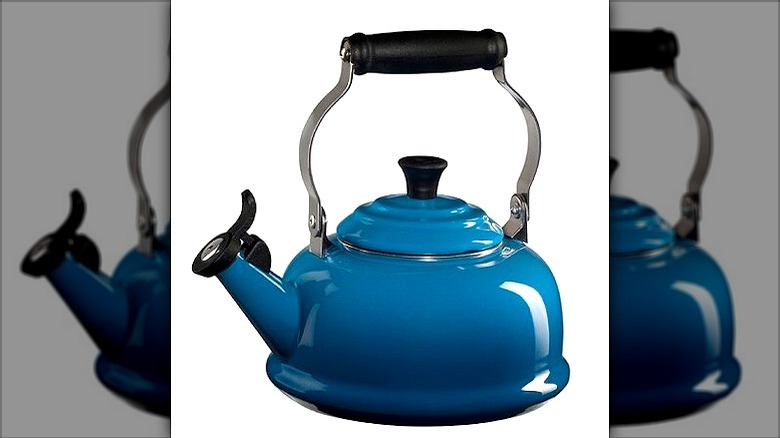 Le Creuset
Most stovetop kettles will have a whistle to let home cooks known their water is boiling, which is pretty handy to prevent the liquid from bubbling over. Compared to other features like temperature control, a classic kettle whistle doesn't require a lot of complex engineering. That simplicity doesn't mean you should pass this variety by, however. Most people looking for a stovetop kettle will want one like the Le Creuset Classic Whistling Kettle.
On Amazon, the kettle has over 2,000 reviews, coming to an average of 4.7 out of 5 stars. Customers there complimented the loud whistle that can be heard quite clearly throughout a home. They also appreciated the shiny, iconic look of the Le Creuset enamel exterior.
This kettle is great for those looking to match the rest of their Le Creuset set, especially given that it come in colors like red, orange, or blue. But it also has a few admirable features, in addition to its whistle. The tea kettle has a five-year warranty, a steel interior, and a porcelain enamel exterior. The handle rotates for convenient storage and the interior includes markings for precisely measuring out the right water level.
You can buy the Le Creuset classic whistling kettle on Amazon for $110.
Best temperature controlled tea kettle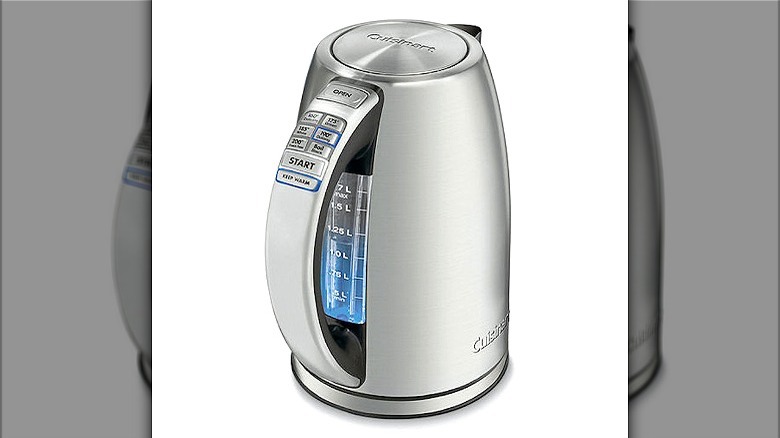 Amazon
This is not the only temperature-controlled tea kettle on this list, but the Cuisinart PerfecTemp Cordless Electric Kettle CPK-17 is an especially good one. It comes with six different temperature settings. After heating, the kettle stays hot for 30 minutes, so long as you select the "keep warm" button. The cord easily wraps into the kettle's base, making it tidying up all the easier. The product even comes with a three-year warranty.
The New York Times said it's the best kettle money can buy. The Guardian criticized the price of this kettle, however, though it didn't note the temperature settings that this kettle is specifically priced for.
On Cuisinart's website, the product has been reviewed over 2,000 times, with a majority being five-star reviews. Customers said it was perfect for real tea aficionados in particular. On Amazon, the kettle has over 15,000 reviews coming to an average rating of 4.6 out of 5.
You can buy the Cuisinart CPK-17 PerfecTemp Cordless-Electric-Kettle on Amazon for $100.
Best dishwasher safe tea kettle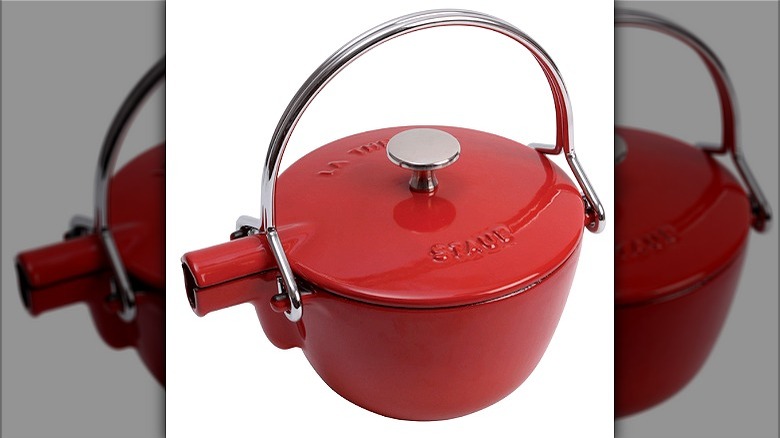 STAUB
Not all tea kettles are dishwasher safe. Those that are not will have to be cleaned by hand. For those wanting to skip this step, we recommend the STAUB Enameled Cast Iron Round Tea Kettle. It's expensive, to be certain. But there are many reasons to like it. Not only can you put it in the dishwater, but it's also resistant to damage on the inside and outside. It also comes in vibrant colors like red and blue. This kettle goes on the stovetop, where it can be placed alongside your set of matching STAUB dishware. For completist buyers, this item is just what's needed to complete their collection.
At Williams Sonoma, this kettle received an average rating of 4 out of 5 stars. Users complimented the beauty of this kettle, along with the fact that it's easy to clean, a snap to fill, and brings water to a boil quickly. If you're looking for a stovetop tea kettle that's dishwasher safe — and nice to look at — then look no further than this colorful and sturdy STAUB kettle.
You can buy the STAUB Cast Iron Tea Kettle on Amazon for $200.
Best large tea kettle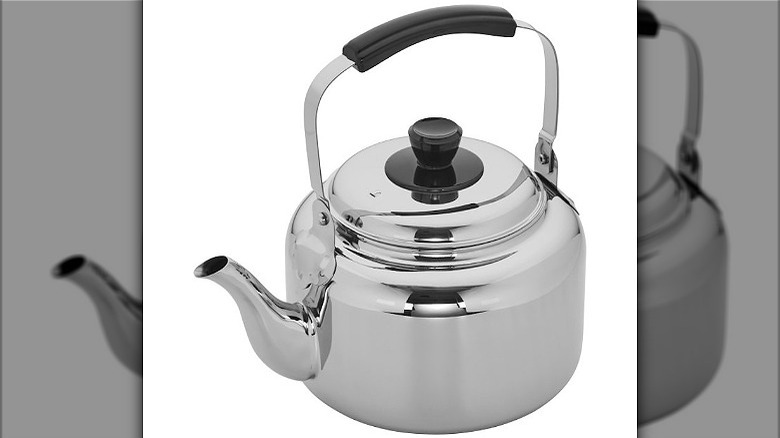 Demeyere
Most tea kettles come with at least a one-quart capacity, typically enough water to make four cups of tea. But maybe you have a big group at the ready and have to make at least 17 cups of boiling water in one go. If that's what you need, try out the Demeyere Resto stovetop kettle in stainless steel. It comes in either a four- or six-quart capacity.
Some Amazon customers who've purchased the kettle are pleased with it. One person explained their appreciation for this extra-large kettle's capacity, writing "I love that it boils enough water, at one time, to fill our 12-cup French press and a full-size thermos."
At Walmart, people complimented the size, while others said it didn't sacrifice quality for quantity. However, you should know that this kettle is far from light. Due to its big size, it's going to take a bit of muscle to move it. On another note, this thing doesn't have a whistle, so you won't want to be far while using this kettle.
You can buy the Demeyere Resto tea kettle in stainless steel on Amazon for $90.
Best travel size tea kettle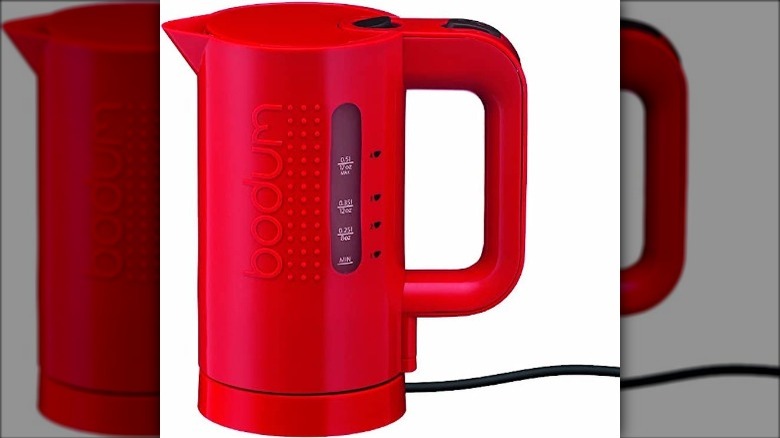 Amazon
Some people may love tea so much that they want to ensure its availability throughout their travels. Getting a travel-size tea kettle is perfect for this, especially if it can fit into a suitcase or even a backpack. By going with an electric travel kettle, you can just about ensure the ability to make tea or boiling water, even if you find yourself without a kitchen. Our pick for a travel-sized electric kettle is the Bistro electric water kettle made by BODUM.
BODUM is already a great choice for coffee lovers, especially when it comes to cold brew and French press setups. Unsurprisingly, the brand's kettle is a good option, too. With a capacity of 0.5 liters, you can make around two cups of tea with one boil. According to BODUM, it's made with BPA-free plastic. This means it's not only small in size, but also lightweight. That's extra-convenient for travelers who tend to overpack. This electric kettle also includes an automatic shutoff feature and a power indicator light. The light turns on when the kettle is boiling and shuts off when water is fully heated, saving you time and energy.
On Amazon, the kettle has been reviewed over 7,000 times. It has an average rating of 4.6 out of 5 stars. Users complemented its size and ability to heat water quickly.
You can buy the BODUM Bistro electric water kettle on Amazon for $36.
Best camping tea kettle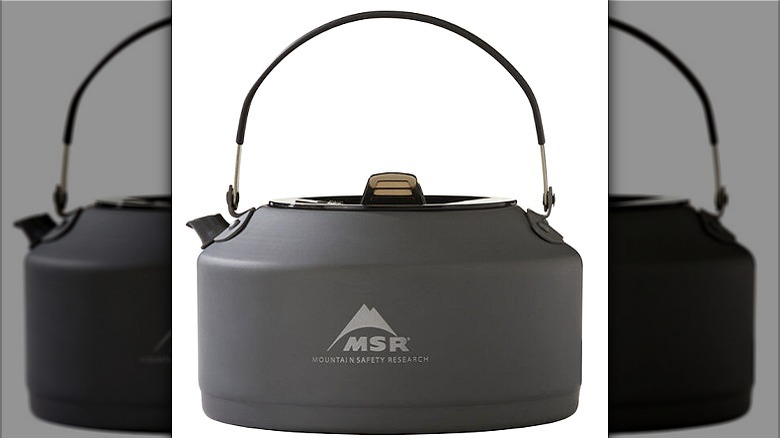 Amazon
The necessary features of a camping kettle are naturally different from the one you'd use at home. In the great outdoors, you almost certainly won't have a kitchen stovetop or an electrical outlet, for one. But you will probably have heat in one form or another. If you have a tea kettle on hand, it will make pouring hot water easier and safer. That's because — at the very least — a camping kettle has a spout and a handle. For all the camping aficionados out there, the MSR Pika Teapot has these required attributes and more.
Reviews of this tea kettle point to why it's one of the best for outdoor adventures. Field Mag said the product is lightweight and small. Backpacker.com complimented the tea kettle's spout and aluminum base, while Business Insider appreciated the tea kettle in its entirety. On MSR's website, customers approve of it all, including the sleek, architectural design of the kettle.
You can buy the MSR Pika Teapot on Amazon for $30.
Best decorated tea kettle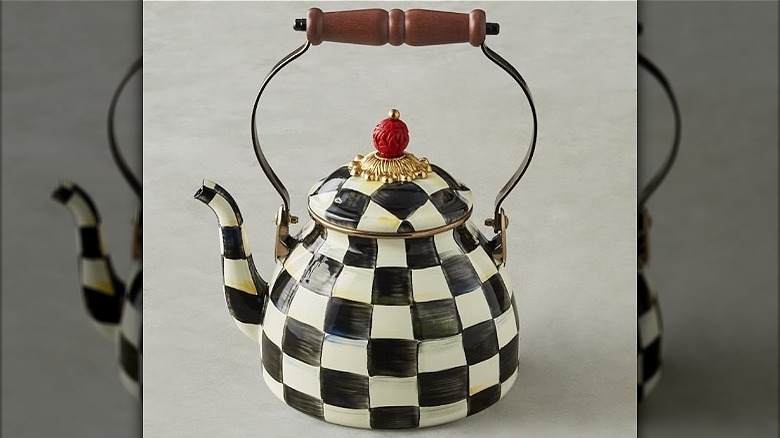 MacKenzie-Childs
If you dream of a tea kettle that's seriously focused on aesthetics, then stop right there. The same goes for you if you love to host tea parties, especially your home decor has a bit of a whimsical feel to it. If so, you need the MacKenzie-Childs Courtly Check Tea Kettle. With a beautifully painted checkerboard shell, a wood handle that stays cool, a steel underbody that's resistant to damage, and a lid decorated with gold and red accents, this stovetop tea kettle is more than easy on the eyes. The company is so proud of this kettle's look that it recommends using it as a vase for flowers, if you ever tire of making tea with it.
Customers who bought the product through Williams Sonoma loved how this tea kettle looked in person. Reviewers remarked that the kettle was on the fragile side, however, making it best suited for display or occasional use. On Amazon, the tea kettle garnered more positive reviews, for an average rating of 4.8 out of 5. Coming from nearly 1,000 customers, that's pretty impressive. Still, users remarked that using it often posed challenges because of its delicacy, though many loved its appearance.
You can buy the MacKenzie-Childs Courtly Check Tea Kettle on Amazon for $138.