The Vegan Trader Joe's Item The Internet Won't Stop Talking About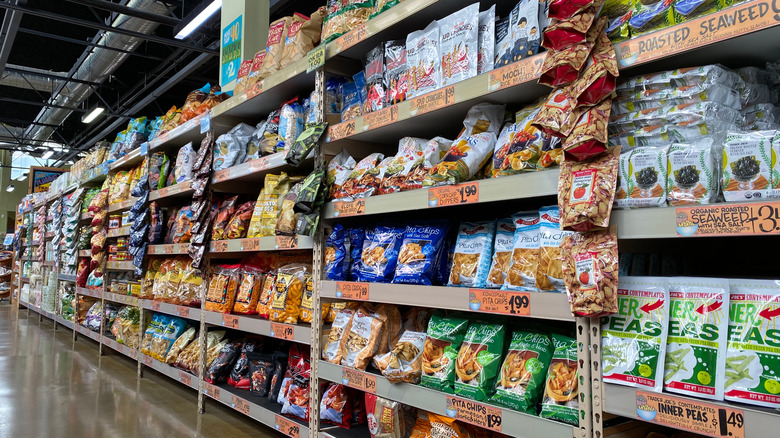 Larry Zhou/Shutterstock
No two trips to Trader Joe's are the same: The supermarket chain is famous for releasing new items every month — and in some cases, even every week. The store's new product lineup for July, for example, has been full of treats that cater to all sorts of summer needs. From tricolored ice pops and horchata ice cream to Unexpected Cheddar chicken sausages and truffle-flavored barbecue sauce, Trader Joe's is stocked with just about everything you'd need for evening barbecues and sunny beach days.
Sitting among this array of summery new products are also a few vegan offerings. While TJ's new vegan bread option, made with plant-based alternatives to eggs and butter, has been making waves on social media for a few weeks now, shoppers have spotted yet another vegan item that they can't stop gushing about. If the Reddit discussions are any indication, the store's new Korean Beefless Bulgogi, made from plant-based bulgogi-style strips flavored with soy sauce, is yet another hit — and fans are all for Trader Joe's upping its game in the vegan department.
This beefless bulgogi is turning heads
"How many boxes of beefless bulgogi do I need to purchase to prevent it from being discontinued?" pondered a dedicated Trader Joe's shopper and new Beefless Bulgogi fan on Reddit. As it turns out, they aren't the only one drooling over the grocery chain's latest vegan addition. "One of the best meat substitutes I have tried," chimed in a fellow shopper who found the frozen plant-based meat strips to have "a nice balance of being meat-like without trying too hard." Plus, they are seasoned well and brown easily, they added.
Reviews on a separate Reddit thread concurred about the Beefless Bulgogi's meaty-but-not-too-meaty texture: "It's like steak, but without all the weird gristly chewiness. It's a bit chewy, but in a good way," explained one user. Another compared its texture to seitan, which is made from the gluten present in wheat, and added that it's sliced thicker and has a less fatty consistency compared to beef bulgogi.
Redditors made it sound like they would be rushing to their nearest Trader Joe's to hunt down a box of the Korean Beefless Bulgogi in the frozen aisle. However, Instagram account @bigboxvegan warns that the buzzy item might not be available at all stores just yet, so it might be best to call your store first.