Has Popeyes Ever Had A Hamburger On Its Menu?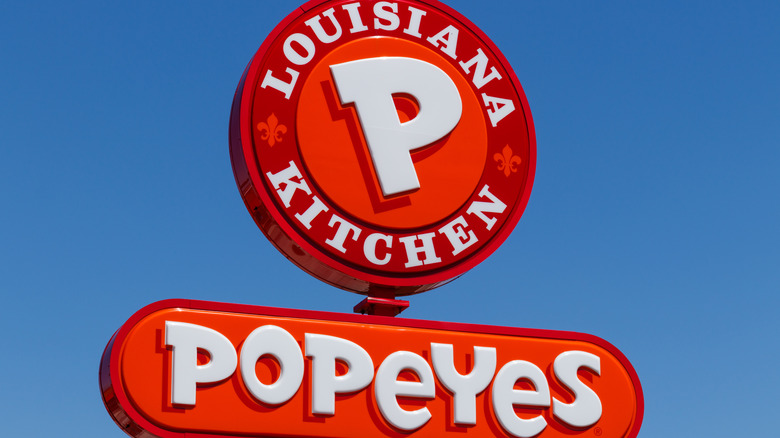 Jonathan Weiss/Shutterstock
Popeyes made waves in 2019 with the release of its chicken sandwich, sparking a bit of a culture war among fast-food chains, per Restaurant Business. Other restaurants raced to release (or improve) their fried chicken sandwiches and emulate Popeyes' success, and customers were clamoring to get their hands on some crispy chicken handhelds.
While customers are no longer lining up around the block to get the famous chicken sandwich before their local Popeyes sells out (in fact, this summer it might be easier than ever to get your hands on a Popeyes sandwich), the sandwiches are still as popular as ever. Having made a name for itself in the chicken sandwich game, Popeyes has expanded its list sandwich offerings, often in limited-run features.
Chicken sandwich aside, though, you might be wondering — has Popeyes ever had a good old-fashioned hamburger, or are the chain's feet firmly planted in the chicken game?
What you can find on a bun on the Popeyes menu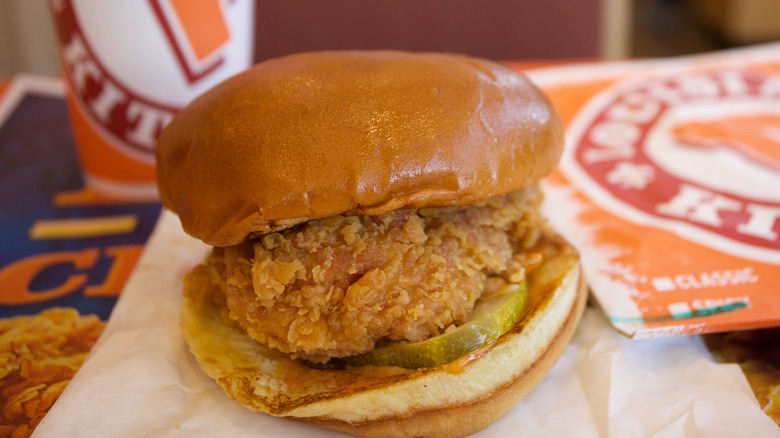 Elliott Cowand Jr/Shutterstock
It seems Popeyes is staying out of the burger arena for the time being. And while the restaurant hasn't had to defend this decision as hard as its choice not to introduce a breakfast sandwich, perhaps it's a good thing that Popeyes is sticking to what it does best. Even at the height of the chicken sandwich wars, The Washington Post found that beef hamburgers were still on top in the fast-food market at large. However, Restaurant Business writes that, even after taking a slight hit now that the chicken sandwich hype has died down a bit, Popeyes' sales are still significantly higher than they were in 2019, when the chain introduced the legendary sandwich.
Popeyes isn't sitting still with its sandwiches, either. It's introduced a new, spicy Buffalo ranch spin on its classic chicken sandwich for a limited time, per CNN. If the Buffalo ranch sandwich is a hit, it could get the treatment of the Popeyes fish sandwich, which returned in 2022 after making a splash in 2021.
And while Popeyes hasn't ventured into burgers, its seafood options are just as beloved as its chicken among certain customers. Fans on Reddit, for instance, have called for the return of the chain's shrimp po'boy. Popeyes brought back the fan-favorite Cajun rice for its 50th anniversary, so something like this could be in the cards for the Louisiana joint to keep its menu exciting.