We Tried Krispy Kreme's New Ice Cream Truck Doughnuts. Here's How It Went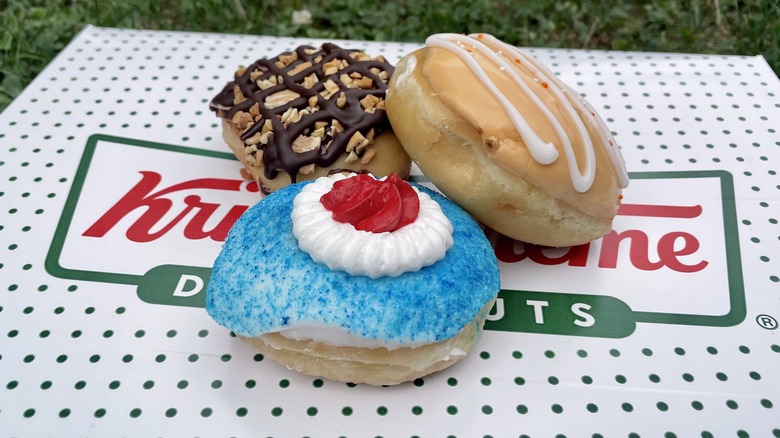 Helena Nichols/Mashed
The ice cream truck is coming to town! Well, sort of. Nothing epitomizes summertime treats quite like hearing the sound of the ice cream truck on your block. In an attempt to capture that summertime magic and childhood nostalgia, Krispy Kreme has released a new limited edition selection of ice cream truck themed doughnuts.
This isn't some slapdash theme, either. Krispy Kreme is known for giving its all and creating fun and exciting new doughnut flavors. As such, the company partnered with Good Humor, the original creator of the much-beloved ice cream truck, as per Smithsonian Magazine, and the brand Popsicle to bring these new flavors to the public.
In theory, it sounds like a great combination. After all, doughnuts are delicious and so is ice cream, so ice cream-themed doughnuts sound very promising. Remember also that ice cream trucks don't only feature ice cream. Instead, many predominantly feature popsicles. As such, Krispy Kreme's doughnuts include some popsicle flavors. Of course, this was a little less of a natural link and so made us a bit hesitant. But hey, we were still up for trying these new flavors.
Krispy Kreme's Ice Cream Truck doughnut flavors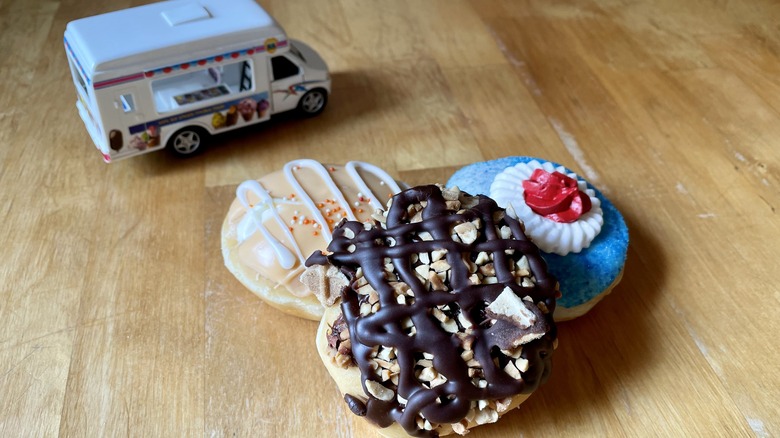 Helena Nichols/Mashed
Krispy Kreme is releasing three different doughnut flavors as part of its limited edition Ice Cream Truck doughnuts promotion. The first is the Popsicle brand classic, the Fire Cracker. According to the box, Firecracker popsicles come in three different flavors: Cherry, White Lemon, and Blue Raspberry. They are delicious but also typically eaten one section at a time. There's no option with a doughnut, where bites typically contain a bit of every flavor. So, Krispy Kreme has taken inspiration from this popsicle but has tried to make the flavors more cohesive. The doughnut base is a classic glazed doughnut topped with a "Firecracker-flavored icing," that includes blue raspberry sugar, firecracker Kreme, and the brand's original Kreme.
The second in the series is based on the Vanilla King cone. This is a Krispy Kreme doughnut, filled with vanilla custard Kreme, dipped in chocolate icing, and finally topped with crushed sugar cone pieces, chopped peanuts, and a drizzle of more chocolate.
The third and final is based on the classic ice cream-popsicle hybrid, the Creamsicle. This is a doughnut filled with vanilla custard Kreme, dipped in a Creamsicle-flavored frosting, and topped with mini sprinkles and a drizzle of icing.
How long will Krispy Kreme's Ice Cream Truck doughnuts be around?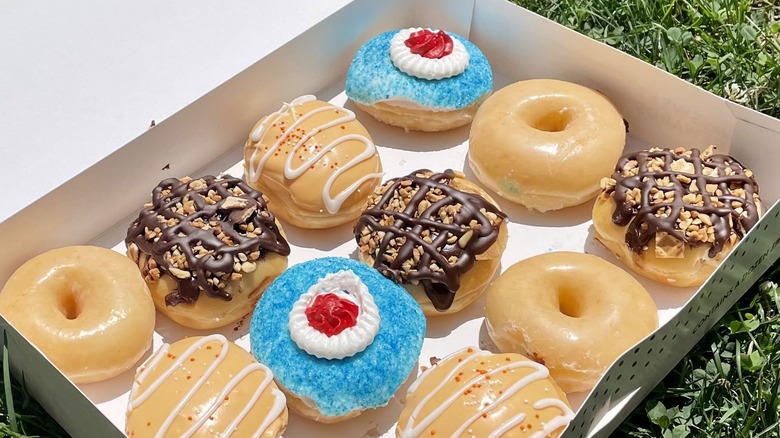 Helena Nichols/Mashed
As Convenience Store News reports, Krispy Kreme has faced some sales troubles in years past, to the point where the company famously almost went out of business. While the locations are more limited nowadays, we were lucky enough to find one within driving distance. 
We set out on our mission to try these new doughnuts, only to be struck by another crushing blow: Recent supply chain issues had also affected our doughnuts. Two locations we contacted had not received a shipment of the ingredients needed to make the new treats. This meant that, even though the doughnuts were set to be released nationally on July 18th, we were not able to get them until July 21st. The doughnuts are going to be available through August 7th, according to Krispy Kreme. For your sakes, we hope no more issues arise that cut short the availability of these doughnuts.
Additionally, due to the COVID-19 pandemic, many of store lobbies are still closed. Thankfully, many locations have drive-thrus, offer delivery, and allow you to order online for pick up, easing that particular issue.
How much do the doughnuts cost?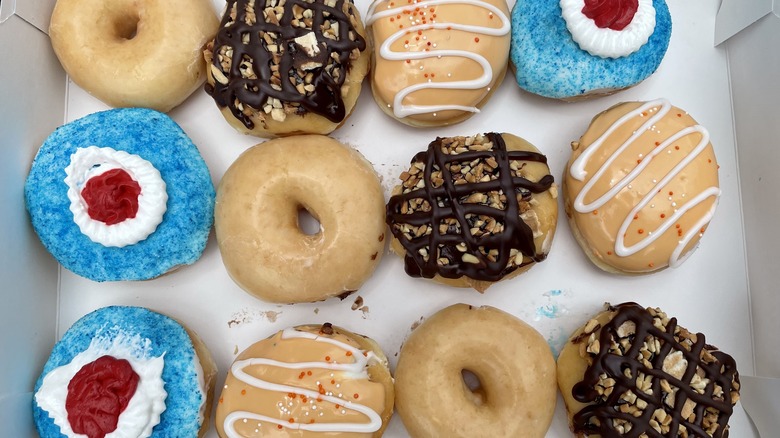 Helena Nichols/Mashed
There are three ways to order the new Krispy Kreme Ice Cream Truck doughnuts. The first, for those who do not wish to be overrun by a flood of these fried goodies, is to order an individual doughnut. The price for these special flavored doughnuts was $2.29 each at our location.
Next, for those who want to save a little money and also try all three flavors — and who could blame you if that is the case — there is the option to customize a three-pack to get all three flavors. When selected with the three special flavors, this option brings the total to $6.09. This move saves you a full $0.26 per doughnut.
The final option is to go for the gold and get the Ice Cream Truck Dozen. This option gives you three of each of the special flavors, plus three classic glazed doughnuts. This option is $16.49, which saves you a total of $9.19 on buying the doughnuts individually. Just make sure you have some friends to help you polish the doughnuts off.
How the new flavors compare to other Krispy Kreme doughnuts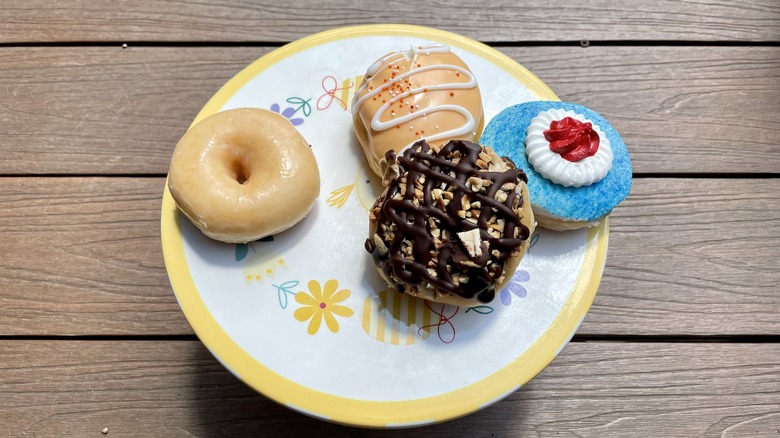 Helena Nichols/Mashed
All the classic Krispy Kreme doughnuts use the same base, as well as the three Ice Cream Truck doughnuts. Krispy Kreme is known for its soft, velvety doughnuts which are consistent from store to store. Krispy Kreme takes great strides in making sure that there is as little variation in flavor as humanly possible. According to the Chicago Tribune, this means that all stores are supplied with a proprietary dry mix and yeast. Stores are also instructed to use purified water in order to produce the perfect doughnut every time.
While they all start out the same, the toppings and fillings naturally set each doughnut apart. The simplest is the classic glazed doughnut, which is simply covered in its delectably sweet glaze. Krispy Kreme offers other doughnuts with fun toppings and flavors, including a Reese's Classic doughnut, Glazed Lemon Filled, and New York Cheesecake. But none really match the Ice Cream Truck doughnut flavors, which take the beloved Krispy Kreme base and runs with it. We feel comfortable in saying that Krispy Kreme has come up with some truly original flavors for this promotion.
The nutritional value of Krispy Kreme's Ice Cream Truck doughnuts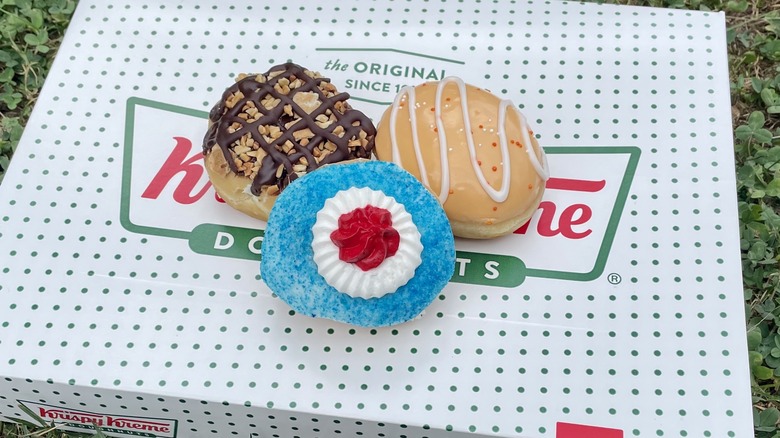 Helena Nichols/Mashed
One of the things that set Krispy Kreme apart from other doughnut chains (cough, cough, Dunkin') is that its doughnuts are made completely fresh in its stores. Namely, they are not shipped frozen and left to sit out all day. No, we think it's fair to say that Krispy Kreme truly respects the art of the doughnut, and so each store must make them in-house hot and fresh. 
While this ethos may have added some frustration to our quest when we couldn't get the doughnuts immediately, we appreciate that Krispy Kreme takes the time to do it right. Surprisingly enough, Krispy Kreme doughnuts actually aren't as bad for you as you may expect, at least when compared to offerings from other doughnut chains. 
The original glazed Krispy Kreme is 190 calories and 10 grams of sugar, compared to the Dunkin' glazed version, which has 240 calories and 13 grams of sugar. The Ice Cream Truck doughnuts are a good bit richer than this, owing to the addition of frostings and fillings. The Creamsicle doughnut comes in at 340 calories and 25 grams of sugar. This is followed by the Firecracker doughnut, which has 360 calories and 37 grams of sugar. Finally, the Vanilla King Cone comes in at 420 calories and 26 grams of sugar. To put things in perspective, a Dunkin' Toasted Coconut Donut has 430 calories and 39 grams of sugar — so it really could be worse. 
How the Firecracker doughnut tastes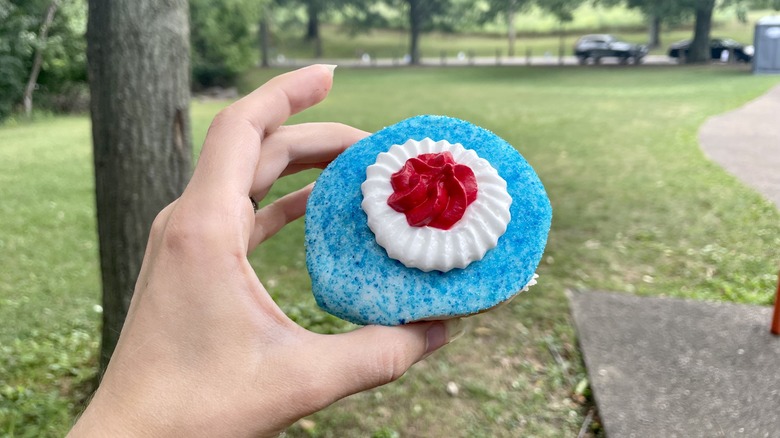 Helena Nichols/Mashed
We went into the Firecracker doughnut wondering just what a Firecracker-flavored glaze could possibly mean. As mentioned earlier, Firecracker Popsicles have three different flavors contained in a single pop: Cherry, White Lemon, and Blue Raspberry. We can now safely say that the experience of eating it in doughnut form is just bout exactly what the name implies. It literally tastes like Krispy Kreme melted a Firecracker and dipped a doughnut in the liquid Popsicle. 
This is not necessarily a bad thing, but it does mean there are a lot of flavors in every bite, which may be a lot for your tastebuds to manage. This is also the only one of the doughnuts that are unfilled. Instead, it is topped with small dollops of classic Kreme and Firecracker Kreme. 
This is likely what saves the doughnut from going into full-on flavor overload. The flavors are still intense, and if you don't like the Firecracker Popsicle, you might not like it in baked good form, either. But Krispy Kreme did exactly what it set out to do: make a doughnut that tastes almost disconcertingly like a Firecracker. In short, it's an explosion of flavor that may be right up your alley.
How the Creamsicle doughnut tastes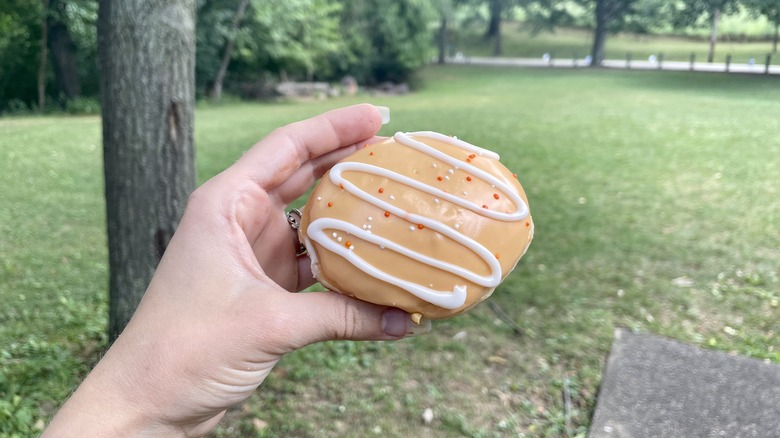 Helena Nichols/Mashed
Creamsicles are a classic ice cream truck treat, being a crowd-pleasing hybrid of popsicle and ice cream, but this is all doughnut. The classic Creamsicle is vanilla ice cream wrapped in an orange-flavored sherbet, presented on a stick. While this Ice Cream Truck doughnut does not come on a stick, Krispy Kreme did try to match the rest of this confection when it came to flavor and, to a certain extent, appearance. The inside is filled with Krispy Kreme vanilla custard Kreme. This is good, but neither is it too exciting. 
The doughnut is also dipped in Creamsicle-flavored icing. Here is the thing about both the icing and original Creamsicles: they don't really taste like oranges. They taste like orange flavor. When it came to getting this detail right, Krispy Kreme once again succeeded. It definitely tastes like a classic Creamsicle's orange-ish flavor.
To try and add some pizazz, doughnut designers topped this variety with additional glaze and sprinkles, neither of which are on the original Creamsicle. But this isn't quite enough to make this doughnut more interesting. The doughnut is very sweet, fairly simple, a smidge boring, and ultimately reminded us of Orange Cream toothpaste.
How the Vanilla King Cone doughnut tastes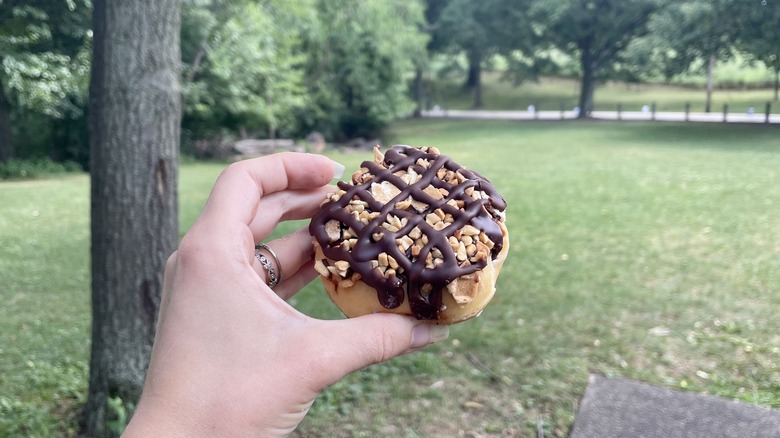 Helena Nichols/Mashed
The final doughnut in Krispy Kreme's Ice Cream Truck lineup is the Vanilla King Cone doughnut. This is a case of a great idea that unfortunately did not live up to the expectations set by its namesake. Part of the appeal of the original Vanilla King Cone treat is its combination of textures. The creamy ice cream plays off the velvety chocolate and the crunchy nuts and waffle cone to great effect. 
So, you can imagine our disappointment when we bit into the doughnut version of the Vanillla King Cone, only to find a homogenous textural experience. The cone bits absorbed a lot of moisture from the doughnuts and chocolate, causing them to go soft and a tad chewy. The nuts added some crunch, but not enough to save the overall texture. However, the taste was spot-on. We got all the favor components of a King Cone, with a generous amount of cone and nuts on top. We just wish they would have been fresh and crunchy.
Overall, this mixed box of doughnuts was a mixed bag. However, Krispy Kreme clearly knows how to mimic flavors, so if you're a big fan of the original summer treats they mimic, you may want to give the doughnut versions a chance. If only Krispy Kreme could nail the textures, then it would have hit a home run.