Beyond Meat's Future With Taco Bell And Pizza Hut Could Be In Jeopardy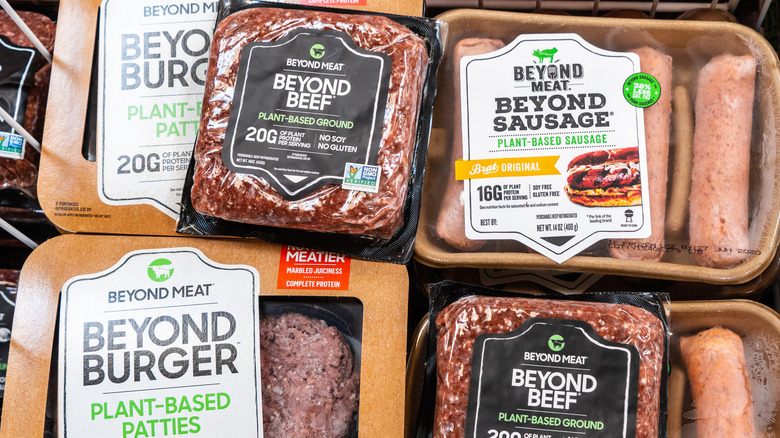 Sundry Photography/Shutterstock
Before COVID-19 hit the U.S. and caused disruptions in the food industry, the plant-based meat movement was booming and estimated to be worth $1.4 billion in 2020, $430 million higher than its valuation the year before (via Good Food Institute). Amidst the growing interest in plant-based foods, Beyond Meat went public in 2019 and registered the most successful IPO since 2000 with its stocks tripling the original IPO price.
The leading plant-based meat maker's success was largely due to several major deals in the pipeline. Beyond Sausage breakfast sandwiches were being sold at Tim Hortons in Canada, McPlant Burgers were being tested at McDonald's outlets, and Beyond Meat had a solid partnership with Yum Brands and its fast food chains. KFC's plant-based Beyond Fried Chicken was considered a success and Beyond Italian Sausage Pizza was soon rolled out nationwide at Pizza Hut outlets. Although it seemed like things were only going to get better for Beyond Meat and plant-based meat eaters, Bloomberg reports that things may not be looking so good for the vegan meat manufacturer.
Beyond Meat has been working on a plant-based beef for Taco Bell's carne asada, but Yum remains dissatisfied with samples. Similarly, the company has been working on a plant-based pepperoni topping for Pizza Hut, which still eludes the menu despite initial test runs in August 2021. Bloomberg suggests that there are several reasons why the company may be struggling on its end of the deal with Yum Brands.
Manufacturing plant-based meat is not an easy task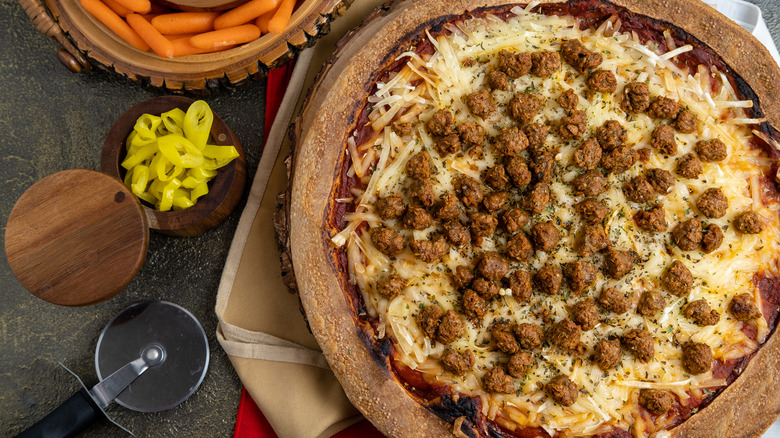 Jeremy Gable/Shutterstock
Former employees tell Bloomberg that the process to manufacture the plant-based pepperoni for Pizza Hut's test run was a long and complicated one, and involved the pepperoni being flown back and forth between Beyond Meat's manufacturing plants in Pennsylvania and Europe at different stages. Plant-based versions of cured meats like pepperoni also require more complex and expensive machinery than the comparatively simpler burger patties. The result is a higher cost with a low margin for profit. Former employees also claim that Beyond Meat may be struggling to meet the precise specifications set by Yum Brands and that accidents at partner facilities have caused further delays.
Food company consultant Peter Golbitz believes the problem is not in Beyond Meat's products, telling Bloomberg "It's not that they don't have the wherewithal to produce excellent products, it's the speed they're trying to do it and the volume that's required." After the initial success of Beyond Fried Chicken and Beyond Italian Sausage Pizza, the company is allegedly still working on products for Pizza Hut and Taco Bell.
It's not just Beyond Meat's partnership with Yum that's in hot water, as the company reported a decline of 19.5% in grocery sales in its year-end financial reports, bringing its overall net revenue down by 1.2% this year (via Food & Wine). Whether that indicates a larger problem with of public interest in plant-based meats or is a direct result of delays in new products for Yum Brands remains unclear.