Here's What To Expect At Chef José Andrés' New LA Restaurants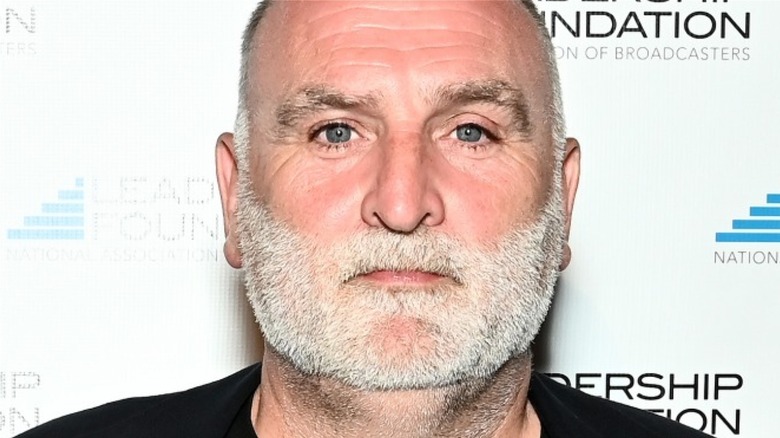 Shannon Finney/Getty
Chef José Andrés has been a pioneer in the culinary field since he introduced US diners to tapas in 1993 with Jaleo, his first US restaurant in Washington, D.C. Tapas, the small dishes traditionally served in bars in Spain during cocktail hour, which can start as early as one in the afternoon, are beautifully presented one-biters, allowing diners to chat with friends while eating and drinking (per The New York Times).
ThinkFoodGroup is Andrés' company responsible for his restaurants and global philanthropic efforts. From partnering with nonprofits like DC Central Kitchen to his nonprofit food relief organization World Central Kitchen (WCK), Andrés and his endeavors have a shared mission: "To Change the World Through the Power of Food." The ThinkFoodGroup restaurant collective contains a variety of global cuisines in an array of price points and settings. Each restaurant is inspired by the team's travels and influenced by research and experimentation that led to the innovation Andrés is famous for, whether it's a Michelin-starred fine dining establishment or a food hall.
Angelenos have patiently waited for Andrés' newest creation in Conrad Los Angeles, a Hilton luxury hotel in downtown Los Angeles designed by legendary architect Frank Gehry, who also designed the Guggenheim Museum in Bilbao, Spain, as well as the Walt Disney Concert Hall, which the hotel overlooks. Andrés provided the luxury hotel with two signature restaurants and several limited menu lounges and bars, according to the Los Angeles Times.
José Andrés' five new restaurants
José Andrés has created two signature restaurants for LA's Conrad hotel. San Laurel serves breakfast and dinner, with modern Spanish cuisine influenced by the Californian style. The restaurant's menu highlights the region's year-round farmer's markets with dishes such as "Beefsteak tomato tartare." It also draws from Andrés' Spanish roots, serving entrées such as "Gambas al Zahara," a garlicky, heads-on shrimp dish. Aqua Viva, the second full-menu restaurant on the property, combines Asian and Latin American flavors in dishes designed to be shared. The open-air, two-story restaurant serves lunch and dinner, where Spanish gazpacho shares the menu with ahi poke. 
Andrés is also responsible for several cocktail lounges and a poolside restaurant on the property. The Beaudry Room serves Spanish tapas with an avant-garde cocktail menu that combines classics like Bee's Knees, a prohibition-era cocktail traditionally served with gin, honey, and lemon, now with the addition of Oloroso sherry, a fortified wine from Andalucía, in southern Spain. Sed offers a limited menu of dishes using Andrés' innovative techniques, such as spherification, clarification, and vaporizing. Finally, pool guests can enjoy hand-held options at Airlight.
The new restaurants add to the 31 establishments already operated by Andrés and ThinkFoodGroup (plus Pepe, his food truck). Still not done, the chef announced on Twitter his plans to open a restaurant in DC's Old Post Office, a 30-year-old dream about to come to fruition.