Best Flatware And Silverware Sets Of 2022
Nerudol/Shutterstock
We may receive a commission on purchases made from links.
It might sound wild, but there was a time when using a fork was controversial. Several centuries ago, the pointed prongs reminded people of the devil's horns — so much so, that it spooked them into eating food exclusively with their hands (via CBS News). Say what you want about the current state of society, but at least in today's world, most of us can acknowledge that consuming food with a fork is not satanic. Maybe the collective agreement on the benefit of forks isn't the best measure of humanity's progress, but we always try to see the silver lining.
One thing's for sure: There's no doubt that every kitchen needs a good set of flatware. Depending on your circumstances and the condition of your utensils, it might be time to change it up and get a new set. To help you out, we've taken the time to curate a list that includes some of the best deals on the market right now. 
There are several elements to consider before hooking yourself up with new flatware. How many pieces will best suit your lifestyle? What does your budget look like? Do you want something more ornate for fancy occasions or do you just need the basics for everyday use? Our assortment includes plenty of options to suit all of your needs.
How we selected products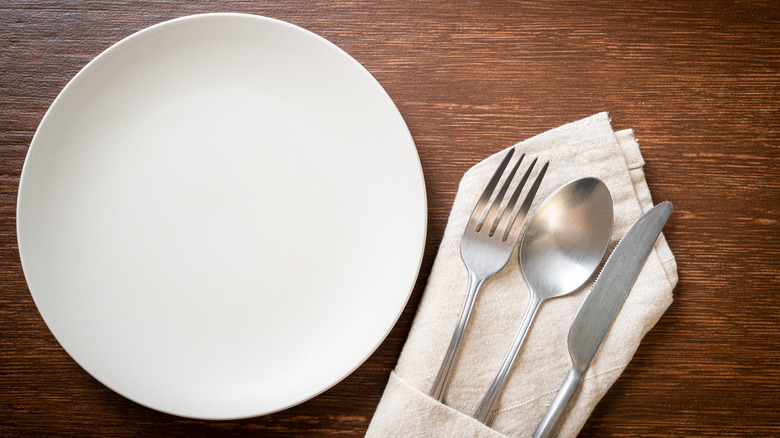 Go with stock/Shutterstock
Our selection process for these flatware sets required the consideration of several key factors. Close evaluation of user reviews was a top priority since customer feedback is often reflective of product quality. You can rest easy knowing that there are several flatware sets on this list that have garnered thousands of positive reviews from satisfied customers.
Another important aspect of the decision process was affordability. After all, what use is a flatware set that's beyond your reach? For that reason, we took care to compile a collection of flatware sets that offer great quality for a reasonable price. From higher-end flatware with an artistic flair to more practical sets that still radiate classic elegance, this list offers a wide range of deals across the price spectrum. 
Whether you're a professional chef looking for a bigger set or an amateur home cook on the prowl for something modest, rest assured there's bound to be a flatware set that will suit your purposes. Here are the best flatware and silverware sets on the market in 2022.
Best overall flatware set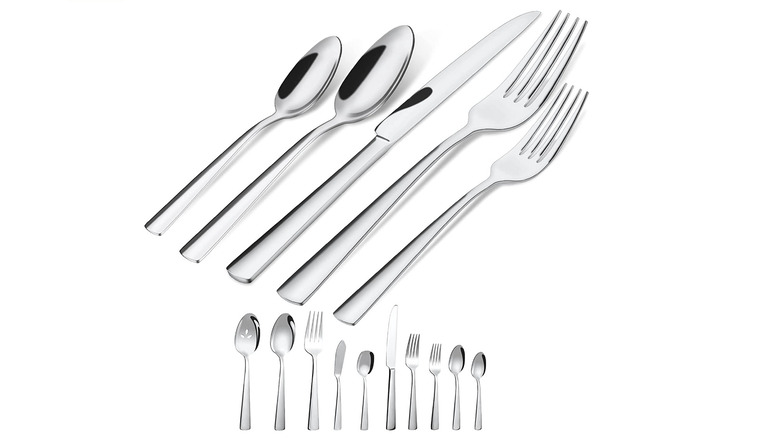 Brightown
Ultimately, if you're looking for one set to do it all, it needs to be high-quality and a great deal. Not only does this 45-piece flatware set from Brightown deliver excellent value, but it also has nearly 8,000 positive reviews to back it up. Made from polished stainless steel, this set of lustrous flatware is both practical and durable.
Designed to serve eight, this flatware set comes with dinner knives, spoons, forks, tea spoons, and salad forks. Beyond this, the collection also includes a large serving spoon and fork, a sugar spoon, and a butter knife. These utensils gleam with an impressive sparkle thanks to a mirror polish. Simple yet classic, this flatware set could easily fit the bill for a restaurant or home kitchen. Dishwasher safe with thick handles for a firm grip, this flatware is comfortable to use and beautiful to look at. Even better: The price is also nice considering how many pieces you're getting.
You can buy the Brightown 45-piece flatware set on Amazon for $36.99.
Best budget flatware set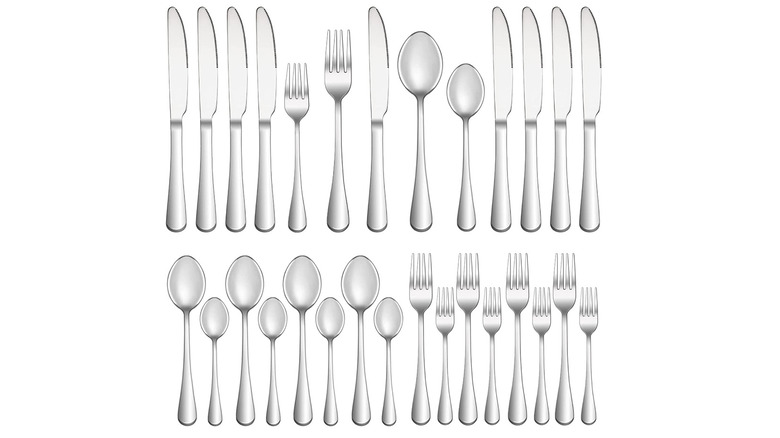 MUTNITT
Everyone knows that new gear for the kitchen can sometimes be pricey — even when it comes to flatware. The good news is that we hunted down some exciting deals that should be financially accessible for everyone. Case in point: This 20-piece flatware set from MUTNITT is not only beautifully polished, but it's also very affordable.
Made with premium stainless steel, this flatware set is resistant to corrosion and rust-proof. Despite being priced so inexpensively, the quality of the workmanship is seriously impressive. For starters, the handle structure was specifically designed to suit the shape of the hand in order to enhance balance, comfort, and ease of use. The smoothed edges add a layer of chic sleekness that optimizes visual appeal. 
Intended for a party of four, this flatware set comes with dinner knives, forks, spoons, tea spoons, and salad forks. With hundreds of positive reviews, it's clear that this pack is one of the best deals on the market right now.
Purchase the MUTNITT 20-piece flatware set on Amazon for only $13.99.
Best bulk flatware set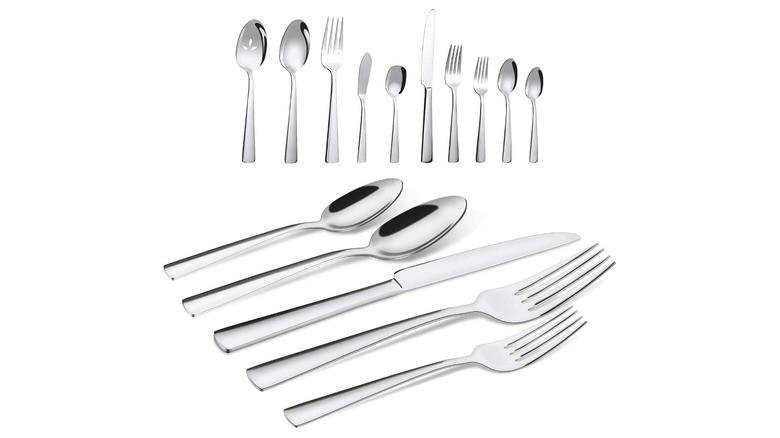 Brightown
For those of you looking for a bigger set of flatware, this 65-piece set from Brightown is a great choice. Made with polished stainless steel, this collection has nearly 8,000 positive reviews from satisfied buyers. Designed to serve 12 people, this flatware set is a good fit for anyone with a big family or people who like to host lots of guests for dinner.
This set comes with just about everything you could ask for: dinner knives, spoons, forks, tea spoons, sugar spoons, salad forks, a butter knife, and serving utensils are all included. You'll love how the flatware twinkles and glimmers due to its stunning mirror-polished surfaces. Made with 18/0 stainless steel, this cutlery is not only easy on the eyes, but it's also highly durable, dishwasher safe, and rust-resistant. All in all, this combination set is practical yet refined.
You can buy the Brightown 65-piece flatware set on Amazon for $72.39.
Best golden flatware set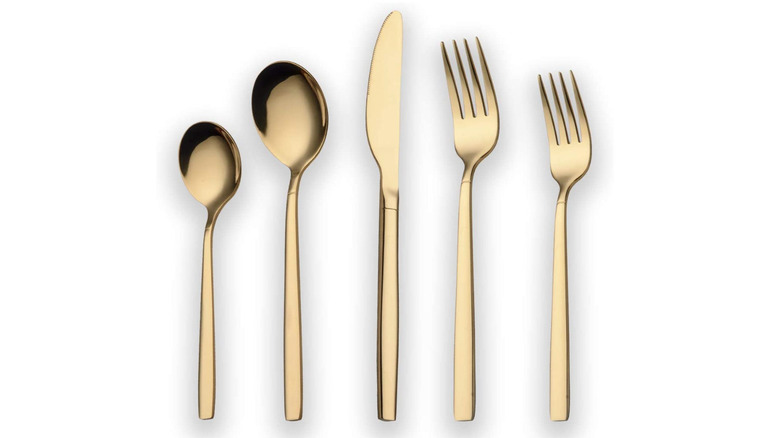 Berglander
It's a good idea to have a special set of flatware for holidays and special occasions. Even though more extravagant sets like sterling silver flatware are timeless and beautiful, once you take a peek at the prices, you'll quickly realize they are wildly expensive. The good news is that you don't have to break the bank to score a unique set of fancy-looking flatware — there are plenty of beautiful options that are far more affordable. 
This 20-piece set of gold-plated stainless steel flatware from Berglander hits all the marks: gorgeous, elegant, and reasonably priced. It also happens to have amassed nearly 7,000 reviews from customers who are pleased with their purchase. Made with a mix of high-quality titanium gold and stainless steel, this flatware set beams with a golden brilliance that's sure to leave you and your guests amazed. Heat-resistant and safe for the dishwasher, the utensil handles are smooth and slender yet sturdy. Meticulously polished and radiant, this golden flatware set is perfect to celebrate with loved ones over a delicious meal.
Purchase the Berglander 20-piece golden flatware set on Amazon for $31.89.
Best stainless steel flatware set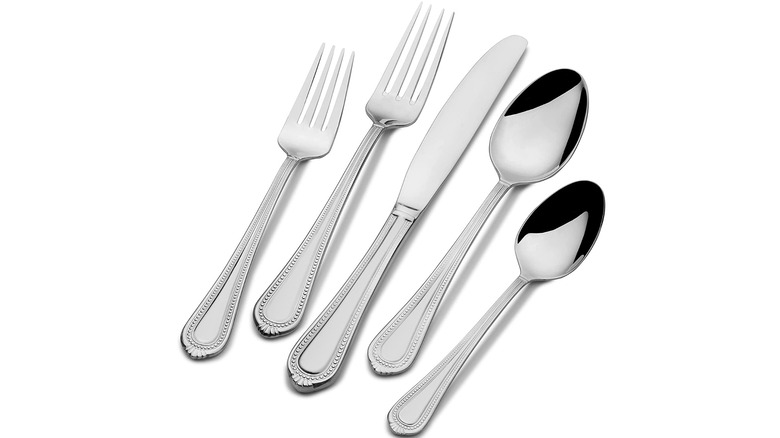 Mikasa
If you're looking for a classic set of stainless steel flatware, look no further than this 65-piece collection by Mikasa. Designed with a time-honored teardrop-shaped handle, the utensils are lined with beaded borders and an ornate accent at the ends. Sensible yet stylish, this flatware will bring top-notch quality to your tabletop.
This 65-piece set was constructed for up to 12 guests and comes with dinner forks, knives, spoons, salad forks, tea spoons, a butter knife, a meat fork, and a sugar spoon. With nearly 2,000 positive reviews, this stainless steel set is sure to leave you satisfied with your purchase. As a long-time leading manufacturer of flatware with a focus on high quality, rest assured that Mikasa is a brand you can trust. For a slightly more decorative option, Mikasa also offers this same set in a different color scheme, with beaded gold borders that embellish the edges of this flatware with a subtle luster.
You can buy the Mikasa 65-piece flatware set on Amazon for $155.11.
Best variety flatware set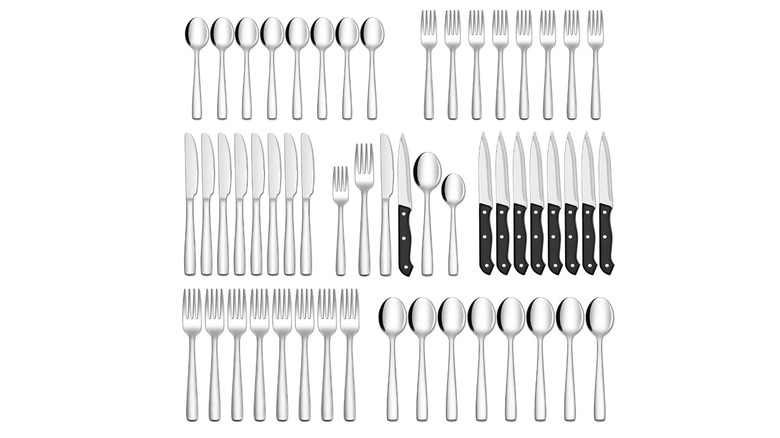 HIWARE
Most of the time, steak knives must be purchased separately from a standard set. That's not the case with this 48-piece set of stainless steel flatware from HIWARE. Of course, the collection comes with dinner knives, spoons, and forks too— but what really sets it apart is the generous addition of eight steak knives.
Crafted with nickel-free high-quality stainless steel, this flatware is resistant to corrosion and made to last. Its weight and feel provide a comfortable, effortless grip that caters to all ages. The serrated steak knives aren't just beautiful and well-designed — they're also highly versatile. According to Made In cookware, serrated knives are one of the most underrated tools in the kitchen, since they can cut through crusty bread, fruit, and baked meats like turkey and roasts with ease. In fact, chef Christina Pirello says that her kitchen "wouldn't be complete" without them. If you're in need of new flatware and you're also looking to score some serrated steak knives, this set was made with you in mind.
Purchase the HIWARE 48-piece stainless steel flatware set on Amazon for $32.99.
Best basic flatware set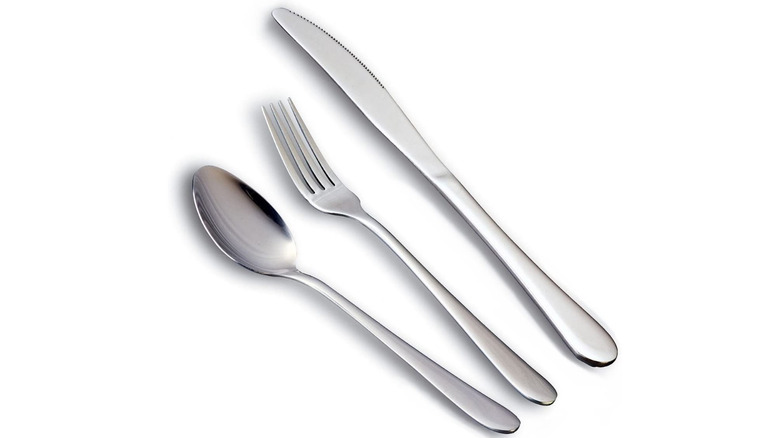 HornTide
Sometimes, all you need are the basics. No bells and whistles — just the essentials to stock your kitchen. This 12-piece stainless steel flatware set from HornTide features dinner knives, spoons, and forks to serve a group of four.
Made with mirror-polished stainless steel, the utensils in this collection are practical yet alluring, thanks to a classic look that is well-suited for homes of all styles. The dinner knives have been tested to hone the sharpness of each blade and ensure they effectively function with maximum ease. Dishwasher safe with a dazzling shine, this flatware set is made with high-quality stainless steel that's built to last. If you need a modest, beautiful, and well-made set of flatware, this is meant for you. Nearly 1,000 reviewers agree that this flatware strikes a perfect balance between value and quality.
You can buy the HornTide12-piece flatware set on Amazon for $15.99.
Best mid-range flatware set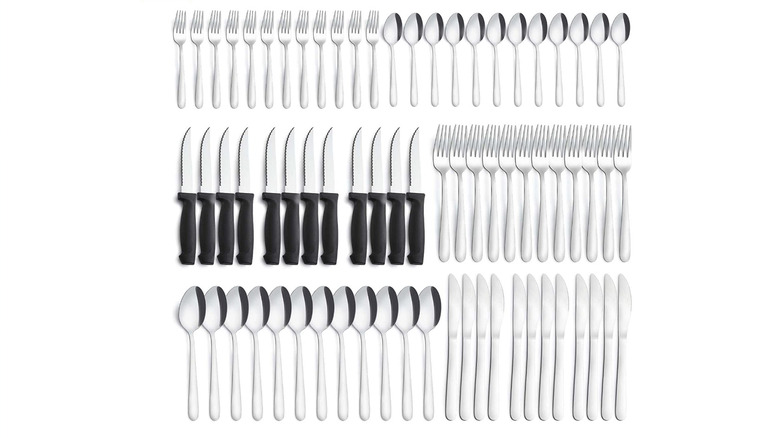 Pleafind
Aiming somewhere in the middle when it comes to price has its advantages. There's no need to pay for more expensive flatware sets when there are plenty of moderately priced collections that offer the same level of elegance at a better value. This 72-piece set of stainless steel flatware from Pleafind is a versatile option that's sure to satisfy your needs.
The collection comes with all of the essentials as well as 12 serrated steak knives. Featuring a classic design that includes dinner forks, spoons, knives, dessert forks, and tea spoons, your kitchen will be stocked with a wide range of durable utensils. The ergonomically designed handles are constructed to boost control and comfort, the stainless steel is anti-corrosive, and this set is expansive enough to serve up to 12 people. Mirror polished with smoothed edges, this cutlery exudes a sense of luxury for a bargain price.
Purchase the Pleafind 72-piece flatware set on Amazon for $29.99.
Best camping flatware set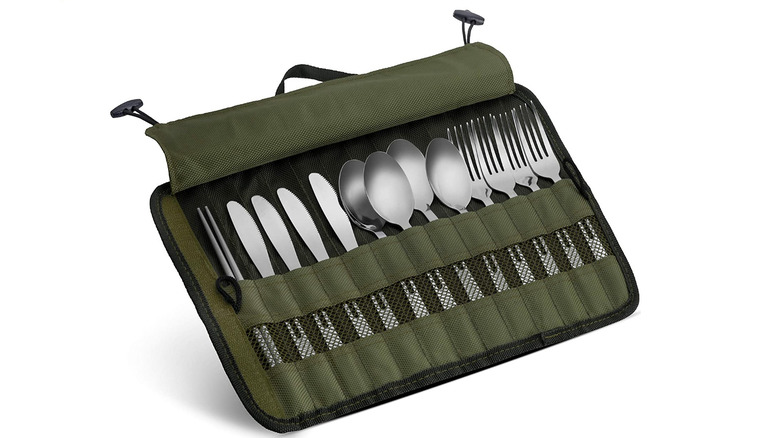 Wealers
Ah, the great outdoors. There's nothing better than cooking an open-air meal on a camping trip. But a successful excursion requires reliable gear, and that includes tools to eat and prepare food. This 13-piece set of stainless steel flatware is perfect for all of your adventures exploring Mother Nature. It's designed for easy portability with a durable yet lightweight woven nylon carrying case. 
Each utensil has its own slot for secure storage, and the carrying case folds up to save space. Even better, it can be converted into a standing position, which allows the utensils to be easily displayed and accessed. Made to serve a party of four, this flatware set is a great choice for camping trips with small groups. 
An unexpected perk is the set of metal chopsticks, which come in handy for stir fry, ramen noodles, or chunks of fire-grilled meat and veggies fresh off the skewer. Another bonus: This set comes in an assortment of colors, including dark blue, green, black, and orange. All in all, if you're looking for a kit that is made to be on the go, this is it.
You can buy the Wealers 13-piece stainless steel camping flatware set from Amazon for $19.99.
Most colorful flatware set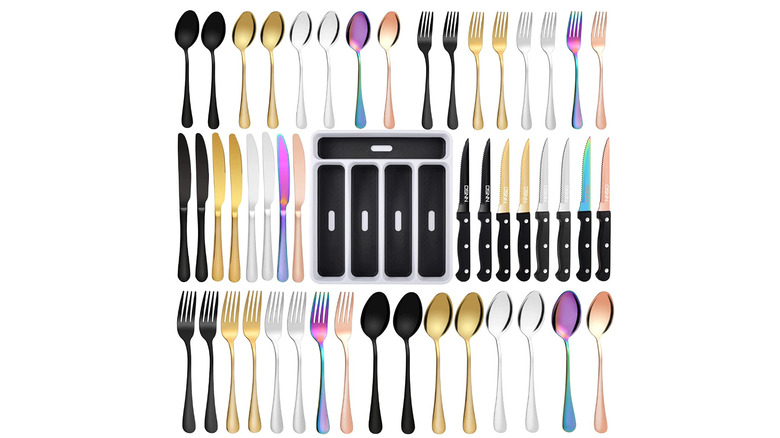 DSNN
According to Color Psychology, colors have the potential to "evoke emotions, inspire reactions, and change modes of thinking." Wouldn't it be nice to start the day a little happier as you spread cream cheese on a bagel with your new multicolored knife? This 48-piece set of stainless steel flatware comes with several colors in the same collection, including gold, rose gold, black, silver, and an incredibly beautiful iridescent rainbow hue.
Designed to serve a party of eight, this flatware set is the perfect size for a special get-together. The collection comes with a storage tray that can safely house all of the utensils while providing easy accessibility. Made with high-grade stainless steel and polished to a luxurious shine, this flatware is corrosion-resistant, durable, and unique. Delightful for all ages, this colorful set is a simple way to bring a little joy and levity to your life. It also comes with multicolored steak knives to slice into a freshly-grilled succulent beef in style.
Purchase the DSNN multicolored 48-piece stainless steel flatware set from Amazon for $49.99.
Best portable flatware set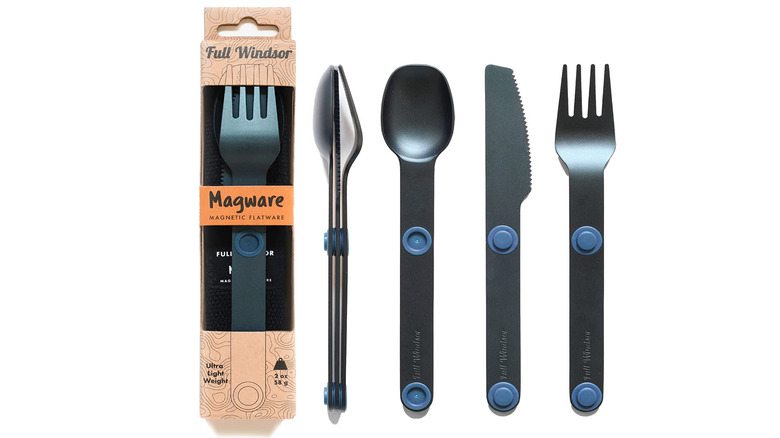 Full Windsor
Having a portable set of solid flatware can come in handy. Whether it's for daily lunches at work or the occasional picnic, there's no doubt that it's both convenient and better for the environment compared to disposable plastic flatware. According to Environmental Health News, we are now generating nearly 360 million tons of plastic garbage every single year.
This 3-piece set comes with a spoon, a knife, and a fork that are held together by small magnets ingrained along the handles. Lightweight yet stable, this set also comes with a carrying pouch made from recycled polyester and recycled bottles. Even cooler: This kit comes in a wide range of colors to choose from, including blue, green, turquoise, orange, and black. 
If you're looking to expand your collection, more sets can be purchased and bundled together with magnets. You'll be able to keep a set for the whole family snugly magnetized for easy storage and retrieval. Lighter than titanium, this flatware is made with aluminum to minimize its weight. Environmentally friendly and highly practical, this portable kit is an all-around winner.
You can buy the Full Windsor portable flatware set on Amazon for $34.99.
Most ornate silverware set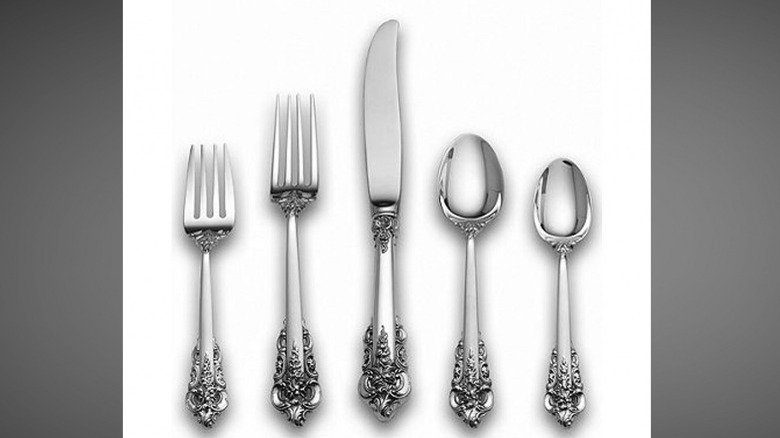 Wallace Silversmiths
Handmade in the U.S., this sterling silverware captures the charming style of the Renaissance with three-dimensional details artistically rendered on the handles. Stylish and elegant, this Wallace grande baroque sterling silverware set is perfect for those very special occasions when you want to treat yourself and your loved ones to a lavish dining experience. What's really convenient about this offer is the fact that you can customize your flatware set by picking and choosing the specific pieces you want in your collection.
The exquisite attention to detail is immediately apparent in the intricately decorative structures sculpted into each piece. Along the tops and bottoms of each handle, vine-like strands of silver wrap around the utensils to give each piece a natural aesthetic reminiscent of tendrils. Gorgeous and classy, this set of flatware is bound to impress.
Customize and purchase your Wallace grande baroque sterling silver flatware set from Scully & Scully starting at $160 and going up to $1,150.