Should You Avoid Storing Fruits And Vegetables In The Refrigerator Door?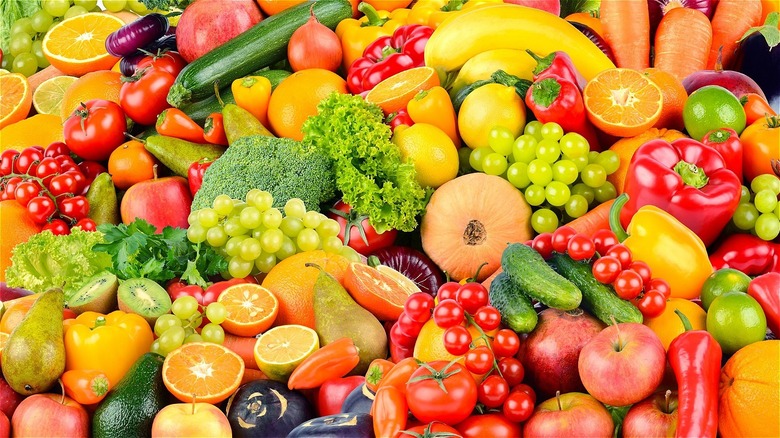 Serg64/Shutterstock
With food inflation the worst it's been in more than 40 years, you might be looking for ways to save money on your grocery bills. (According to the New York Post, inflation cost Americans an average of $500 more in June.) Fortunately, there are plenty of tricks for buying nutritious food on a budget — but just as important is keeping that food fresh once you bring it home from the store.
What happens, for instance, when you visit the farmer's market and come home with more summer squash than you can handle? There's ratatouille, zucchini bread, and rainbow pizza — not to mention good old-fashioned sliced veggies with ranch. But even that will leave you scrounging for a place to put those remaining zucchinis.
With that in mind, Mashed asked the USDA about the best way to store produce in your fridge to make sure none of it goes to waste.
Go ahead and fill that fridge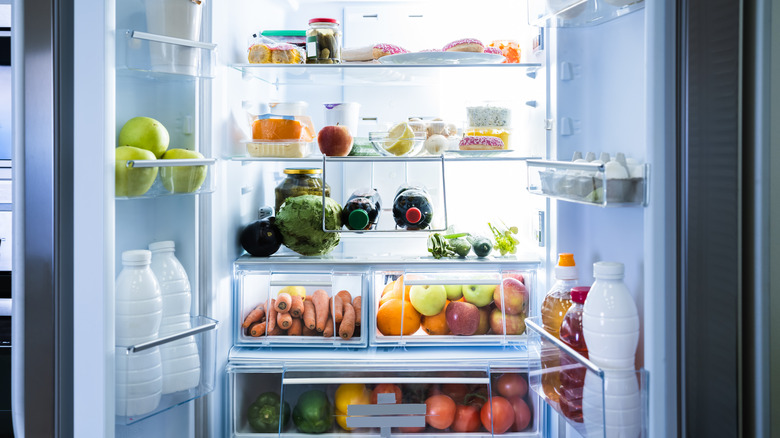 Andrey_Popov/Shutterstock
Good news: You don't need to clean out your veggie crisper to go to the farmer's market. And you can stop looking for the least-gross things you can make with extra zucchini. Anytime you find yourself suddenly inundated with produce and forced to jam it in the fridge any which way you can is actually okay. 
"As long as you store perishable fresh fruits and vegetables (like strawberries, lettuce, herbs, and mushrooms) in a clean refrigerator at a temperature of 40 F or below, they are safe to eat, regardless of whether they are in a crisper drawer or on a shelf," says USDA Food Safety and Inspection Service technical information specialist Meredith Carothers. "It is safe to keep fresh produce in the refrigerator door."
So go ahead and shove that lettuce behind the milk. Put your cukes in the egg bin. Okay, maybe not that one; Carothers does stipulate that it has to be a clean area of the fridge. (So stashing excess veggies in your empty meat drawer is definitely out.)