An Artist's Rendition Of An Ina Garten Salad Is Turning Heads On Instagram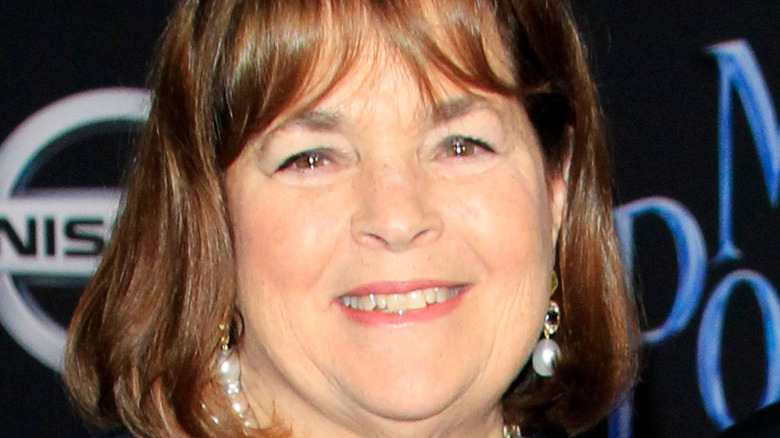 Kathy Hutchins/Shutterstock
Correction 8/1/22: An earlier version of this story stated the artist's name as Jessica Kanelos Weiner; she is Jessie Kanelos Weiner.
Ina Garten's food might look delicious, but is it art? The Barefoot Contessa has gifted her followers, viewers, and buyers of her cookbooks with many great recipes, such as Garten's signature meal of rack of lamb, orzo with roasted vegetables, and French apple tart for dessert. Then there are lighter dishes, such as Garten's take on Charlie Bird's Farro Salad.
And who would argue that Garten doesn't have an artistic eye when it comes to plating and choosing just the right tableware to coordinate with what she's cooking? (White is always safe, but gray and bright dinnerware are beautiful with certain foods.)
While Ina Garten's most ardent fans might tell you that her food itself is art, one of her followers took the idea of food-as-art to a whole new level. In the recent heat wave that has gripped much of North America and Europe, artist and illustrator Jessie Kanelos Weiner made her own lovely — yet sadly inedible — version of the Garten's Tomato and Blue Cheese salad.
In an Instagram post that she named "Too Hot to Cook," Kanelos Weiner, who describes herself as a watercolor artist (via Jessie Kanelos Weiner), made colorful little cutouts of the "ingredients" in Garten's salad including the heirloom tomato slices, bunches of whole cherry tomatoes, blue cheese crumbles, and green basil leaves. Garten reposted the cute video on her own Instagram with the comment, "Love this from @jessiekanelosweiner !! "
It's too darn hot
Some of Ina Garten's followers seemed as delighted as the celebrity chef with artist Jessie Kanelos Weiner's "Too Hot to Cook" take on Garten's tomato and blue cheese salad, which she tosses into the air on her balcony with cheeky instructions to "Show off to the neighbors" (via Instagram). Capturing the zeitgeist of this summer, the video is accompanied by Ella Fitzgerald's jazzy "It's Too Darn Hot."
Some fans loved both the music and the "salad." Cooklikeapro1990 said "I absolutely love this, too! I think this is so creative and beautiful." Chophappy replied, "Fabulous." With applause and heart emojis, pam_gypsy_aries wrote, "As an artist.... I adore this." Followers Errorerrorerrorerrorerrore and Sweeterthanoats replied "This is so cute," and "So clever!"
Fans of Garten's actual, edible tomato and blue cheese salad that served as artistic inspiration for Kanelos Weiner's also chimed in. "Tonight I made your tomato salad and it was fantastic !!! Love you," effused maylinmora. Marthaet called it "The absolutely best appetizer for Saturday night." Dillinghamsunny reported, "I made this the other day! So simple and so delish. I did sub tarragon for the basil, for a little change of taste."
Kanelos Weiner was thoughtful enough to include the recipe in her video, so you don't even have to look up Garten's instructions on Barefoot Contessa. Too hot to cook where you are? Grab your paints and brushes instead. A paper salad won't fill your tummy, but some arts and crafts might distract you from the sweltering temperatures.