Simple Tuna Salad Sandwich Recipe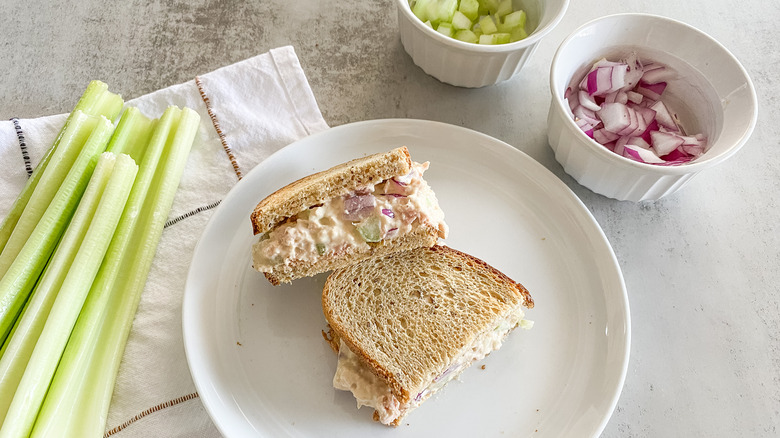 Kristen Carli/Mashed
We'll set the scene for you: You're 10 years old and just spent your Saturday morning playing outside with your neighborhood friends. You come inside and your mom has served up your favorite lunch: classic tuna salad sandwiches along with some apple slices and potato chips. Does life get any better than this?
Luckily for you, tuna salad sandwiches are not just for kids. They make great lunches for adults, too. Recipe developer and registered dietitian nutritionist, Kristen Carli, MS, RD, brings us this recipe for a simple tuna salad sandwich. Though highly customizable, this recipe packs a punch of flavor with ingredients like Dijon mustard, red onion, and lemon pepper. If you want, you can easily get creative with different spices and add-ins. Some alternatives include diced pickles, fresh dill, paprika, Creole seasoning, Greek yogurt, or even diced apples. Whatever you decide, this recipe comes together in less than 10 minutes, meaning you can have a delicious and protein-packed lunch on the table in no time.
Gather your ingredients for a simple tuna salad sandwich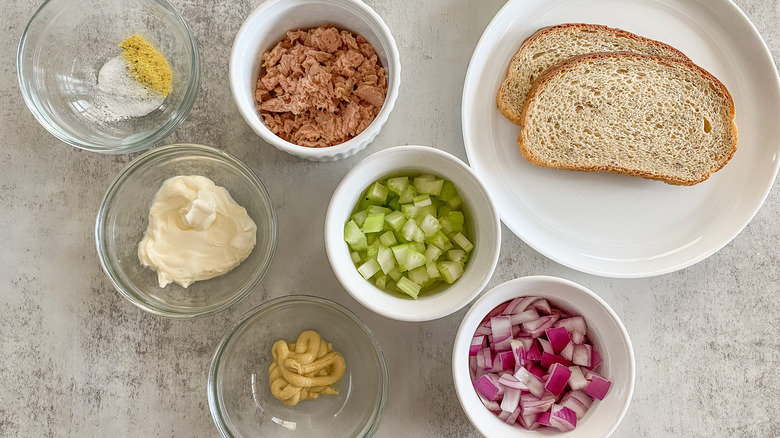 Kristen Carli/Mashed
To make this simple tuna salad sandwich, you can start by gathering your ingredients. For this recipe, you will need tuna, Dijon mustard, mayonnaise, diced celery, diced red onion, salt, lemon pepper, and rye bread.
Mix the tuna, Dijon, and mayo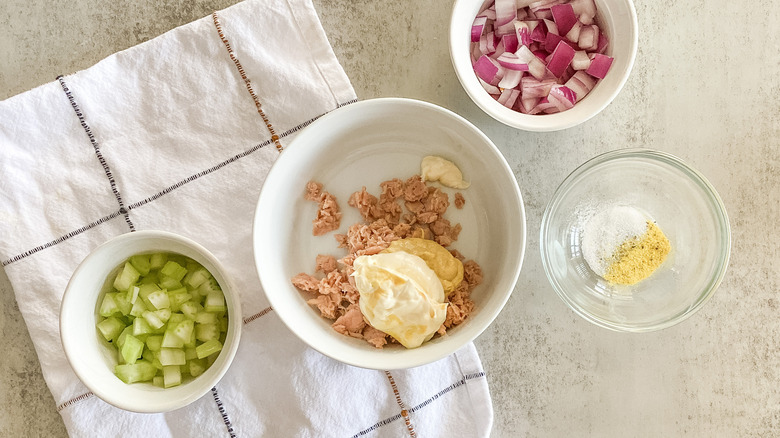 Kristen Carli/Mashed
Add the tuna into a small bowl, flaking it with a fork. Then, add the Dijon mustard and mayonnaise. We recommend using a chunk light tuna — the kind found in the aluminum pouch or the can. But feel free to use any other type of cooked tuna you would like, such as wild caught, albacore, or yellowfin.
Add the remaining salad ingredients and stir well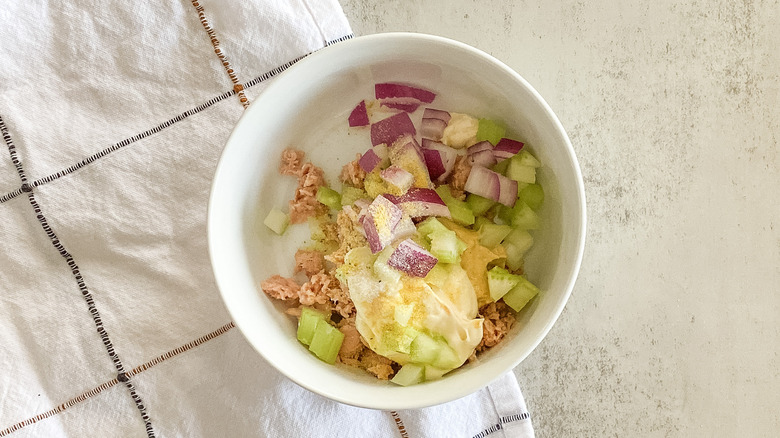 Kristen Carli/Mashed
Then, add the diced celery and red onion into the bowl. If you like a chunky-textured tuna salad, like us, keep the veggies in a standard dice size. If you want a more uniform consistency, you can dice your celery and onion even more finely. 
Finally, add the salt and lemon pepper before stirring the tuna salad well. We feel that lemon pepper is one of the most underused seasonings out there — it adds a little brightness and zest to this tuna salad recipe.
Toast the bread and make your sandwich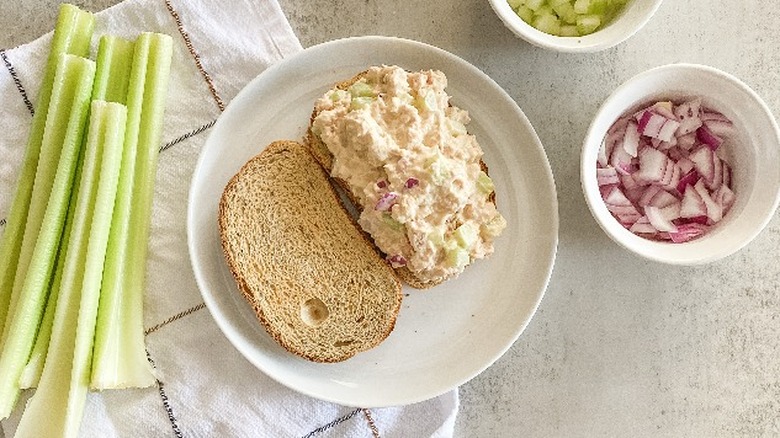 Kristen Carli/Mashed
Lastly, toast up the rye bread slices. We are big fans of seeded rye bread for use with our tuna salad sandwiches, but feel free to substitute other types of bread, such as sourdough or whole wheat. Once the bread is toasted, scoop the prepared tuna salad onto the slices, assemble into a sandwich, and enjoy.
Simple Tuna Salad Sandwich Recipe
Enjoy the nostalgic flavors of a classic tuna salad sandwich for lunch ... but with a twist. This recipe features lemon pepper seasoning for added zing.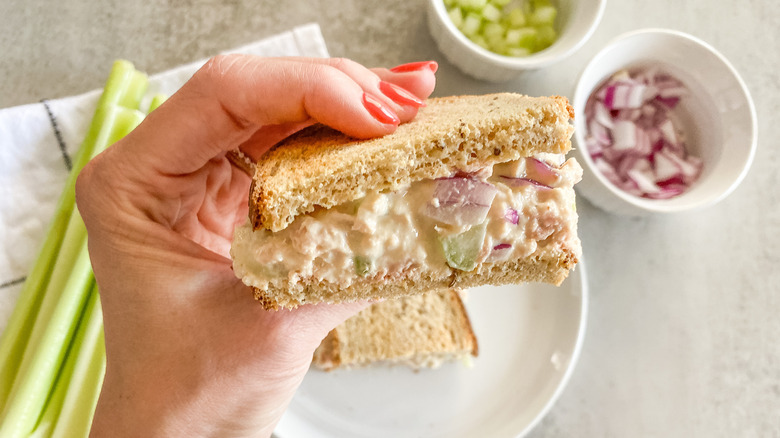 Ingredients
1 2.6-ounce pouch of chunk light tuna in water
1 tablespoon dijon mustard
2 tablespoons mayonnaise
2 tablespoons diced celery
1 tablespoon diced red onion
1 teaspoon salt
½ teaspoon lemon pepper
2 slices seeded rye bread
Directions
In a small bowl, add the tuna, Dijon mustard, and mayo.
Mix in the diced celery, red onion, salt, and lemon pepper. Stir well to combine.
Toast the slices of bread.
Scoop the tuna salad onto the toasted bread. Cut the sandwich in half, and serve.
Nutrition
| | |
| --- | --- |
| Calories per Serving | 318 |
| Total Fat | 24.0 g |
| Saturated Fat | 3.6 g |
| Trans Fat | 0.0 g |
| Cholesterol | 37.8 mg |
| | |
| --- | --- |
| Total Carbohydrates | 10.0 g |
| Dietary Fiber | 2.2 g |
| Total Sugars | 1.3 g |
| Sodium | 617.6 mg |
| Protein | 16.5 g |