Sam's Club Is Ready For Halloween And Instagram Is Excited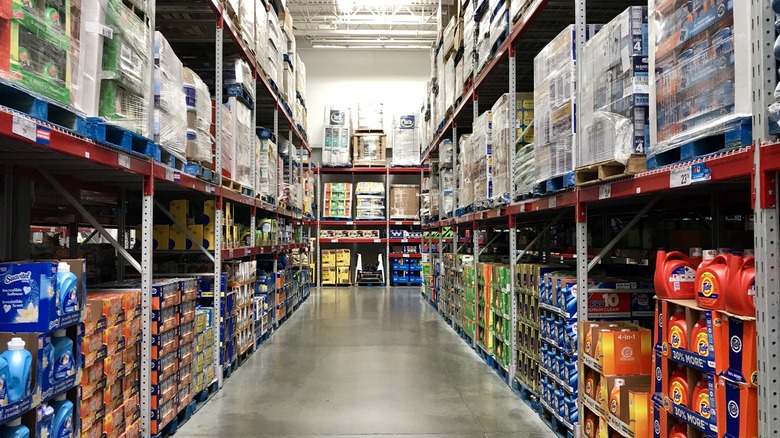 Cassiohabib/Shutterstock
Although October 31 is still two months away, fans of the holiday filled with ghosts and candy corn are already being treated to plenty of exciting Halloween experiences. According to Variety, the iconic seasonal store Spirit Halloween has just released a trailer for "Spirit Halloween: The Movie" to the joy of cheesy horror film fans everywhere. And Mars has recently announced its Halloween candy lineup, which includes ​​M&M's Mad Scientist Mix, among other tasty Halloween-themed chocolates, so that everyone can begin planning out what candy they'll be giving trick-or-treaters.
But these brands aren't the only ones ringing in the spooky season early. Sam's Club just welcomed Halloween time to its stores in a big way. Yesterday, the grocery store chain posted a video on its Instagram account announcing that all things Halloween have officially come to its locations' shelves. And the video, which gave Sam's Club members a snapshot of all of the chain's most thrilling Halloween products, has shoppers in the comments getting into the holiday spirit.
Sam's Club's stores now look like a Monster Mash and Instagram couldn't be more delighted
It's easy to see why the video has Instagrammers getting excited for Halloween. Although there may be a candy shortage during the 2022 Halloween season, there will be no lack of on-theme decor or Reese's Cups at Sam's Club. The decorations shown in the video include a waving animatronic scarecrow with glowing eyes, glowing skull lanterns, Halloween-themed pet beds and throw pillows, Halloween wreaths, a twinkling black and orange arch filled with pumpkins and ghosts, and classic light-up Halloween figures like vampires and witches.
Instagrammers rushed to the comment section to express their eagerness to start preparing for the holiday with Sam's Club's Halloween decor. One user wrote, "So many good things!! Looks like I need to head in store soon." Another posted, "Time to put on Thriller by Michael Jackson." While those who love all things spooky are busy picking out their decorations, they should also be on the lookout for the autumn collection. The club has already stocked up on fall wreaths so that you can be prepared to decorate your home all autumn long.