Easy Breakfast Sausage Recipe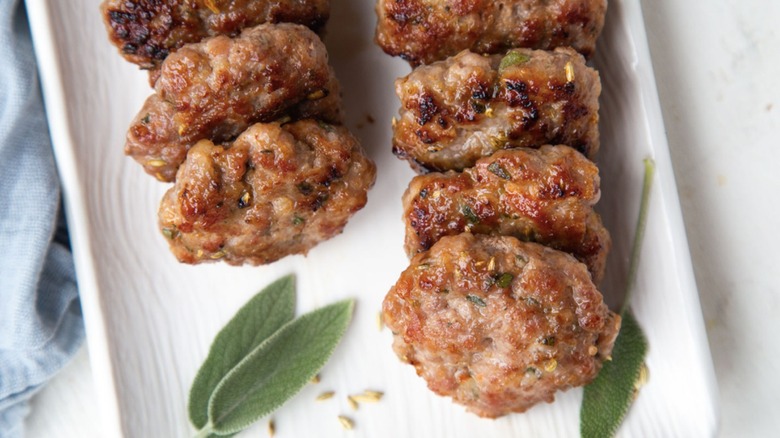 Kate Shungu/Mashed
If you are anything like us, you've probably never thought of making your own homemade breakfast sausage. Who knew you could easily whip up a batch at home, right? Well recipe developer, Kate Shungu, proves just how easy it can be with this incredibly simple recipe. With only 7 ingredients, most of which you likely already have in your kitchen, this recipe comes together in only 20 minutes. No fancy equipment or tools needed. So say "goodbye" to store bought breakfast sausage, and say "hello" to the homemade variety, because once you've tried this recipe, you'll never want to buy breakfast sausage again.
We recommend serving these sausage patties up with typical breakfast fare like eggs, toast, pancakes, or waffles. Or you can do as Shungu suggests and try "serving them with French toast casserole." Frankly, we like the way she thinks!
Follow this step by step guide to make your own easy breakfast sausages at home.
Gather your ingredients to make breakfast sausage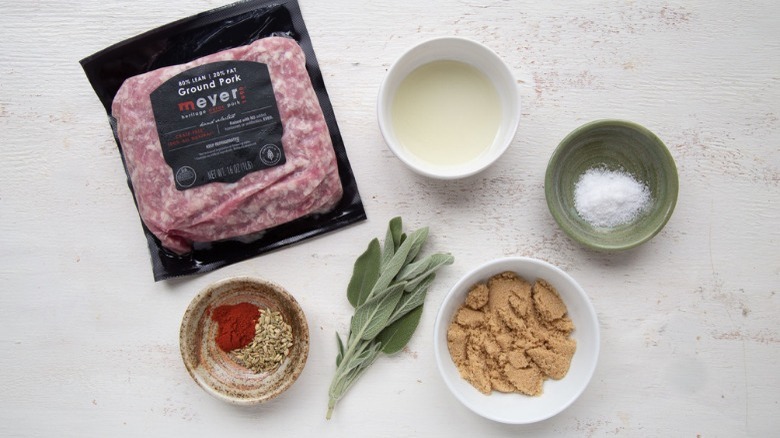 Kate Shungu/Mashed
To make this easy breakfast sausage, you can start by gathering your ingredients. For this recipe, you'll need ground pork, brown sugar, fresh sage, fennel seeds, smoked paprika, salt, and vegetable oil. Shungu notes "paprika is a common spice in sausage, and the smoked version gives this recipe a slightly smoky flavor."
Mix the pork with the seasonings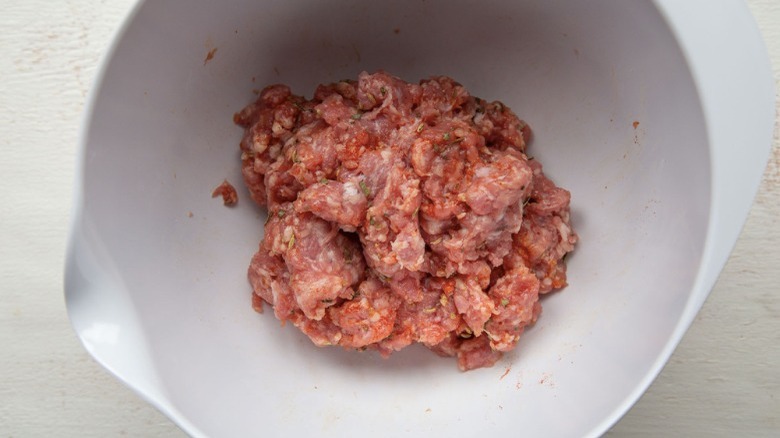 Kate Shungu/Mashed
Add the pork to a large bowl. Then, mix the seasonings in a small bowl. Add brown sugar, sage, fennel seeds, smoked paprika, and salt into this small bowl. Once combined, pour the spices over the pork. Using your hands, gently mix the spices with the pork. Shungu cautions against over-mixing the sausage, as this can make it tough. 
Roll the sausage into balls, then flatten into patties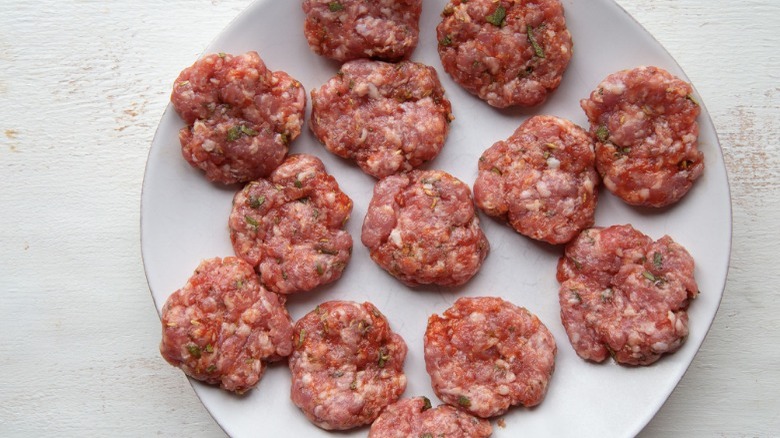 Kate Shungu/Mashed
Roll the sausage into 12-15 balls the size of a golf ball. Then, using your hands, flatten each ball into a ¼-inch thick patty. Place these patties on a large plate and take them to the stovetop. It's time to get these patties frying.
Fry the patties in a skillet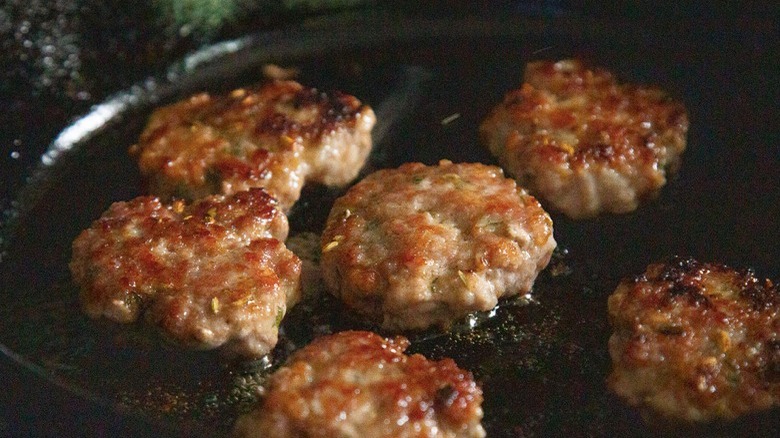 Kate Shungu/Mashed
Place a large skillet on the stovetop over medium heat. Add the vegetable oil to the skillet and once it's shimmering, add the patties. Fry for 2 minutes on each side, or until cooked through and golden brown. Repeat this process with all of the sausage patties. By now, the sizzling sound and the smell of the sausage should have you eager to take a bite.
Shungu notes that these "keep well in the refrigerator for 4–5 days," making them a great breakfast meal prep option. Make a batch of sausage patties over the weekend, store them in the fridge, and reheat on a busy weekday morning.
Easy Breakfast Sausage Recipe
Stop buying breakfast at the store and learn to make your own at home. This easy breakfast sausage recipe can be on the table in 20 minutes.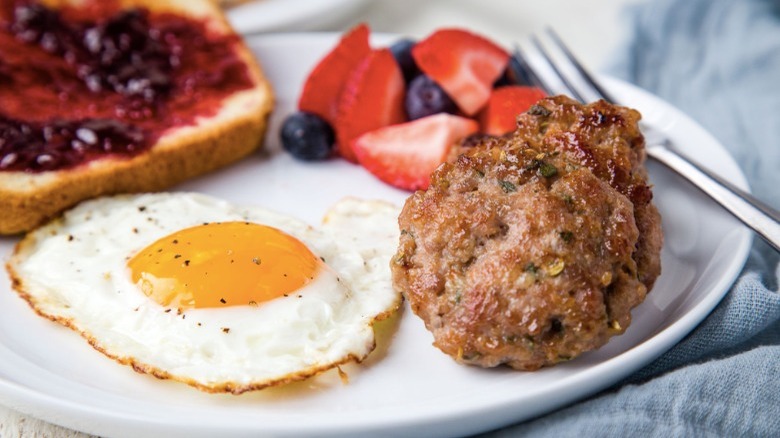 Ingredients
1 pound ground pork
2 tablespoons brown sugar
1 tablespoon chopped fresh sage
¾ teaspoon fennel seeds, chopped coarsely
½ teaspoon smoked paprika
1 teaspoon salt
1 tablespoon vegetable oil
Directions
Place the ground pork in a large bowl.
In a small bowl, combine the brown sugar, sage, fennel seeds, smoked paprika, and salt. Pour the mixture over the ground pork, and stir gently with your hands to combine. Do not overmix, which will make the sausage tough.
Roll the sausage into golf ball-sized balls, then flatten into ¼-inch thick patties. You'll get about 12–15 patties.
Heat the vegetable oil in a large skillet over medium heat. Place 5–6 patties in the skillet and fry until golden brown, about 2 minutes.
Flip the patties and cook for an additional 2 minutes, or until cooked through. Repeat with the remaining sausage patties.
Serve warm.
Nutrition
| | |
| --- | --- |
| Calories per Serving | 237 |
| Total Fat | 18.6 g |
| Saturated Fat | 6.2 g |
| Trans Fat | 0.0 g |
| Cholesterol | 54.4 mg |
| | |
| --- | --- |
| Total Carbohydrates | 4.0 g |
| Dietary Fiber | 0.7 g |
| Total Sugars | 3.0 g |
| Sodium | 192.4 mg |
| Protein | 13.0 g |