Jamba Is Unleashing Fall Early With A Pumpkin Smoothie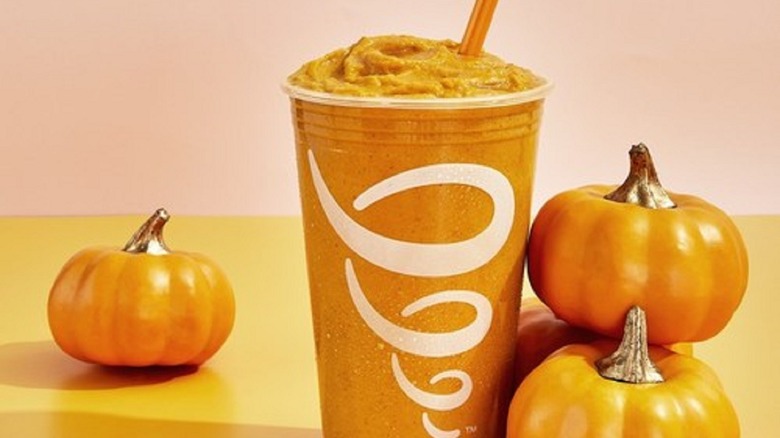 Jamba Juice
When it comes to releasing seasonal flavors, Jamba Juice is one of the companies that has the smoothie section of specialty tastes covered. This year the popular brand launched an electric blueberry and lemonade-infused smoothie in honor of spring. And, in the depths of a hot summer Jamba brought its fans some cool relief with its newest watermelon-inspired drink, Plant-Based Watermelon Breeze (per Instagram).
But now, Jamba Juice seems to have decided to sell a long-time fall favorite alongside its current summer smoothie lineup. If fans were pleased when Jamba Juice brought back its beloved Pumpkin Smash smoothie flavor on an impressively early date, August 24, last year, they'll be ecstatic to know how much sooner the pumpkin-inspired drink will be hitting Jamba's locations in 2022. According to a press release, the Classic Pumpkin Smash and Plant-Based Pumpkin Smash smoothies are making their return on August 16.
However, even if the flavor's early comeback seems unexpected, Jamba only seems to be the latest business to be in a hurry to bring back fall flavors sooner than later this year. For example, Starbucks' pumpkin spice grocery store products are already available for purchase nationwide. But, no matter how Jamba Juice fans feel about Pumpkin Smash's quick return, there are only five days until the autumn flavor is officially available again.
Here's what you need to know about the return of Pumpkin Smash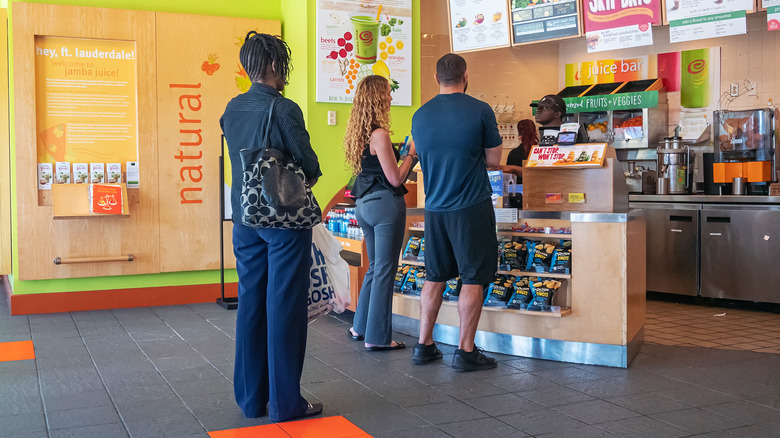 saaton/Shutterstock
The two Pumpkin Smash smoothies are infused with the same "pumpkin, cinnamon, and nutmeg," as noted in Jamba Juice's August 11, 2022, press release. The difference lies in the fact that the Classic Pumpkin Smash smoothie uses yogurt and milk whereas the younger, plant-based version of the drink (it didn't appear on Jamba Juice's menu in 2020 per VegNews) uses oat milk and is completely dairy free. Once these smoothies come roaring back into stores they will be available through November 14 — but Jamba Juice is offering a deal on the Pumpkin Smash flavored drinks before they disappear.
Jamaba rewards members will be able to purchase a Pumpkin Smash smoothie for $5 dollars (according to Chew Boom, last year the drink was sold for around $7) on Saturdays and Sundays. The promotion, however, won't begin until August 27 and will only last until September 25, 2022.
At this moment, Pumpkin Smash is Jamba Juice's only official fall flavor. But, if smoothie fans are looking for a drink with a bit of a Halloween candy feel, they can always order a skittles smoothie off of the secret menu.