The Real Reason The McDonald's Hamburglar Wore A Hat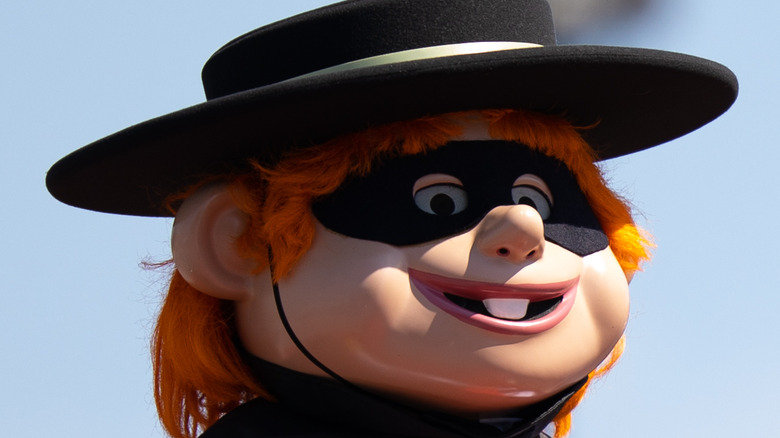 Roberto Galan/Shutterstock
Everyone knows McDonald's is a tried and true quick-fix for hunger on a budget. The fast-food giant is known for addictive chicken nuggets, filling dollar menu items, and relentlessly out-of-repair ice cream machine. Although many customers return for the food, McDonald's marketing is just as iconic as its menu.
From its "I'm lovin' it" jingle to Monopoly promotion, and of course, the world-renowned golden arches, McDonald's branding is ingrained into cultures across the globe. While the company's witty marketing schemes might not fool the average adult, McDonald's knows how to capitalize on a child's mind. According to The Stute, up until 2003, the restaurant's advertisements were centered in McDonaldland, a fantasy world inhabited by a cast of colorful characters. Headed up by Ronald McDonald himself, the crew of critters included Grimace, Birdie The Early Bird, Mayor McCheese, and the infamous Hamburglar.
The Hamburglar was a burger-addicted criminal with a penchant for petty theft who took on many forms during his 30-year residency in McDonaldland. According to Greatist, the kleptomaniac character was originally an older gentleman with a pointy nose and gray hair. Despite his aesthetic changes, the character always wore a hat. Now, after decades, McDonald's has taken to Instagram to tell fans why the crook was always sporting a cap (per Instagram).
The McDonald's Instagram account is always on trend
As it turns out, the Hamburglar actually has a lush set of hair that needs protecting, according to McDonald's. Spanning three slides, the Instagram post illustrates the scheming burglar rocking a ponytail, a short middle-part, and a troll-style cut. Not to mention he's breaking gender stereotypes with his Farrah Fawcett-inspired curls.
Revealing what's underneath the Hamburglar's hat is just one of the many ways that McDonald's keeps customers interacting with the brand. In June, the fast-food giant posted another picture of the thief with the caption "Is it still short king spring." The chain has its finger on the pulse of what's hot in meme culture, seen in part by another recent post joining in on the "Little Miss" meme trend. The company also tapped into pop culture and entertainment by frequently partnering with A-listers like Kid Cudi, Omar Apollo, and blackbear.
Although McDonaldland is an abandoned mecca haunted by the ghost of McDonald's marketing past, the great minds behind the chain's social media profiles have immortalized characters like the Hamburglar via memes, lore, and stylish hairdos.