How Duff Goldman Gets His Pie Crumbles Just Right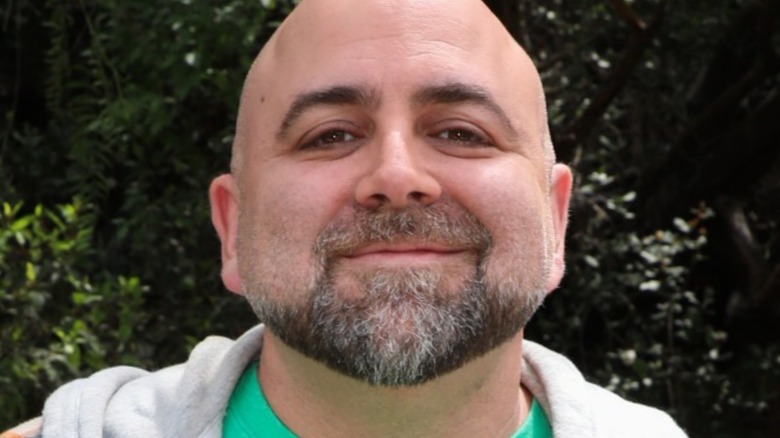 Paul Archuleta/Getty
Duff Goldman knows a lot about cakes. The "Ace of Cakes" host has practically built his entire reputation on his sweet and imaginative creations. Ask Goldman what celeb cake he is most proud of and you will quickly learn it was inspired by a "Star Wars" character, although we think his Harry Potter-themed cake, which had over 120 LED lights and a smoke machine, is a close runner-up. But cakes aren't the only dessert he has a penchant for. When the holidays roll around, the celebrity baker may just give you a lesson on the virtues of the sour cream Dutch cranberry pie from Hoosier Mama Pie Co. in Chicago, Illinois, which he considers one of his favorite Thanksgiving desserts (via Instagram).
Well, as summer draws to a close and you're trying to figure out how to use all those delicious seasonal berries and fruits that are still at their sweetest, Goldman is sharing his tips for creating the perfect crumble. And to be honest, just the thought of all the ingredients you need to make this dessert has visions of blackberry crumble topped with vanilla ice cream dancing in our heads. A fan on Twitter recently requested some crumble-related advice from the "Holiday Baking Championship" judge and it makes us want to break out the sheet pan.
Toast your oats and nuts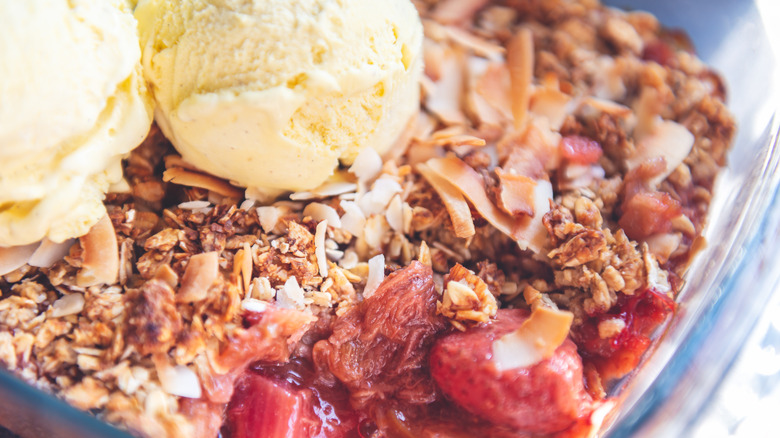 Anna Mente/Shutterstock
If you are unfamiliar, a crumble is a baked dessert that typically combines fruit and a rich, crumbly, "streusel-like" topping (via The Kitchn). A lot of people will argue oats only belong in fruit crisps, not fruit crumbles. But in our humble opinion, oats are good in both, and based on his recent baking advice, Duff Goldman seems to agree.
On August 17, one Twitter user posed a request to the celebrity baker: "I am priming my "rhubarb-berry crumble" crust- any suggestions (???) I am receiving some gifted rhubarb and making many crumbles." Goldman responded, tweeting back, "I like to think of crumbles like I do a graham cracker crust. Butter, sugar, and salt and make sure anything that has a tendency to be soft or chewy is toasted. Think nuts and oats."
The cooking world concurs with Goldman. Per Food52, toasting the nuts before adding them to your crumble results in a "big, toasty, roasty, complex flavor," and when you toast oats, they take on what is described as a "caramel" taste. The cooking site further notes that achieving this flavor boost is both quick and easy. It requires a sheet pan and just 12 minutes in a hot oven. Sounds totally worth it!