There's Finally An Official GBBO Board Game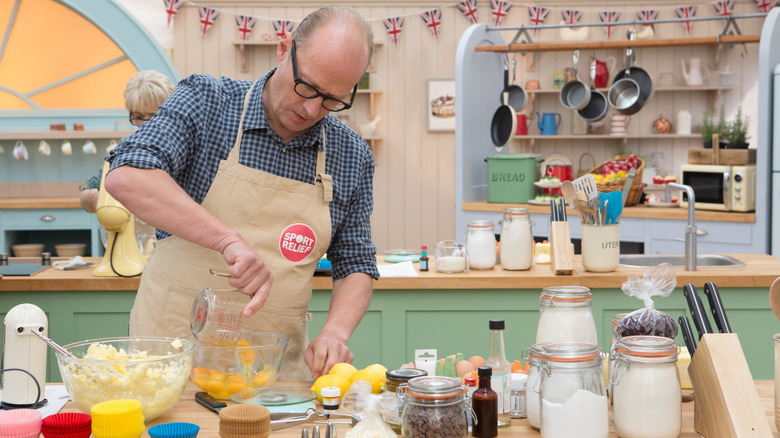 Comic Relief/Getty Images
Many of us have wished for the opportunity to join Prue Leith and Paul Hollywood in the tent and compete with fellow amateur bakers for the coveted title of "The Great British Bake Off" winner. For most of us, that dream might not become a reality, considering the rigorous "Bake Off" application process is brutal, even for the contestants who make it on screen (via Insider). Checking off even basic requirements, such as being a resident of the U.K., might keep many people from competing under the tent's roof. However, the 12 bakers who make it each season have what it takes to compete in the signature, showstopper, and even the technical challenges throughout their respective series.
The cult-favorite baking competition has garnered a lively fan base throughout its numerous seasons. Fan-favorite "GBBO" contestants have captured the hearts of viewers, and the show has been the source of inspiration for interesting spin-offs, like the divisive "GBBO" musical. Now, fans are being given the opportunity to engage with the lovable British baking show in a whole new way, thanks to the creation of a themed board game.
Be a 'GBBO' winner
"The Great British Bake Off" fans can enjoy another treat by competing with bakers in the new "The Great British Baking Show" Game. Super Parent reviewed the themed activity and found it enjoyable, even given the relative complexity of the cards accompanying the game. Designed by Ravensburger, the tabletop game can be played with two to four players, or "bakers." Much like the actual competition, the board game is divided into three rounds: The signature challenge, the technical challenge, and the showstopper. 
It's fast-paced, and the primary goal is to collect as many points on each of your bakes throughout the three separate rounds. The baker with the most points at the end of the game is the "GBBO" winner. With all contestants making the same recipe, the idea for each round is to complete the recipe first. "The Great British Baking Show" Game is available to buy at Target, and other similar retailers, starting at $24.99.
The "GBBO" board game is a fun way to jump back into the tent before the tentative premiere of Season 13, which could hopefully come out this September (via The List).