The Trader Joe's Snack That May Be Taken Off Shelves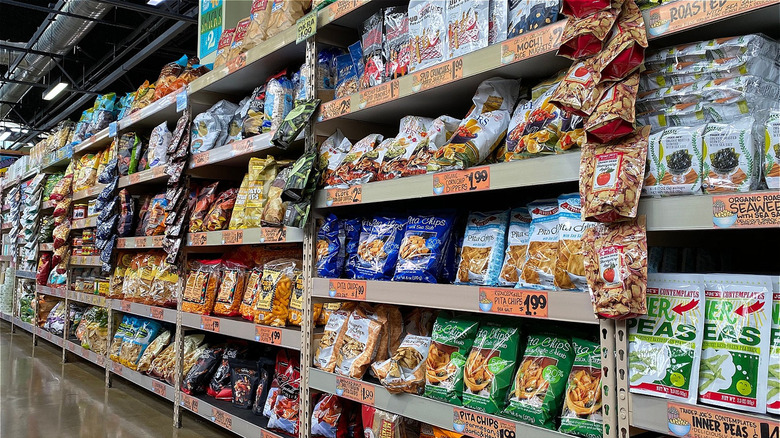 Larry Zhou/Shutterstock
While many Trader Joe's fans might flock to the shop for items they can only get from the famous grocery chain, like its Green Goddess seasoning blend or Ube Mochi pancake mix, TJ's also stocks some satisfying dupes of other popular items. Perhaps one of the store's most beloved dupes is its brand of Rolled Corn Tortilla Chips, which are known as the "Trader Joe's version of Takis" (via Aisle of Shame). These spicy fried corn tortilla chips are seasoned with a bold lime and hot chili flavoring that is similar to the popular brand of snacks. While they are not identical to Takis — Aisle of Shame notes some fans describe the Trader Joe's brand as more lime forward — they are quite popular, with some fans even preferring the off-brand version.
However, one eagle-eyed Trader Joe's shopper recently posted some sad news about this fan-favorite snack on social media. "Takis Soon to Be Discontinued?" Reddit user u/Rice_Nachos asked their fellow Trader Joe's fans, accompanying the question with a picture of the item on store shelves labeled with a "soon to be discontinued" sticker. Unsurprisingly, news of this tangy chip's imminent departure was not very well received among Trader Joe's fans.
The departure may be temporary
Many fellow Trader Joe's fans on Reddit expressed their disappointment in the comments at the unexpected news about the store's chili lime rolled chips. "Omg nooooo these are my fave!!!!" replied u/hug-a-world, while another user called it "the worst news ever." "They're already gone from my store... I wish I had time to say goodbye," lamented u/dramallama56. Others speculated as to the reason why these best-selling snacks might be getting pulled from the shelves. "I imagine the supplier is quitting or TJ's is just done with this product being in and out of stock all time," wrote u/genuinegrocer. One Trader Joe's employee offered some perspective: "Discontinued doesn't necessarily mean what it used to mean. Nowadays we find that a supplier that can't fulfill TJs order needs causes a product to go disco'd until a new provider can be found."
However, another helpful Trader Joe's crew member offered a more optimistic suggestion. "Looked up this product earlier today and unless something changed within the last couple of hours, these are simply TOS (temporarily out of stock), with an ETA to the warehouse by the end of the week (fingers crossed)," explained u/dangerousperson6, adding "No need to panic just yet!" So while it remains to be seen if this popular chip will disappear completely, it seems that most Trader Joe's fans are hoping that these tangy, Taki-esque Rolled Corn Tortilla Chips will stick around for a while.