The Gross Reason The Internet Is Calling Out Gordon Ramsay's Instagram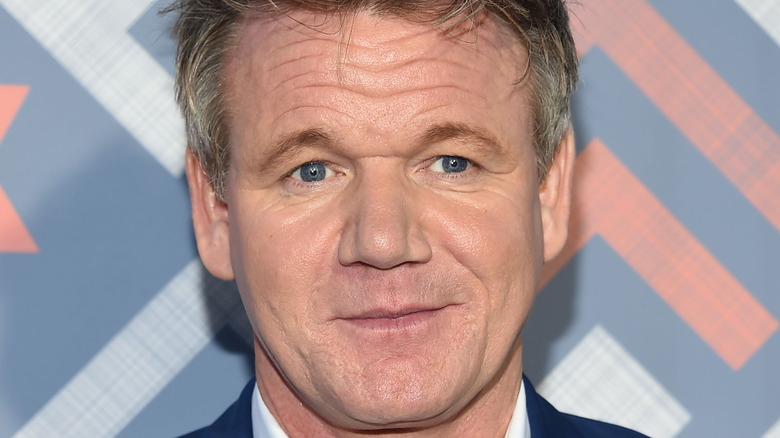 DFree/Shutterstock
Whether or not you like Gordon Ramsay as a person, you have to respect his social media game. The celebrity chef has absolutely exploded on TikTok, with over 33 million followers. He is known for roasting other people's recipes on the video-sharing app, whether it's something completely outlandish like Dorito ice cream or someone disrespecting his beloved beef wellington. Insider credits his success on the platform to the fact that it makes him more accessible.
Outside of the #ramsayreacts content, he occasionally posts dance videos with his daughter Tilly, which show a more sensitive side of the star. This softer side of Ramsay also appears on Instagram, where the "Hell's Kitchen" star shares a lot more food content and family photos. The celebrity chef's feed is filled with ooey-gooey chocolate lava cakes and satisfying sauce pours that live up to his fine dining standards. One of his latest food posts was a stunning fish dish, but Instagrammers were grossed out by one aspect of the presentation, which actually had nothing to do with the food.
These dirty fingernails distracted viewers from the dish
One part of creating food content that people may not realize is that your hands are often featured, whether you're holding a drink up in front of a cute sign or garnishing a plate in a video. While it seems like a small detail, if your nails are chipped or look dirty, it can distract from the beautiful plate of food that you created. Even though we are sure Gordon Ramsay has a whole team of people creating videos for his Instagram, they missed this detail in his latest video, and a few commenters called it out.
This isn't the first time the chef's Instagram has been criticized, either — he was recently accused of photoshopping food. In his most recent social media mishap, the celebrity chef posted a video of a luscious sauce being poured over a beautiful piece of fish, but the sauce pourer's seemingly dirty nails distracted a few people. "Those [nails] tho..." commented one Instagrammer. The "MasterChef" host also posted the video on Twitter, and one user replied: "Who ever is pouring the sauce needs to clean their nails before being filmed serving high end food- or any food for that matter!"
The comments weren't all negative, though. "The Great British Bake Off" winner Candice Brown called the dish "STUNNING" on Instagram, and Richard Blais also commented with a few fire emojis.