Why Do Restaurant Salads Always Seem To Taste Better?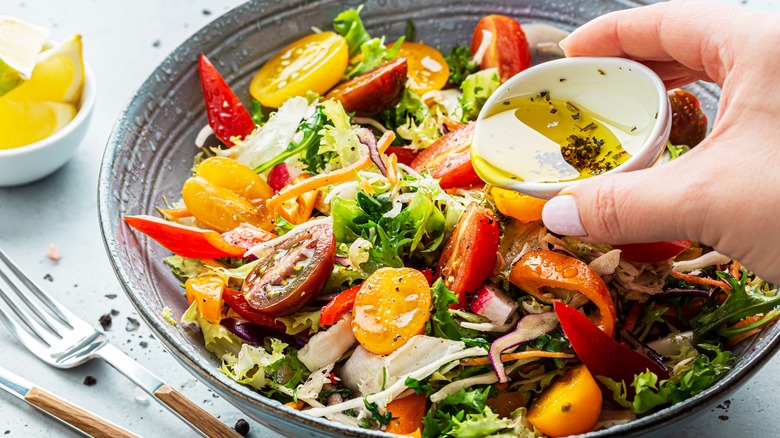 Pinkyone/Shutterstock
In the U.S., salads are often prepared for lunch as the main course and at dinner on a smaller scale. While the traditional American breakfast is carb-heavy, serving pastries, pancakes, and sugary cereals, other countries like Turkey and Israel enjoy salads for breakfast (via HuffPost). Once thought of as diet food, this dish ranges from simple green to chopped, overflowing with goodies, including fried chicken if you're lucky.
While it primarily contains raw vegetables, a good salad has many components that can be time-consuming to prepare, making it a chore. According to Bon Appétit, the art of a good salad offers a variety of textures and tastes. Vegetables can be raw but also grilled, roasted, or pickled. In addition to vegetables, you can add both dried fresh fruit for sweetness. For crunch, a salad should include seeds, nuts, granola, or everyone's favorite topping, croutons. Protein, such as meat, beans, and cheese, can be included to turn a side salad into a full meal. Finally, there's the dressing which can be as simple as squeezing a lemon into creamy sauces and vinaigrettes.
After all that, some may still wonder why restaurant salads taste better than what you've peeled, chopped, and emulsified in your kitchen. But, aside from the merits of someone else doing all the work while you enjoy a glass of wine, chefs use techniques that set their salads apart from the home cooks — until now.
Toss your salad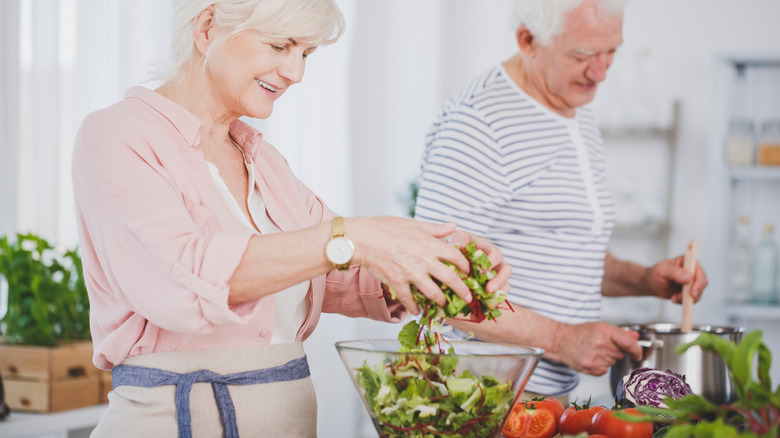 Photographee.eu/Shutterstock
Allrecipes interviewed several chefs to uncover the difference between a restaurant and homemade salad. Depending on the caliber of the place, the salad chef, also called a pantry chef, works in an area of the kitchen known as a garde manger, Culinary Schools explains. According to chef Jamie Simpson of "The Chef's Garden," a great salad begins with quality ingredients (via Allrecipes). Although restaurants have access to the best ingredients, chefs recommend home cooks to shop locally and in-season to get the freshest produce. In addition, local farmer's markets offer quality fruit and vegetables that were just picked. If you're lucky enough to have a vegetable garden at home, add what you've grown, including herbs, to your salad.
Once home, produce should be washed last minute in cold water to keep it crisp. According to Epicurious, one of home cooks' biggest mistakes when preparing a salad is leaving the greens wet. Any residual water left on the leaves will prevent the dressing from the coating, creating a bland, soggy salad with all the dressing pooling in the bowl's bottom. Instead, use a salad spinner or clean kitchen towels to thoroughly dry everything before placing all the components in an extra large bowl. An oversized dish provides the room necessary to get your hands in there (our best cooking tool) to combine all the ingredients and the dressing, never leaving an uncoated lettuce leaf at the bottom of the bowl again.
Don't forget the salt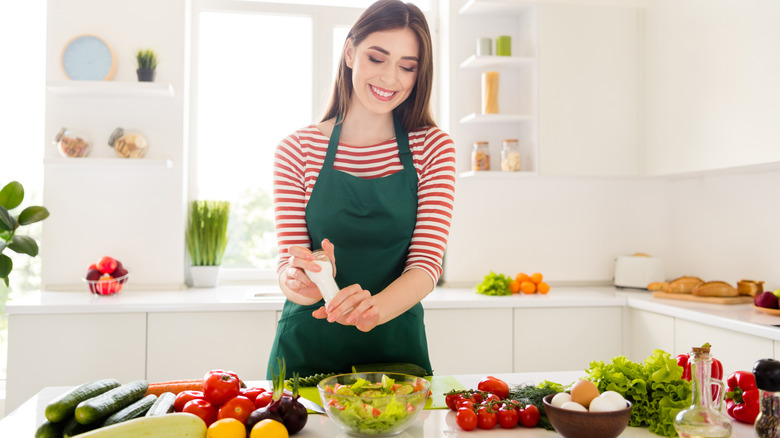 Roman Samborskyi/Shutterstock
To prevent the salad from wilting, you should dress it just before serving. Like most restaurants, chef Fanny Herpin of "Le Camondo" in Paris creates a vinaigrette far superior to any processed bottled version purchased in the supermarket. In a few minutes, oil, acid, herbs, salt, and mustard are shaken in a mason jar to create a thick, delicious vinaigrette (per Allrecipes). The addition of mustard emulsifies or binds the ingredients, creating a creamy texture without the addition of cream.
Since home cooks can access various oils, kinds of vinegar, fresh and dried herbs, and even mustards, your vinaigrette can change along with your produce. Vinaigrettes can also have a sweet component to them with the addition of honey or maple syrup. Although it's a little more work than opening a bottled dressing, homemade dressings can last up to two weeks in the refrigerator; one week if the dressing is dairy based, so make enough for a couple of salads and save yourself sometime later in the week (per Taste of Home).
Although your lunch may look complete, it will not taste so. Salad, the Latin word for salt, should be sprinkled with a Malden or gray finishing salt before heading to the table. Like any other dish you've prepared, every bite of a salad should be adequately seasoned. After a final toss, this restaurant-quality dish is ready to enjoy with a glass of wine, of course.