How To Avoid Overstaying Your Welcome At A Restaurant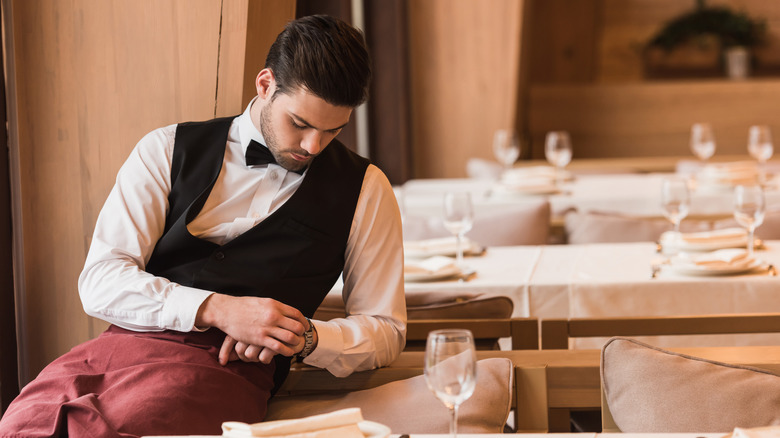 LightField Studios/Shutterstock
There is something profoundly special about dining at a fine restaurant. After all, unless you're part of the well-heeled aristocracy or a monied business mogul, it's likely a treat to have people cater to your needs. Where else will someone cook your meal, clear your table, and wash your dishes? Certainly, not at home where you spend hours in front of a hot stove or a sink full of dirty dinnerware. No wonder dining out is so popular. 
You may be surprised to learn that as of 2021, the United States boasted over 1 million restaurants and that San Francisco has more eateries than any other American city, with 39.3 dining establishments per every 10,000 households (via Finances Online). The U.S. Consumer Spending Report showed that as of January 2022, the average American adult was spending $95 per month on restaurant food. Clearly, the notion of enjoying an evening of pampering and great food appeals to many. And it's a good thing as the restaurant industry is an important employer, with Statista revealing that in May of 2021, restaurants employed 11.2 million people. Sadly, the pandemic restaurant closures and capacity limits forced eager diners to stay home and, as a result, 90,000 eateries went out of business (per the National Restaurant Association).
One interesting restaurant fact that you may not know is that most restaurants cap the amount of time that diners can linger. Yes, that leisurely catch-up with your friends that lasted several hours is a big dining no-no. 
Overly leisurely diners cost restaurants money
If you have ever found yourself being stared down by a clock-watching waiter or surrounded by a gaggle of bussers, dying to clear away your dishes, you may have lingered at your table a tad too long. That's right. Restaurants expect you to complete your dining experience within a certain timeframe and, once that has passed, they will attempt to shift you.
How long is too long? Well, according to Travel & Leisure, most will allow one hour and 45 minutes for a twosome and two hours for parties with four or more. And, no, this is not a random time limit set by mere control freaks. It's all about restaurants trying to stay alive. The fine dining manager at Niagara Falls' AG Inspired Cuisine told Open Table that they need to maintain a quicker turnover in order to make up for all the revenue that was lost during the pandemic's restaurant closures and restrictions. After all, these restaurateurs have witnessed countless eateries go out of business due to the pandemic. Diners who sit and admire the view or twiddle their relaxed thumbs for hours on end wind up costing the eatery money. 
Thankfully, the server will provide you with ample verbal and non-verbal cues if you're taking too long. You just need to know how to read them.
The staff will give you clues if it's time to move on
Restaurant staff have mastered a few savvy techniques in order to motivate diners to vacate their valuable dining spots. That's right. The stares from want-to-be diners waiting to be seated are not always enough. Here are a few clues that it's time to move on. 
According to Buzztime, some of these tactics include the waiter returning to your table several times to ask if you'd like anything else, wishing you a "good night" when they present you with the bill, or sending in the busser to clear away dishes. AG Inspired Cuisine's fine dining manager told Open Table that his staff reminds guests that it's time for their next seating. While some may think this is rude, it is no ruder than making other people with reservations wait. AllBusiness points out that some staff have been trained to "hover" after the bill is presented or comment on how many people are waiting in line to be seated. If these things start happening to you and your tablemates, it may be time to continue your conversation elsewhere. 
It is important to remember that this time limit is not personal. Covid-19 has changed fine dining restaurant life and this is simply the restaurant's way of trying to stay financially afloat. And, after the trying two years that they've just come through, who can blame them?