Here's The Most Popular Grocery Store In Ohio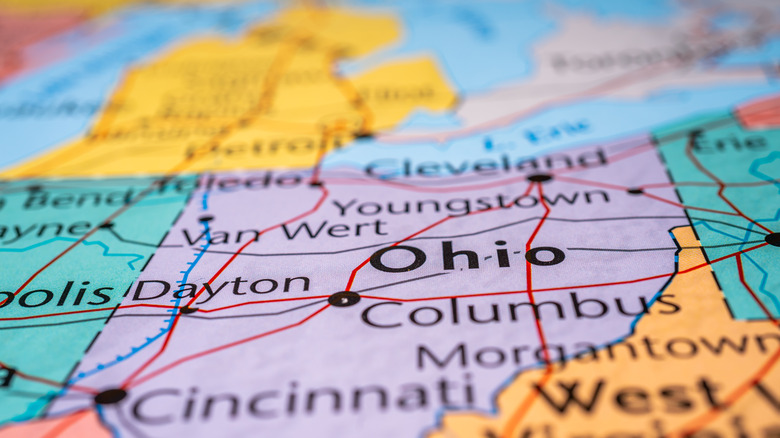 Alexander Lukatskiy/Shutterstock
A certain type of seasoned interstate traveler may have once prided themselves on using grocery shopping as means of boiling a particular place down to its essence. For these people — of whom there are many, whether you know them or not — playing investigative journalist at the local supermarket in an unfamiliar city may have made them feel like a regular neighborhood shopper incognito, just as reading the local paper might make them feel like they're cosplaying as a resident. 
These days, though, judging a region by its groceries may be a little more nebulous than it used to be. With the ubiquity of chain stores that stock much of the same brands in the farthest reaches of the country, shopping for groceries in your hometown may not look so different than shopping on the other side of the States. Here's where Ohioans tend to fill their carts in the Buckeye State.
Walmart strikes again
Walmart has been taking the lead across the country — including in New York and California – and was voted the most trusted grocery store in the U.S. by Mashed readers, so we're not surprised that it's getting the most traffic in Ohio, too. While Wally World has seen some fluctuation over the last few years, data compiled by SafeGraph shows that the chain pulls in more than competitors, including Aldi, Giant Eagle, Kroger, and Meijer. Walmart welcomed over three million shoppers in July 2022, for instance, while Kroger came in second with just under one million visits. 
The multinational corp has been struggling with inflation prices as much as the next store, but it seems to be drawing customers into its increasingly pricey food aisles with discounted electronic, back-to-school items, and other inventory that piled up during the pandemic (per NPR). According to more SafeGraph data that measured how inflation is affecting grocery store visits, Walmart consistently brings in the most customers on average.