Instagram's Sweet Tooth Is Raging Over Giada De Laurentiis' Semifreddo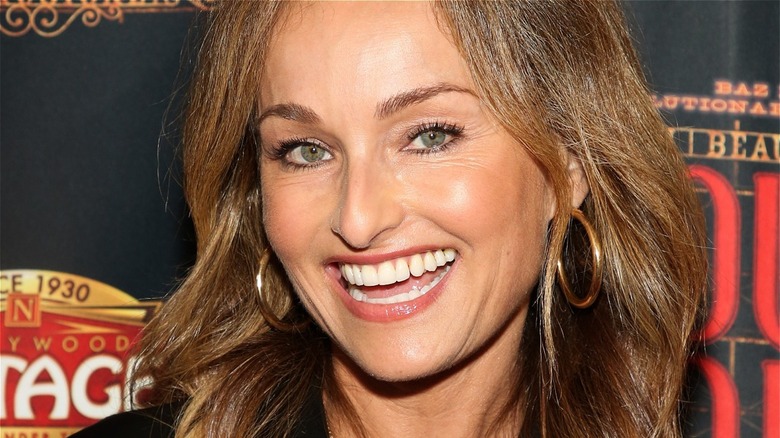 Paul Archuleta/Getty
Few TV personalities are more qualified to teach Italian cooking than Giada De Laurentiis. Surrounded by food her entire life, the celebrity chef studied cuisine and pastry at Le Cordon Bleu in Paris before her path led her to the Food Network. De Laurentiis' first show, "Everyday Italian," introduced viewers in 2003 to simple Italian recipes beyond macaroni with red sauce. Through her New York Times best-selling cookbooks, successful brand alliances, a line of food products, a recurring role on NBC's "Today," and her namesake restaurant, De Laurentiis is still introducing fans to approachable, authentic recipes. Recently, the chef left viewers drooling over her video recipe of the Italian dessert, semifreddo. 
Semifreddo, or "half-cold" in Italian, is a creamy, luscious frozen dessert reminiscent of mousse or pot de crème, with the consistency of half-melted ice cream. Made with the same ingredients as another frozen favorite — soft-serve custard — semifreddo comes together with cream, sugar, and egg yolks. According to Fine Cooking, semifreddo keeps its soft texture immediately out of the freezer since it contains too much sugar and air to freeze into a "dense block" like ice cream. 
De Laurentiis once told First We Feast that she loves to keep her recipes intentional and straightforward, so the ingredients can be appreciated for "their core essence." Calling her semifreddo her "fav summer treat," it's clear from the cook's recent video that this recipe follows that philosophy. In the comments, viewers collectively began salivating and thanked De Laurentiis for the recipe.
This semifreddo has a Nutella-like swirl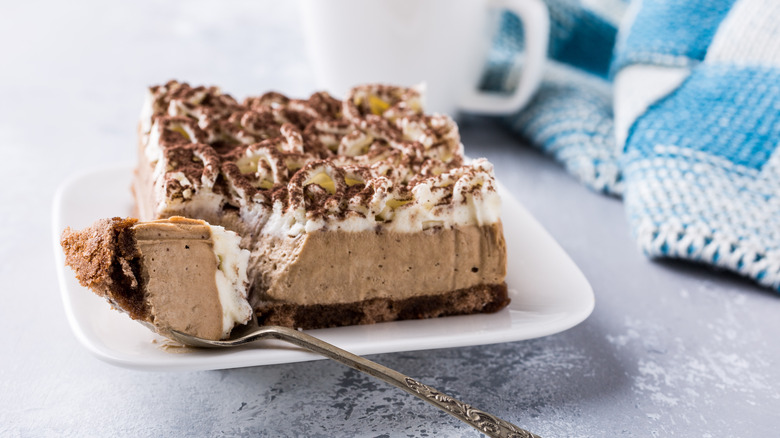 Iryna Melnyk/Shutterstock
De Laurentiis' swoon-worthy chocolate hazelnut semifreddo, found on her lifestyle site Giadzy, has a crunchy crust made from crushed biscotti (a twice-baked Italian cookie) that's topped with a creamy, vanilla-based semifreddo with shards of chocolate-hazelnut spread throughout (like Nutella). The combination of vanilla custard with irregular specks of hardened chocolate is reminiscent of stracciatella gelato from the Lombardy region of Italy. 
De Laurentiis prepares her semifreddo, which she calls "heavenly," in a loaf pan lined with parchment. Once frozen, the dessert is sliced like bread and served on a plate. Each bite keeps your mouth guessing with the crunchy biscotti crust, smooth and cold vanilla custard, and the occasional snap from the frozen chocolate-hazelnut shards. Although the dessert requires eight hours to set in the freezer, De Laurentiis recommends making it a day ahead to allow the flavors to develop, making this perfect for entertaining. 
Giadzy shared a video of the recipe on Instagram, and aside from viewers commenting that the post looks "fantastic," "amazing," or that they need it in their belly, one user was so taken aback by the delicious description that they commented, "oh Giada please adopt me." With eight egg yolks used in the recipe, the only question remaining is what to do with all those egg whites. French macarons? Coconut macaroons? Meringues?