Instagram Is Losing It Over Carrie Underwood's Kitchen Hack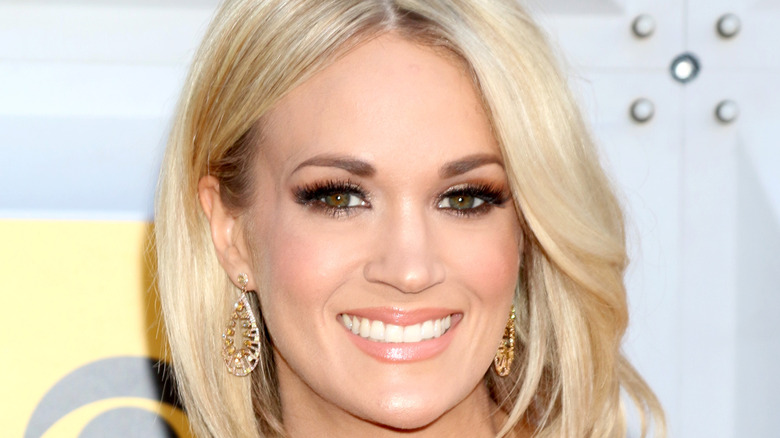 Kathy Hutchins/Shutterstock
Celebrity chefs love showing off their favorite cooking hacks and social media has become a prime place for sharing them with the world. People from across the globe can use social media platforms, like TikTok, to watch their favorite chef dish out kitchen tips. For example, Padma Lakshmi had Instagram drooling over her lemon pickles and Gordon Ramsay shared a chicken stir fry hack on YouTube that has, the last we checked, 245,633 fans in awe.
While we can all appreciate a Bobby Flay Instagram series for the beginner cook, we can't help but obsess over our favorite musicians and actors who dabble in the kitchen, too. Fans love to learn about the old-school kitchen tool Jennifer Garner calls life-changing and it's a treat to see Lizzo making "cheezy Taki's' on TikTok. 
The public is fascinated with what the stars are eating, and even more so, the useful cooking tricks they have up their sleeves. According to Vanity Fair, when a celeb reveals a favorite diet or simple food tip, fans devour it to "unearth new facets." Furthermore, the outlet states that knowing how someone eats is like knowing an intimate secret about them and can help a fan "connect with the stars they admire."
If Carrie Underwood happens to be one of your faves, the country music star took to Instagram to post a kitchen hack that you might truly go nuts over.
Carrie Underwood cans food and impresses fans
In an Instagram post with over 66,000 likes so far, Carrie Underwood shows off some snapshots and video snippets of a food canning experience. The singer shared that she and a few gal pals "learned a new skill today with the help of @canningdiva." The photos detail the massive food prep and cooking of, per a post shared by @canningdiva, AKA Diane Devereaux, chicken soup, vegetable stew, and broth. The diva deemed Underwood and her friends "equipped with the confidence and knowledge to safely pressure can food in jars."
Clemson University shares that canning foods can be a great cooking practice when done correctly and Instagram certainly agrees. The comment section is filled with the likes of "I need to learn that skill," "That's so cool. My grandmother used to canned veggies and jellies for years," and "I love canning! Enjoying your food for years to come."
The "Before He Cheats" crooner states "Now I have a way to preserve all my garden goodness...I can't wait to can some more goodies for the pantry!" And one superfan took to the comments to say what we are all wishing, "Soon in a store nearest you @carrieunderwood canned vegetables! I want first dibs on buying."