How Much The Price Of Strawberries Has Gone Down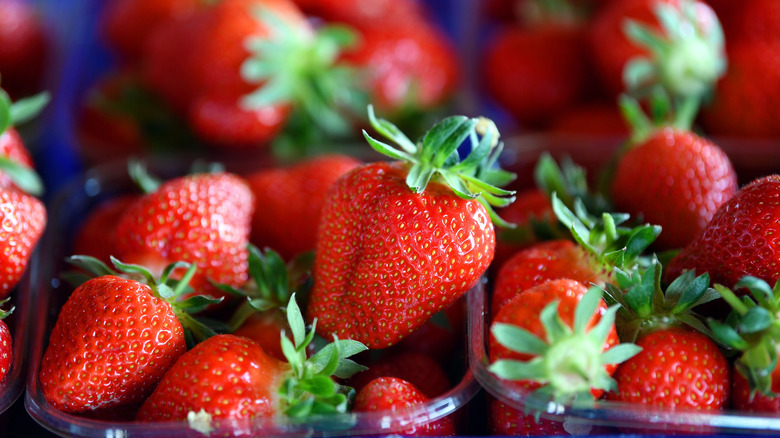 Daniele Venturelli/Getty Images
Inflation may not be getting any higher after hitting its peak, but global consumers are still looking at a long road down to the valley of reasonable prices. As financial strategist Art Hogan told Forbes, we may not see mass reductions until the middle of 2023. Investment advisor Zach Stein echoed this point, telling Time that "inflation will still remain elevated for some time," citing supply chain issues and import blocks caused by the war in Ukraine — the latter of which has played a major role not only high price tags on products like wheat and gas, but also in an increasingly dire energy crisis. 
The good news? Certain products that were once affected by inflation are quietly becoming affordable again. Take broiler meat (aka chicken), whose inflation rates may have come to an end thanks to a major increase in production that's "nearly level" with that of June 2021 (per a USDA report). Strawberries, which YouGov notes is the most popular fruit in America as of this year, might be following the same trend. 
A very sweet supply
If you bought a pint of nice-looking strawberries at the supermarket in July of 2022, you likely paid around $2.20. That's less than what you would've shelled out the previous month ($2.31), and lesser still than the month before that ($2.43). In fact, data compiled by the U.S. Bureau of Labor Statistics shows that the average July price of a pint of strawberries in the U.S. was down over 2% from the same month last year. What's the meaning of this happy decline?
Just like broiler meat, the waning price of this sweet red fruit comes down to steady demand met by a surge in production. Given the wild weather patterns that have been affecting all sorts of crops recently (remember the sriracha pepper shortage?), it's remarkable that the increase in strawberry production might be due to Mother Nature. Back in April, NBC reported that heavy rains wiped out a whopping 80% of strawberry crops in California, where leading brands like Driscoll's are grown. This led to a price hike of $2.77 per pint. 
But over on the East Coast, strawberries were seeing a different forecast. "After a cool, rainy and sunless mid-spring, the sun and heat returned to southeast Pennsylvania during the last days in May and first days of June," reads an update from Lancaster Farming. The strawberry plants "responded with berries ripening in great numbers almost overnight." According to the California Strawberry Commission, strawberry crops have also made a triumphant recovery in California (via Agrono Metrics).