Instagram Is Drooling Over Giada De Laurentiis' 'Perfect Summer Bite'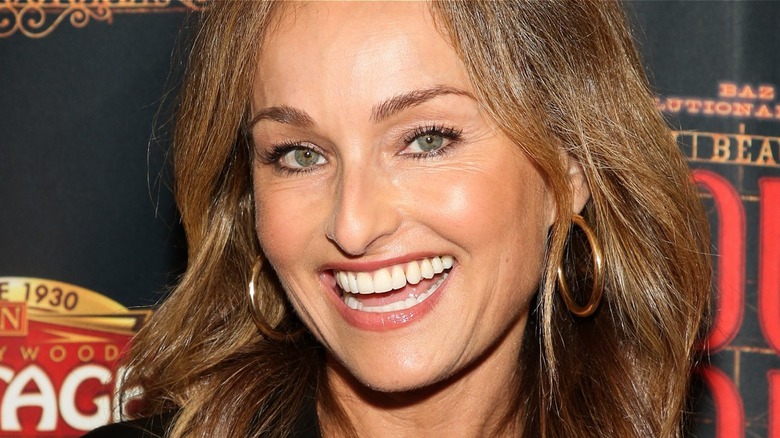 Paul Archuleta/Getty
Yes, she's a New York Times best-selling author. Yes, she looks like a model in the kitchen, but she studied at the prestigious Le Cordon Bleu in Paris and is a talented chef (per Food Network). Yes, she's so famous she can go by one name. Still, according to Giada De Laurentiis, the number one thing interviewers and fans ask about concerns her ability to be around delicious pasta, pizza, and gelato all day long (via Page Six).
The Italian chef was introduced to the world via Food Network in 2002 with her show, "Everyday Italian." De Laurentiis, known for making simple Italian dishes while entertaining her friends and family, claims that she eats everything in moderation without indulging in anything. Page Six reports that the celebrity chef uses a 'dump bucket' on set so De Laurentiis can spit out any food she's being filmed eating. Reps for De Laurentiis deny this claim, calling it absurd, but do admit that the chef doesn't eat the entire meal she prepares on set. With up to ten takes and filming three episodes a day, no one could eat that much food in a day, the reps said.
Whether on her ​​lifestyle website Giadzy or social media, De Laurentiis tantalizes her followers with mouth-watering recipes that are perfect for entertaining. Recently, De Laurentiis took to Instagram to share what she called "one perfect summer bite" and thousands of people agree.
Tomato Tart is great for summer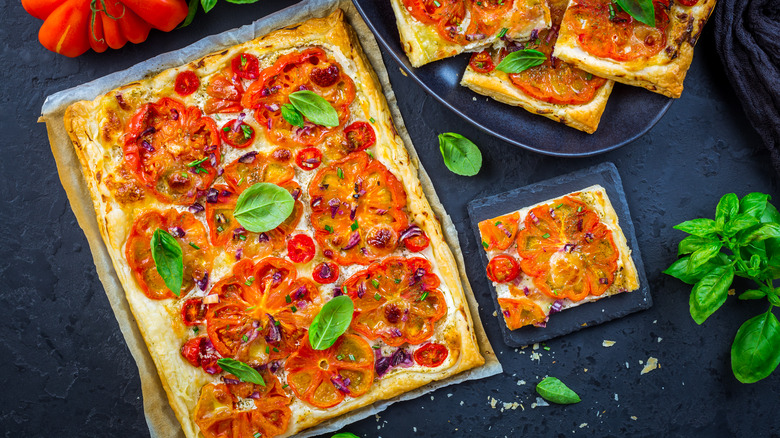 Ingrid Balabanova/Shutterstock
On Instagram, Giada De Laurentiis' blog Giadzy posted a close-up glamour shot of her tomato tart, glistening from a balsamic drizzle, causing many viewers to comment that their mouths were watering. The recipe begins with a flaky, buttery crust from defrosted puff pastry topped with a cheese blend of creamy mascarpone (Italian cream cheese) and tangy goat cheese. Thin slices of ripe tomatoes top the tart before the whole thing roasts in the oven. To finish the dish, De Laurentiis makes a balsamic glaze by reducing the balsamic vinegar with sugar, making it agrodolce, or sweet and sour.
Hot summer months mark the peak time to harvest all varieties of tomatoes (via Gardening Channel). Since De Laurentiis doesn't specify which type of tomato to use in the recipe, use a ripe tomato variety you like; maybe you grew it? Or you can use a combination of tomatoes in different sizes, shapes, and colors for a show-stopping dish. Earthy, chewy sun-dried tomatoes can also be used in a tomato tart recipe, an excellent idea in the colder months when tomatoes are no longer in season. 
Fans loved what they saw, with one Instagrammer commenting, "Oh gosh this looks amazing ... My mouth is watering. I love fresh tomatoes!" Another person shared, "I made this two weekends ago! Family loved it." Lots of fans simply commented, "Yum."