GBBO Season 13: Release Date, Contestants, And More - What We Know So Far
Now that Italian baking virtuoso Giuseppe Dell'Anno and his exquisite mushroom cake have had time to bask in the glory of their win on "The Great British Bake Off" Season 12, it's time for another group of eligible amateurs to step into the tent. 
A trademark of "Bake Off" — which may be more apparent to U.S. audiences due to its stark contrast to the average American competition show — is its lightheartedness. Even co-host Paul Hollywood, with his signature icy stare, betrays a sense of empathy and support for the contestants during those tense final moments of a challenge — and even more so during moments of defeat. Aside from the marvelous cakes, cookies, and confections displayed on the show, its warmheartedness might be the reason why it's such a comfort to viewers during times of global distress. (We could say the same thing about "Nadiya Bakes," the series starring former "Bake Off" winner Nadiya Hussain.)
With that in mind, a new batch of "Bake Off" episodes couldn't come at a better time. Read on for everything you need to know about Season 13, including its premiere date and contestants. 
Ready, set, mark your calendars for September 13
"The Great British Bake Off" took to Instagram to share a photo of the Season 13 contestants, who will grace Channel 4 at 8 p.m. on Tuesday, September 13. The Guardian has already ranked the contestants from "worst to best," but if you want to go into the season with an open mind, here's a basic breakdown of each new face, courtesy of HuffPost UK. 
There's Abdul, an electronics engineer who started baking in grad school and has a yen for matcha; Carole, who puts her passion for gardening into her bakes; Dawn, an IT specialist who loves mastering complicated designs; and James, who's partial to animating his bakes with "child-friendly horror." 
There's also Janusz, whose playful recipes are inspired by his native Poland; Kevin, who's been baking since he was a teen; and Maisam, who, at 18, has five years of baking under her belt and speaks five languages. 
And finally, there's Maxy, who aims to incorporate elements of her Scandinavian heritage into her bakes; Rebs, who uses baking as a respite from her busy tech job; Sandro, who originally turned to baking to cope with his father's passing; Syabira, who's excited to put Malaysian twists on British desserts; and Will, who's fascinated by the science of baking and plans to make unexpected use of yeast in his recipes. And there's already a trailer for fans who want to see them in action. 
How to watch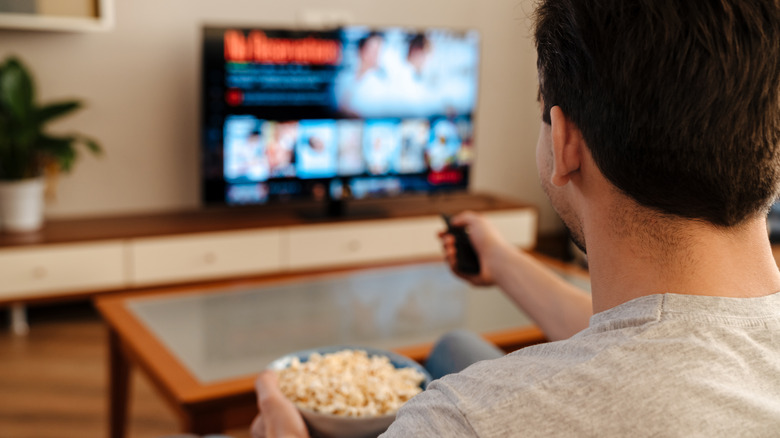 Dean Drobot/Shutterstock
If you've been biting your nails for fear of losing one of your favorite "Bake Off" judges à la Mary Berry (who, for what it's worth, is still delighting home cooks in her BBC series "Love to Cook"), you'll be happy to know that Prue Leith, Paul Hollywood, Matt Lucas, and Noel Fielding will all be returning to your TV screen (per Radio Times). As per usual, the new batch of 12 amateur bakers will compete in challenges over the course of 10 weeks for a spot in the final three. Those who stick it out to the end will wield their whisks for a final battle for the gold.
If you're a U.S. viewer who's panicking because you don't have access to the U.K.'s geo-restricted Channel 4, don't fear — Eater London says episodes are likely to drop on Netflix the Friday after they air across the pond.