This Is How Ina Garten Makes Homemade Ice Cream Totally Her Own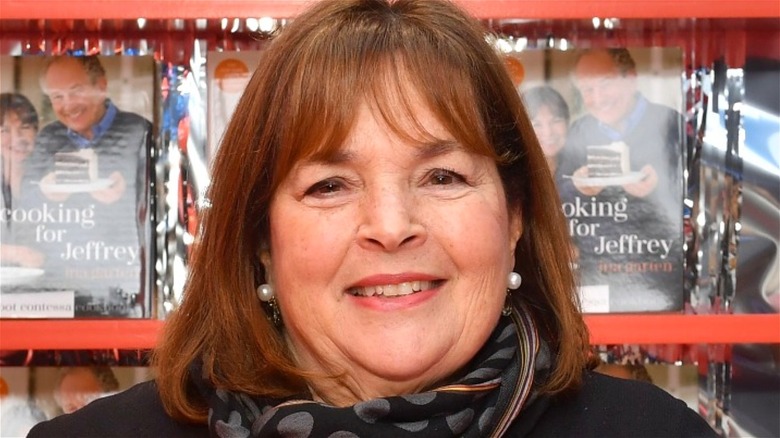 Noam Galai/Getty Images
Ina Garten is a celebrity chef most home cooks know and love for her accessible recipes and humble demeanor. With more than a dozen cookbooks and 20 years on the Food Network hosting "The Barefoot Contessa" under her belt, it's safe to say that her advice is trusted by anyone willing to try new recipes.
Garten admitted to Page Six that her lack of formal training in the culinary world has led her to feel uneasy in the kitchen, but that level of relatability has earned her fans for life. One Barefoot Contessa superfan cooked all 1,272 of Garten's recipes over six years (and improved his skills tenfold in the process), which proves that anyone can try their hand at the star's dishes. Notoriously, these often call for "good' ingredients, like the highest quality olive oil or vanilla bean you can find. However, many of Garten's dishes come together with refrigerator and pantry staples. That's the case with her homemade ice cream recipe, which she elevates with common items you may already have on your bar cart.
Garten upgrades homemade ice cream with a secret boozy weapon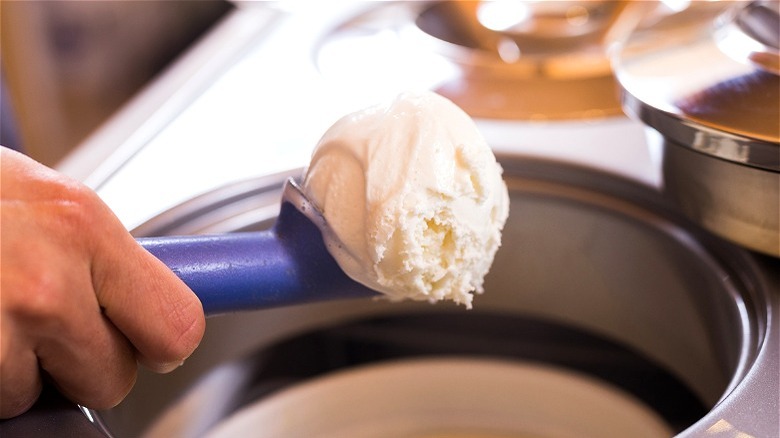 Caftor/Shutterstock
The Barefoot Contessa's favorite ice cream flavor is vanilla, which isn't so surprising when you consider that all three of the store-bought ice creams Garten swears by are that same, sweet flavor. The Food Network star is known to upgrade store-bought vanilla ice cream with biscotti and a splash of limoncello — a boozy trick that she also extends to homemade ice cream.
When it comes to her homemade peach ice cream, Garten highlights the flavor of the summer fruit by adding Grand Marnier orange liqueur and Sauternes, a type of white wine, to the recipe. The cookbook author told The Kitchn that she had tried numerous mix-ins to make her peach ice cream shine — including almond, a popular ingredient in other recipes for the dessert — but none of them worked as well as the boozy duo.
Booze is so common in Garten's recipes that it's the ingredient she calls her "secret weapon;" she even has a whole "Barefoot Contessa" episode dedicated to "Liquor Store Secrets." She's not just doing this for fun: According to Food52, adding liquor to food creates a bond between alcohol, water, and fat, which brings out the flavor of your dish's ingredients.