The Aldi Chicken Pasta Reddit Is Immediately Adding To Its Grocery List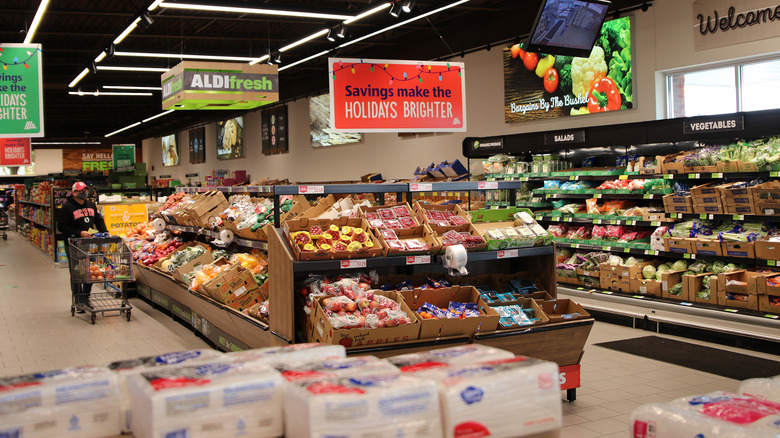 Eric Glenn/Shutterstock
During uncertain times marked by inflation and food insecurity, shopping at discount grocers like Walmart and Dollar Tree grows increasingly common. One of America's frugal favorites, Aldi, offers shoppers impressively low prices by operating small stores, avoiding brand names, and creative advertising (per Mi3). In addition to its low-cost expertise, Aldi also sells high-end produce and ingredients so shoppers never have to choose between cost and quality.
As the grocery chain begins making room for seasonal products like its clever fall-shaped pasta, and controversial pumpkin spice creamer, Aldi is also committed to keeping some of its tried and true ingredients on shelves. In the subreddit r/Aldi, dedicated to all things cheap and delicious, one user posted a photo of their garlic chicken pasta with the celebratory caption "Aldi I love you." Fellow Aldi lovers chimed in with their celebratory take on the hearty frozen meal adding comments like "I always have a bag of this in the freezer" and "I always grab this when housesitting for my best friends and am in their unfamiliar kitchen."
The chicken pasta is healthy, affordable, and convenient
A seemingly quick fix for hunger on a budget, Aldi's garlic chicken pasta is equal parts cheap and diet-friendly. The ready-in-minutes meal includes fusilli pasta mixed with broccoli, carrots, corn, and white meat chicken topped with a creamy garlic sauce. Unlike some of its other pasta items like the lobster mac and cheese that weighs in at 380 calories per serving, this garlicky, protein-dense dish is only 190 calories per serving (per Freezer Meal Frenzy).
Designed to get you full on the fly, the meal can be made in a matter of seconds in the microwave or souped up with additional ingredients in a skillet. One person on Reddit commented that with a little extra work, "it really comes to life with more fresh garlic and green onions."
According to Aldi's online ordering platform, a 12-ounce bag of this pasta comes with three servings and runs customers $4.95. Not bad at all, and maybe something to keep in mind the next time you're shopping the aisles of your neighborhood Aldi.